Scott Shakes Up Florida Governor Race With GOP Primary Win Over McCollum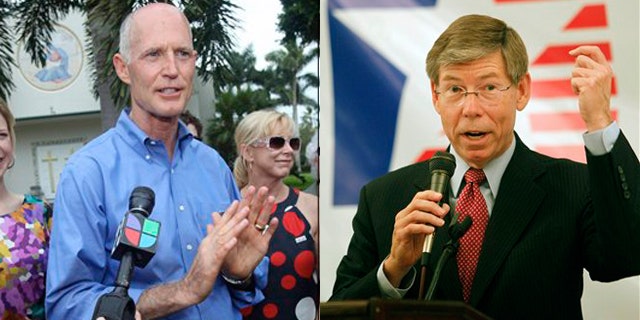 In a primary day upset, political newcomer Rick Scott narrowly defeated state Attorney General Bill McCollum for the Republican nomination in the Florida gubernatorial race.
Recent polls had suggested McCollum was pulling ahead in the contest. The attorney general was making a name for himself on the national stage and had the backing of heavyweight Republicans like former Florida Gov. Jeb Bush who are looking to keep the governor's office in GOP hands as incumbent Charlie Crist heads out on an independent bid for U.S. Senate.
But low turnout on Tuesday, among other factors, gave outsized importance to Scott's efforts to pull in support through early voting and absentee ballots. With 99 percent of precincts reporting, Scott led McCollum 46 percent to 43 percent.
Scott described his win as a shock to the establishment during his victory speech Tuesday.
"In Tallahassee tonight, the dealmakers are crying in their cocktails," he said. "Today's vote rocked the political establishment in this state -- the voters have a mind of their own and they found that out tonight."
McCollum conceded via written statement but did not endorse his rival, lamenting the "negative tone" of the campaign.
"This race was one for the ages. No one could have anticipated the entrance of a multi-millionaire with a questionable past who shattered campaign spending records and spent more in four months than has ever been spent in a primary race here in Florida," McCollum said.
Alex Sink, the state's chief financial officer, easily won the Democratic nomination Tuesday, garnering almost 80 percent of the vote over token opposition.
The GOP primary election culminates months of personal attacks, name-calling and negative TV ads in the race between McCollum and Scott, a former hospital corporation CEO who's never run for office.
The Republican Governors Association released a statement Tuesday urging the party to come together and focus on November. "Intraparty struggles are often difficult to watch, and the contest in Florida has been a good example of that. That said, the primary is over, Rick Scott is the nominee, the general election has begun, and our party now looks forward," the RGA said.
McCollum, who racked up endorsements from big Republican names, had hit Scott hard for past Medicare fraud allegations. Scott was the CEO of HCA/Columbia Hospitals when it settled the biggest Medicare fraud case in history -- Scott, who was forced out as CEO by his board amid the government investigation in 1997, has said repeatedly that he didn't know about any criminal activity and was never charged.
McCollum attracted national attention over the past year by leading a multi-state lawsuit against the health care overhaul and proposing tough, new immigration policies.
But Scott, who was active last year opposing the health care legislation in Washington, poured more than $30 million of his own money into the gubernatorial bid. Scott, 57, presented himself as a "conservative outsider" who will run state government like an efficient business, cutting costs and services to balance the budget. Like McCollum, he proposed cutting corporate taxes, easing regulations and taking other steps to make operating a business in Florida more attractive.
The 66-year-old McCollum served 20 years as a congressman from central Florida and twice ran unsuccessfully for the U.S. Senate before he was elected attorney general in 2006. Scott has attacked him as a career politician who is part of the problem.
McCollum was the party's presumptive nominee until Scott jumped in the race suddenly in April.
Both candidates presented economic plans they said will create hundreds of thousands of jobs. Both oppose abortion rights and gay adoption, and support Arizona's tough new immigration law. Both have vowed to stop Obama's health care law from being implemented in Florida.
Sink, 61, is the former president of Bank of America's Florida operation and the wife of 2002 Democratic gubernatorial nominee Bill McBride, who lost to Jeb Bush. She and the Republican winner will face independent candidate Lawton "Bud" Chiles III in the Nov. 2 general election.
The Associated Press contributed to this report.