Scotland's Independence Vote Spurs Hope In Catalonia, And Worry In Rest Of Spain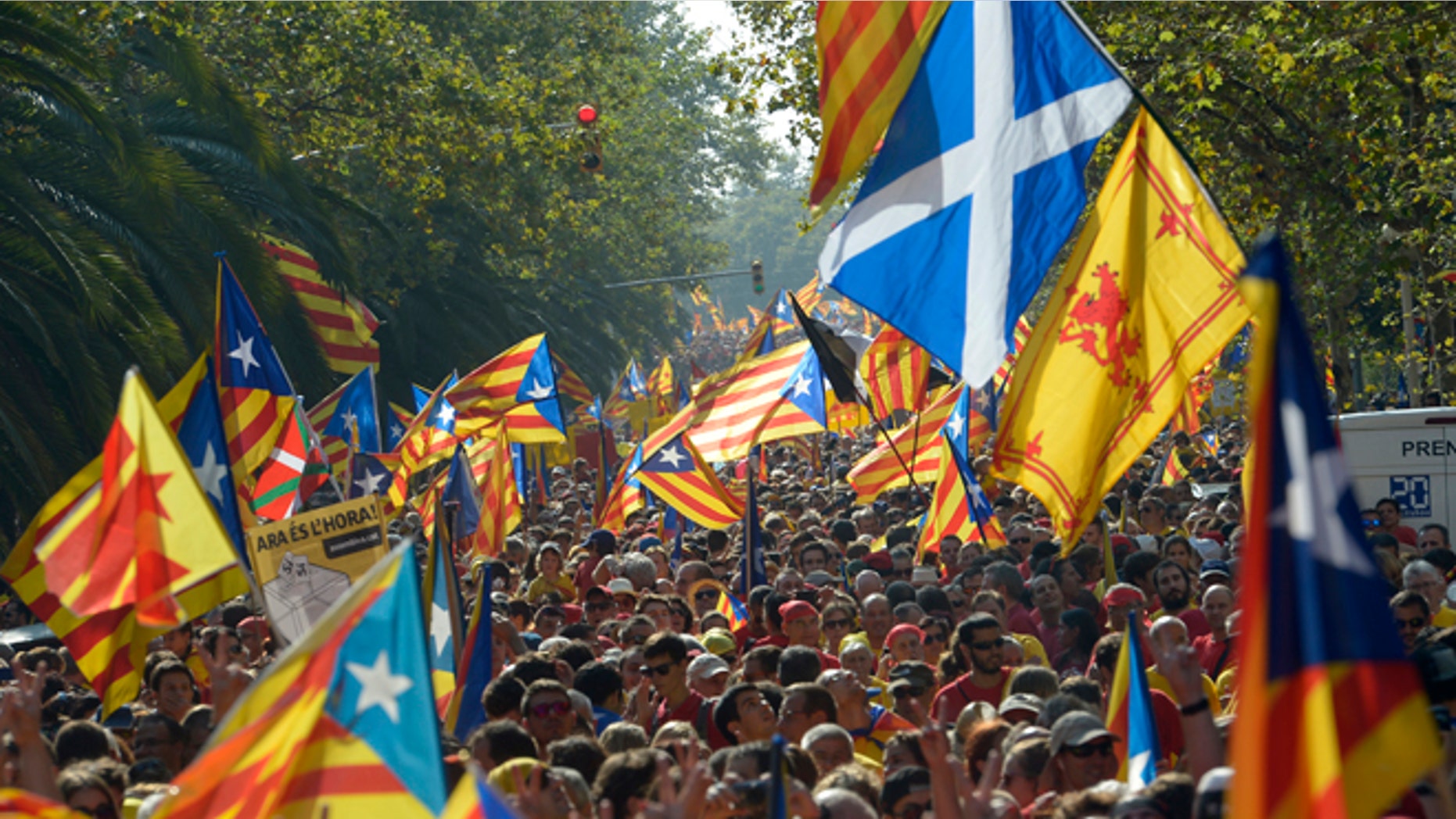 Voters in Scotland head to the polls on Thursday to decide if their country will break away from the United Kingdom and become an independent nation for the first time in more than 300 years.
Polls in Scotland suggest that the independence vote is too close to call, and the historic vote is being watched closely by observers all over the world – not just in London, but throughout the European Union, which an independent Scotland would be expected to try to join.
Plus there are wannabe breakaway provinces across the globe –  from Quebec to the Mediterranean island of Corsica, which is flirting with the notion of seceding from France – that will be hanging on the results.
But perhaps nowhere more so than in the northeastern Spanish region of Catalonia, where an estimated 1.8 million took to the streets of Barcelona last week to demand their own independent state.
The protesters there are angry over heavy taxes and policies implemented by the Spanish government in Madrid that, they claim, puts Catalonia at a disadvantage and cripples its autonomy. The region's separatist president, Arturo Mas i Gavarró, has called for a Nov. 9 referendum in the region of 7.6 million people, even though experts say any attempt to hold such a vote is sure to be blocked by Spain's Constitutional Court.
Mas has repeatedly said he will not hold any vote if it's found to be illegal.
While Spanish history is filled with various independence movements, most notoriously in the northern Basque Country which has spurred widespread separatist violence, Catalonia's move toward independence carries added cultural and financial weight in an economically-fragile Europe.
As home to 16 percent of Spain's overall population, some of the Iberian peninsula's biggest industries – everything from banking to textiles to car manufacturing – and a $275 billion economy roughly the size of Portugal's, Catalonia has been one of the bulwarks of the Spanish economy.
But severe taxation meant to spread the wealth to less prosperous regions has not only drawn the ire of lawmakers in Barcelona but also caused the region to go into so much debt that it asked Madrid for a $6.47 billion emergency loan in 2012.
Catalans who favor independence – a number that ranges somewhere between 30 and 60 percent of the total population – argue that it would free them of the Madrileñan bureaucracy and help them expand their businesses to other parts of the globe, not just in recession-torn Spain.
"Basically Catalans want fiscal independence," said Scheherazade Rehman, a professor at George Washington University's Elliott School of International Affairs. "That's the driving force to be independent and be more prosperous."
Unlike the Scottish ballot, however, a vote in Catalonia would not result in secession. Mas' proposed referendum would ask Catalans whether they favor secession. If the answer is Yes, Mas says, that would give him a political mandate to negotiate a path toward independence.
Spanish Prime Minister Mariano Rajoy has vowed to block the vote on the grounds that Spain's constitution doesn't allow referendums that don't include all Spaniards, but Mas told reporters that would be a mistake.
"The Catalan issue is one of the biggest issues the Spanish government is facing," Mas said. "It is an error to try and solve this through legal arguments. Political problems are solved through politics, not with legal threats."
If Madrid refuses to allow an independence vote, a go-ahead by Mas could put him onto thin legal ice. When the northern Basque region failed to obtain permission for a similar referendum in 2005, Spain said Basque leaders could face jail if they went ahead.
The next step for Mas comes the day after the Scottish vote, when the Catalan parliament is expected to approve a measure giving him the power to call a referendum. Rajoy's government is then expected to ask Spain's Constitutional Court to rule the vote illegal, and experts believe the court will do so.
"Catalonia and Scotland have again put the issue of the people's right to decide on the political stage, showing that this is an open question in Europe," said Pello Urizar, leader of one party in the Basque pro-independence Bildu coalition.
Despite the euphoria, political scientists have found that separatism in one country doesn't necessarily promote separatism in another, said Jason Sorens, a government professor at Dartmouth College.
Scotland's pro-independence leader says that the separation process, if it goes ahead, would not be completed until 2016. Sorens says the full impact of Scottish independence probably won't be known until after that.
"If Scotland votes yes and the negotiation process goes smoothly and Scotland gets into the EU quickly, that might boost secessionist support because it would show the risks of independence are lower," he said. "It could go the other way, if the transition involves a lot of cost."
Follow us on twitter.com/foxnewslatino
Like us at facebook.com/foxnewslatino