Schiller Forced Out as NPR President Following Hidden-Camera Sting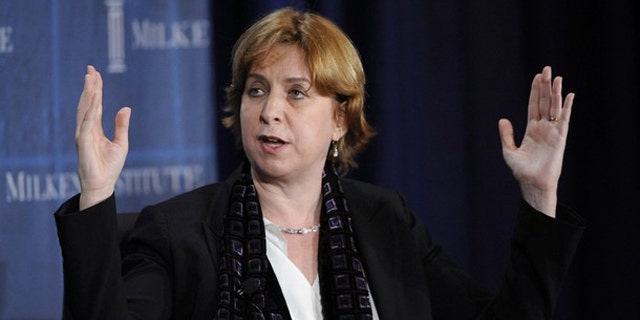 Embattled NPR CEO Vivian Schiller resigned Wednesday at the request of the board after a hidden-camera video was released showing a fellow executive criticizing Republicans as "anti-intellectual" and calling the Tea Party "racist."
The resignation caps a tumultuous period for Schiller and comes just two days after she delivered a major speech in Washington outlining her vision for NPR's future. NPR Board of Directors Chairman Dave Edwards, in a statement on NPR's website, said the board accepted Schiller's resignation, which is "effective immediately," with regret. According to The Associated Press, the board asked Schiller to step down, and she complied.
"The Board accepted her resignation with understanding, genuine regret, and great respect for her leadership of NPR these past two years," Edwards said.
The announcement was made one day after a conservative activist released an undercover video showing an NPR senior executive criticizing conservatives. NPR swiftly condemned the comments by Ron Schiller, who is not related to Vivian Schiller. Ron Schiller later apologized and, though he was already planning to leave NPR, said his resignation as a senior vice president and president of the NPR Foundation would be effective immediately.
But the video was gaining traction in the media by then, potentially distracting from Vivian Schiller's message in her speech Monday in which she stressed NPR's objectivity.
The activist who released the footage, James O'Keefe, said in a fundraising letter on his website Wednesday that his organization "just exposed the true hearts and minds of NPR and their executives."
The controversial comments from Ron Schiller were made during a meeting with two people posing as members of a fictitious Muslim organization. The two activists, who recorded the February meeting on hidden camera, were trying to convince NPR executives to accept a $5 million donation -- money NPR apparently refused.
During the meeting, Ron Schiller talked about how the Republican Party had been "hijacked" by the Tea Party.
"The current Republican Party, particularly the Tea Party, is fanatically involved with people's personal lives," he said.
Schiller described that movement as "white, middle America, gun-toting," and added: "They're seriously racist people."
Ron Schiller went on to lament what he called an "anti-intellectual" component of the Republican Party.
"Liberals today might be more educated, fair and balanced than conservatives," he said.
Schiller also suggested NPR would be better off if it did not accept federal funding, fueling the argument of GOP lawmakers who for months have been pushing to halt taxpayer support for NPR.
House Majority Leader Eric Cantor, R-Va., repeated that call Wednesday.
"Our concern is not about any one person at NPR, rather it's about millions of taxpayers. NPR has admitted that they don't need taxpayer subsidies to thrive, and at a time when the government is borrowing 40 cents of every dollar that it spends, we certainly agree with them," Cantor said.
Schiller had been planning to leave NPR to join the Aspen Institute. However, the institute released a brief statement Wednesday saying Schiller informed the think thank he would not be coming on board, "in light of the controversy surrounding his recent statements."
The video was released by O'Keefe, the conservative activist best known for producing undercover videos that showed employees with the community advocacy group ACORN helping a couple posing as a pimp and prostitute.
It comes several months after NPR was criticized for the way it handled the firing of analyst Juan Williams last fall. Williams, who later took on an expanded role at Fox News, was fired after he said he felt uneasy when he sees passengers in "Muslim garb" on planes.
Vivian Schiller, in her address Monday on NPR's future, said the incident was handled "badly."
In its statement, the NPR board praised Schiller for her contributions.
"Vivian brought vision and energy to this organization. She led NPR back from the enormous economic challenges of the previous two years. She was passionately committed to NPR's mission, and to stations and NPR working collaboratively as a local-national news network," the statement said. "I recognize the magnitude of this news -- and that it comes on top of what has been a traumatic period for NPR and the larger public radio community. The board is committed to supporting NPR through this interim period and has confidence in NPR's leadership team."
The board announced that Joyce Slocum, a senior vice president at NPR, would take Schiller's place on an interim basis.