Sarah Sanders says press 'out of control' for confusing Russian spy, White House staffer
White House Press Secretary Sarah Sanders blasted "media hysteria" on Wednesday, accusing reporters of confusing a Russian spy with a National Security Council employee simply because they both have red hair.
Sanders was asked about 29-year-old Russian Maria Butina, who is accused of secretly working as a foreign agent while living in the United States. She pivoted to the situation surrounding Mic reporter Emily Singer, who apologized on Tuesday for mistakenly claiming that Butina was among a group photographed in the Oval Office in 2017.
The woman in the photo turned out to be NSC staffer Cari Lutkins – who, like Butina, has red hair.
"Just because somebody was simply red-headed they were accused of being some sort of spy for Russia."
"Certainly, we're looking at that but just to clarify, I know that there was massive media hysteria yesterday over confusion between that individual and a White House staffer, which I think shows, frankly, the outrageousness and the desire to find the negative in everything that this president does. Just because somebody was simply red-headed they were accused of being some sort of spy for Russia," Sanders said.
The press secretary continued: "I think this has gotten totally out of control. You guys need to take a little bit of a step back, slow down and quit going after the Trump administration on every single thing that takes place."
She ripped the media while she also fielded numerous questions about President Trump's widely criticized press conference with Vladimir Putin on Monday. Trump initially seemed to accept his denial on meddling in the U.S. election, but walked that back on Tuesday and backed U.S. intelligence community findings.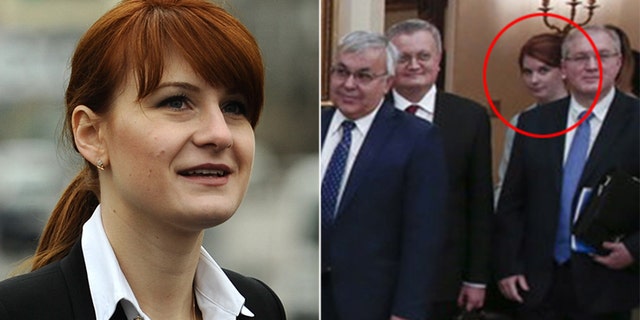 Singer's now-deleted tweet featured a photo from a White House meeting between Trump and Russian diplomat Sergey Lavrov captioned, "I thought this was a photoshop, but it's not. This is Maria Butina – arrested for being a Russian spy – in the Oval Office with Trump."
The highly inaccurate tweet was shared thousands of times before Singer realized that the woman in the photo was not a Russian spy. Several prominent reporters shared the inaccurate information and the erroneous assumption was still being circulated by some media members hours after Singer deleted the image.
When reached by Fox News, Singer provided the following comment: "I made a serious error in tweeting about a meeting in the Oval Office in 2017. The information was incorrect, and I deleted the tweet within an hour, as soon as I realized the mistake. I apologize for any confusion."
Meanwhile, Butina – who was not at Trump's meeting with Lavrov -- allegedly "gained access" to "an extensive network of U.S. persons in positions to influence political activities in the United States" by living with and having a personal relationship with another individual, according to new court filings.
Prosecutors also said on Tuesday that she allegedly offered to have sex with an unnamed individual in return for a job in the United States. The red-headed Russian is accused of conspiring to infiltrate U.S. political organizations — possibly including the National Rifle Association — at the direction of an unnamed senior Kremlin official.
Fox News' Alex Pappas contributed to this report.