Sanford versus Sanford? Talk of contest between former SC governor, first lady for House seat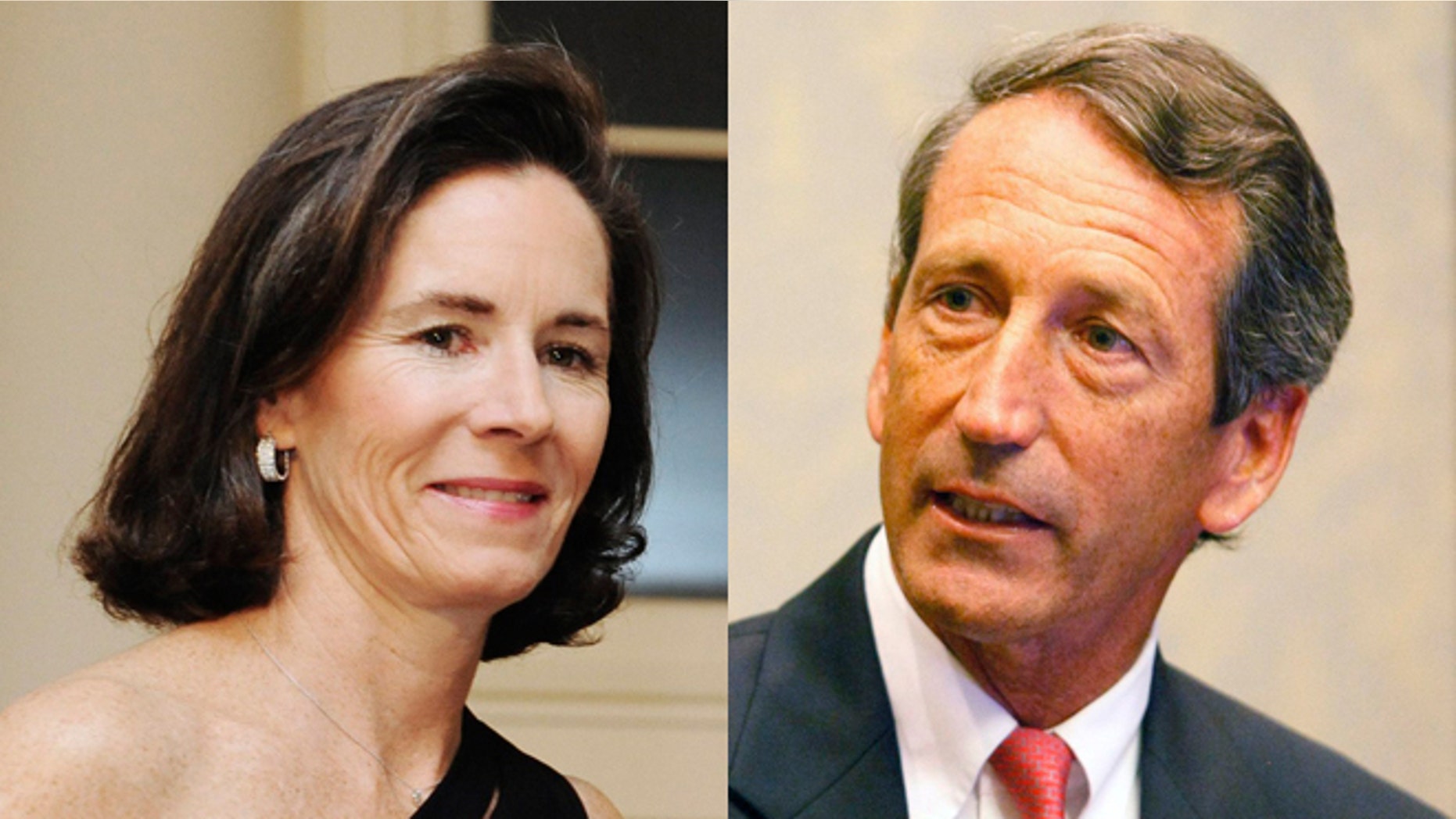 With the potential to crush the juiciest of "Divorce Court" episodes, former South Carolina Gov. Mark Sanford and ex-wife Jenny could soon face off for an open congressional seat.
The former governor and former first lady of South Carolina both are purportedly thinking about entering the special election for the open seat of Republican Rep. Tim Scott -- appointed Monday by Gov. Nikki Haley to fill the seat of Republican Sen. Jim DeMint, who is resigning in January.
The Charleston-area seat has in fact attracted a long list of potential GOP candidates in the Republican-leaning 1st District.
"South Carolina politics is always intriguing," Van D. Hipp Jr., a former South Carolina Republican Party chairman, said Wednesday. "And for some reason that seat just brings candidates out of the woodwork."
The 52-year-old Sanford, a Fox News contributor, has been urged by supporters to join the race and is considering the possibility.
Jenny Sanford also told CQ Roll Call earlier this week that she is considering a run and will discuss the matter with her family over the Christmas holiday.
It's unclear whether one's decision could affect the other's. Jason Miller, a former campaign manager and deputy chief of staff to the former governor, told Fox News that Sanford has made it clear "a number of times" that he would "never enter a Sanford vs. Sanford primary election contest."
"This matchup would never happen," Miller wrote in an email.
Mark Sanford held the 1st District seat from 1995 to 2001 before holding the governorship from 2003 to 2011.
The Sanfords officially divorced in 2010 after the former governor admitted to having an affair with an Argentine woman to whom he is now engaged.
The former governor famously disappeared for six days in June 2009 after telling staff he would be hiking on the Appalachian Trail. After being confronted by a reporter at an Atlanta airport upon his return from Argentina, Sanford admitted to the affair.
He also admitted to having "crossed the lines" with a "handful" of other women during his 20 years of marriage. His wife later acknowledged being aware of her husband's infidelities before the scandal broke and said they had sought counseling. She left the governor's mansion with their four sons during the scandal and moved with them into the family's beach house.
The 50-year-old Jenny Sanford has credentials, as a former New York investment banker who helped manage her husband's campaigns and served as his political adviser.
She was reportedly on Haley's shortlist to fill DeMint's seat.
Hipp is not sure either will run, pointing out the Mark decided not to seek reelection for his House seat because of a term-limits vow.
"If I had to bet the house on it, I'd say no," Hipp said.
While the Sanfords are making headlines, Hipp argues several other Republican candidates also are legitimate contenders, including a bunch of state lawmakers and Teddy Turner – the son of media mogul Ted Turner.
Hipp mentioned state Reps. Chip Limehouse and Jim Merrill as well as state Sens. Larry Groomes, a Tea Party candidate, and Chip Campsen, who he called "a favorite among social conservatives."
Others mentioned by Hipp include Carroll Campbell III, a businessman and the son of former Gov. Carroll Campbell, and Republican state Sen.-elect Paul Thurmond, son of the late Sen. Strom Thurmond.
South Carolina law states the primary will be on the 11th Tuesday after Scott's resignation becomes official. And a runoff will take place two weeks later if no candidate gets more than 50 percent of the vote. The general special election will likely be held in early May.