Sanders slams Dem rep's criticism of Trump call to Army widow: 'Appalling and disgusting'
White House Press Secretary Sarah Sanders on Wednesday blasted Democratic Rep. Frederica Wilson's criticism of the president's call to a fallen soldier's widow as "appalling and disgusting," even as the congresswoman stood by her account.
"I think it's appalling what the congresswoman has done and the way she's politicized this issue and the way that she's trying to make this about something that it isn't," Sanders said during the White House press briefing.
The dispute has steadily escalated -- puncuated by claims and counter-claims via Twitter, briefings and interviews -- ever since Wilson, D-Fla., claimed Tuesday that President Trump told the widow of Army Sgt. La David Johnson during a phone call that "he knew what he signed up for."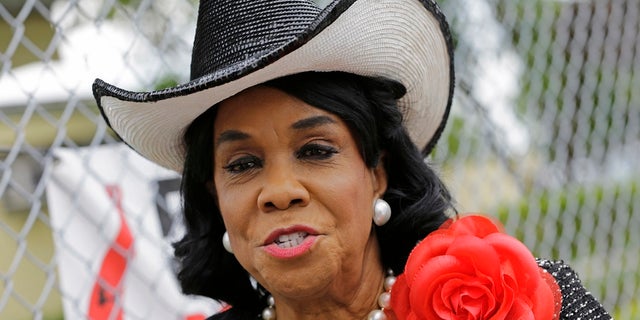 Johnson was among four service members killed earlier this month during an ambush in Niger. Wilson called Trump's remarks in the phone call insensitive.
Johnson's aunt, Cowanda Jones-Johnson, later backed up the congresswoman's account, telling The Associated Press that Trump showed "disrespect."
TRUMP SAYS DEM REP 'FABRICATED' ACCOUNT OF CALL TO SOLDIER'S WIDOW
But Sanders defended the president's tone.
"This was a president who loves our country very much, who has the greatest level of respect for men and women in the uniform and wanted to call and offer condolences to the family. And I think to try to create something from that that the congresswoman is doing is frankly appalling and disgusting," she told reporters.
Earlier Wednesday, Trump hit back at Wilson, saying the congresswoman "totally fabricated what I said to the wife of a soldier who died in action (and I have proof). Sad!"
Wilson, after doing the same on Twitter, released a statement on Wednesday afternoon saying she stands by her comments.
"I stand firmly by my original account of his conversation with Myeshia Johnson, the widow of Sgt. La David Johnson," the congresswoman said. "Moreover, this account has been confirmed by family members who also witnessed Mr. Trump's incredible lack of compassion and sensitivity."
She earlier told CNN she and other Johnson family members heard the call because it was on speakerphone.
Asked about the proof the president claimed to have, Sanders said there are no recordings of the phone call, "but there were several people in the room from the administration that were on the call including the chief of staff, General John Kelly."
She also took aim at the media over its coverage of the story.
"The sentiment of the president was very clear," she said. "He took ... time to make a call to express his condolences to thank the family for this individual's service. And I think it frankly is a disgrace of the media to try to portray an act of kindness like that and that gesture and to try to make it into something that it isn't."
During the briefing, Sanders also discussed health care, saying the president does not support the recent Alexander-Murray agreement. Sen. Lamar Alexander, R-Tenn., and Sen. Patty Murray, D-Wash., reached an accord for a two-year continuation of federal subsidies to insurers that Trump has halted, coupled with an easing of some coverage requirements under former President Barack Obama's health care law.
"This president certainly supports Republicans and Democrats coming to work together," she said. "But it's not a full approach. We need something to go further to get on board."
Fox News' Joseph Weber and The Associated Press contributed to this report.