Same-Sex Couple Walks Down Aisle in Texas, Gets E-Married in D.C.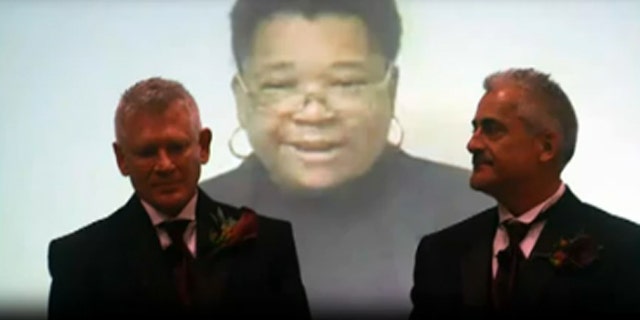 Gay couples living in one of the 45 states that will not issue them a marriage license could have a new pathway to the altar -- virtual weddings.
Though it's not a trend just yet, a same-sex couple in Texas proved last month that a long-distance wedding could be legally performed after they got married in the Lone Star State while the ceremony was officiated via Skype in Washington, D.C., where gay marriage is legal.
Mark Reed, who married Dante Walkup in the Oct. 10 ceremony, said he knows Texas will not recognize their marriage. But he touted the digital wedding as a breakthrough for same-sex couples looking for the social benefits of marriage without compelling their families and friends to travel to states that will perform the ceremony.
"It was awesome," Reed told FoxNews.com. "We're hoping others are encouraged to be able to do the same thing."
The legality of the so-called e-marriage is tricky and wouldn't work in every state that recognizes same-sex marriages. Such long-distance weddings, over Skype or over the phone, have traditionally been accepted for military couples when the bride or groom is overseas. Only four states explicitly allow what is called a proxy marriage. The District of Columbia is not on that list, but Reed and Walkup were able to get their marriage recognized through a technical reading of the District's marriage law, which states merely that the officiant has to be in the District. Where the wedding party is is another matter.
"If you look at what it said, they followed the law," said Michigan State University associate law professor Adam Candeub, who has promoted the concept of "e-marriage."
Candeub, who said straight couples also would be allowed to e-marry under D.C. law, hosted Reed and Walkup at a symposium earlier this month at which the newlyweds gave a PowerPoint presentation on their ceremony.
The Oct. 10 ceremony at the W Dallas-Victory hotel in Dallas was like any other wedding, except the officiant -- a gay-rights activist based in Washington, D.C. -- appeared via Skype on a 6-by-8-foot monitor.
"She was on the screen. We had cameras where she saw us, we saw her, and she gave a very emotional ceremony," Reed said.
Reed said he and Walkup had to travel to Washington in May to get their marriage license, but they wanted to wed in Dallas, where their families and friends would be able to attend. Eighty people ended up attending the ceremony.
Reed said that while Texas will not recognize the marriage, the ceremony provided "social recognition" of their partnership. The marriage will be recognized in the District of Columbia and presumably other states and countries where same-sex marriage is legal.
Same-sex marriages can be legally performed in Massachusetts, Connecticut, Vermont, New Hampshire, Iowa and the District of Columbia.
Reed said so far nobody has challenged their marriage, though "there's always been that possibility out there."
Maggie Gallagher, chairwoman of the board for the National Organization for Marriage, a non-profit group opposed to same-sex marriage, acknowledged that the ceremony "may well be a valid wedding in D.C.," but she dismissed its significance.
She said she doesn't think many other couples will try to get around same-sex marriage restrictions via Skype.
"It certainly is not a valid marriage in Texas ... so it seems to me that it's more of a stunt than a serious new strategy for same-sex marriage," she said.
But Sean Eldridge, political director for Freedom to Marry, said that even though Texas will not honor such a wedding, the Skype ceremony shows how determined some couples are to get married. He said it does have its benefits.
"Any couple would ideally want to get married in their own town," he said. "This is just another example of how much of a desire there is to share in this life step that everyone else gets to share in."