Ryan warns of financial collapse over debt, urges Congress to avert 'moral failure'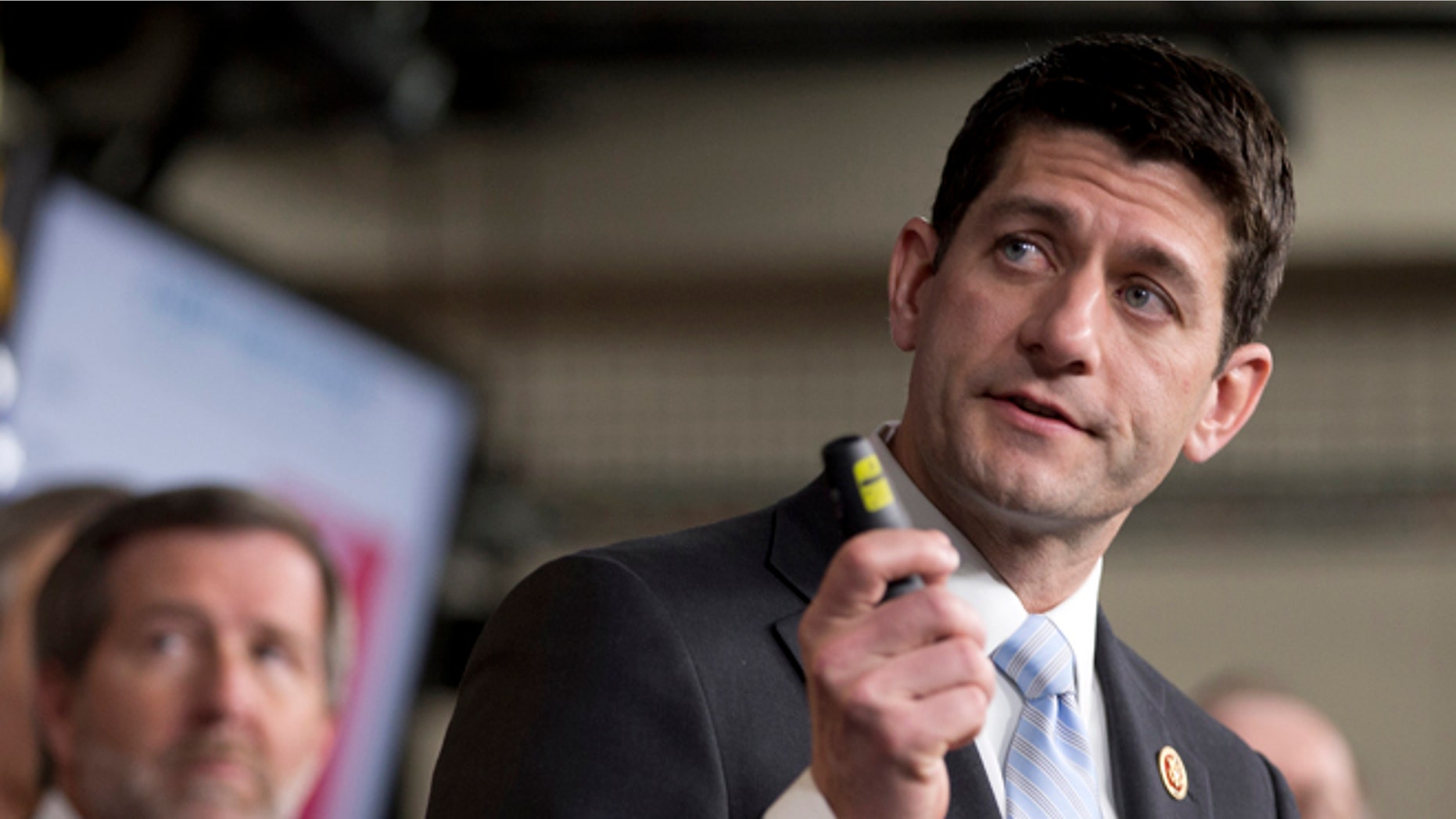 Rep. Paul Ryan issued an urgent call to conservatives Friday to bridle the debt and head off a crisis he described as a looming "moral failure," defending the budget he introduced earlier this week from a barrage of Democratic attacks.
"We have to tackle this problem before it tackles us," Ryan said, speaking on the second day of the Conservative Political Action Conference.
Putting the problem in stark terms, the House Budget Committee chairman and former vice presidential nominee said the nearly $17 trillion debt will "weigh down the country like an anchor" within the next 10 years. He said lenders will at that point lose trust and interest rates across the country will soar -- under pressure, he said the federal government will print more money, cheapening the currency and leading to a financial collapse that has the effect of unraveling the social safety net.
"It would be a moral failure," Ryan said. The deficit spending, he said, "has to stop."
Ryan addressed CPAC just days after the Budget Committee chairman introduced the party's 2014 budget which aims to close the deficit in 10 years and eventually pay down the debt.
Democrats lambasted the plan for its significant changes to Medicare and the fact that it does not include tax hikes. The Democratic plan, though, also does not propose any major overhaul to deficit-driving entitlements and does not endeavor to balance the budget in 10 years.
Ryan spoke as CPAC charged into its second day at a hotel and convention center on the outskirts of Washington.
The second-day agenda was packed by big-name speakers, including 2012 GOP presidential nominee Mitt Romney.
Romney, who spoke a few hours after Ryan, also drew attention to the debt while voicing optimism that a "conservative vision can attract a majority of Americans." He pointed, as an example, to the recent legislative achievements by the dozens of Republican governors, many of whom were in attendance.
"Today, history and duty summon us again," Romney told the crowd. "I am sorry I won't be your president -- but I will be your co-worker, and I'll work shoulder to shoulder alongside you. ... In the end, we'll win."
Romney's primary rival Rick Santorum also spoke Friday, in an agenda that included House Republican Leader Eric Cantor, Louisiana Gov. Bobby Jindal and former Florida Gov. Jeb Bush as well.
Senate Republican Leader Mitch McConnell, one of the morning speakers, predicted a conservative "comeback," as he systematically tried to knock down conservative stereotypes that Democratic campaigns have tried to perpetuate.
"Don't tell me Republicans are the party of millionaires and billionaires when Obama's campaign arm is charging people a half a million dollars for a meeting over near the White House," McConnell said, referring to recent controversy over reported efforts by an Obama-tied group to give top donors special access to the president.
McConnell argued that Democratic policies only ensure "that the poor stay poor." He said their policy "looks a lot more like flypaper than a safety net."
McConnell repeatedly turned back to the GOP goal of trying to upend the federal health care overhaul, saying "we're not backing down from this fight."
He also had choice words for a liberal group that recently mocked his wife's ethnicity in what he called "racist tweets."
"Anybody's who's got the nerve to question her patriotism doesn't know what tolerance is, do they?" the senator said.
Progress Kentucky tweeted last month: "This woman has the ear of (@McConnellPress -- she's his #wife. May explain why your job moved to #China!" The group later apologized and took down the tweet.
McConnell's wife, former U.S. Labor Secretary Elaine Chao, was born in Taiwan.
The CPAC gathering this week also served to highlight some divisions among conservatives. Sen. Rand Paul, R-Ky., who drew national attention for his 13-hour filibuster last week against over President Obama's drone-attack authority, needled some elements of the party in his lively speech Thursday.
"The GOP of old has grown stale and moss-covered. I don't think we need to name any names, do we?" Paul said. "Our party is encumbered by an inconsistent approach to freedom."
Paul sparred with long-time senators last week like Sen. John McCain, R-Ariz., who called the filibuster a "stunt" meant to "fire up impressionable libertarian kinds in their college dorms."
But even McConnell, who previously backed Paul's primary opponent in the 2010 election, on Friday called his Kentucky colleague a "warrior."