Russia says it sent US a 'concrete' plan to end Syria crisis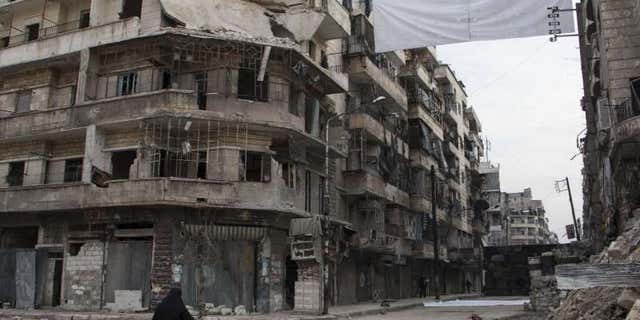 Russia sent the United States a "concrete" plan to end the five-year civil war in Syria, and Washington was reviewing the proposal, Russia's top diplomat told state media Tuesday.
U.S. officials did not immediately confirm they received such a plan. The Russian news agency RIA reported the comments from Foreign Minister Sergey Lavrov, who is set to meet with Secretary of State John Kerry on Thursday in Germany.
Kerry did not appear to address Russia's claim while speaking to reporters in Washington Tuesday, but he called on Moscow to help arrange for an immediate ceasefire.
He cited Russia's role in the ongoing government onslaught on the northern Syrian province of Aleppo. Last week, Syrian troops and their allies were able to lift a three-year rebel siege imposed on the Shiite villages of Nubul and Zahra in Aleppo.
"Russia's activities from Aleppo and in the region are making it much more difficult to be able to come to the table and be able to have a serious conversation," Kerry said.
Lavrov shrugged off criticism that Russia had contributed to the collapse of peace talks in Geneva last week by providing air cover over Aleppo. Instead, he blamed Turkey, saying it had fueled the conflict by providing militants with weapons and supplies, and buying oil from them.
"Unless we can get to a ceasefire that everybody has signed up to, and humanitarian access to the areas everybody has agreed needs it, then the conflict will be prolonged," State Dept. spokesman John Kirby said Monday.
The Syrian uprising began in March 2011 with mostly peaceful protests but escalated into a full-blown civil war after a harsh government crackdown. The fighting has killed more than 250,000 people and forced millions to flee the country.
The war has drawn in regional and international rivals, with a U.S.-led coalition launching airstrikes against fighters linked to the Islamic State terror group. Opposition activists have said that Russia has been using cluster bombs since the start of its aerial campaign in Syria on Sept. 30.
The U.N. humanitarian office OCHA said 300,000 people could be cut off from aid if Syrian government and allied forces encircle Aleppo and deprive those fleeing from their last way out. OCHA said local leaders believe up to 150,000 people could try to flee to nearby Afrin and the surrounding countryside.
The Associated Press contributed to this report.