Rubio making last minute blitz through home state of Florida ahead of primary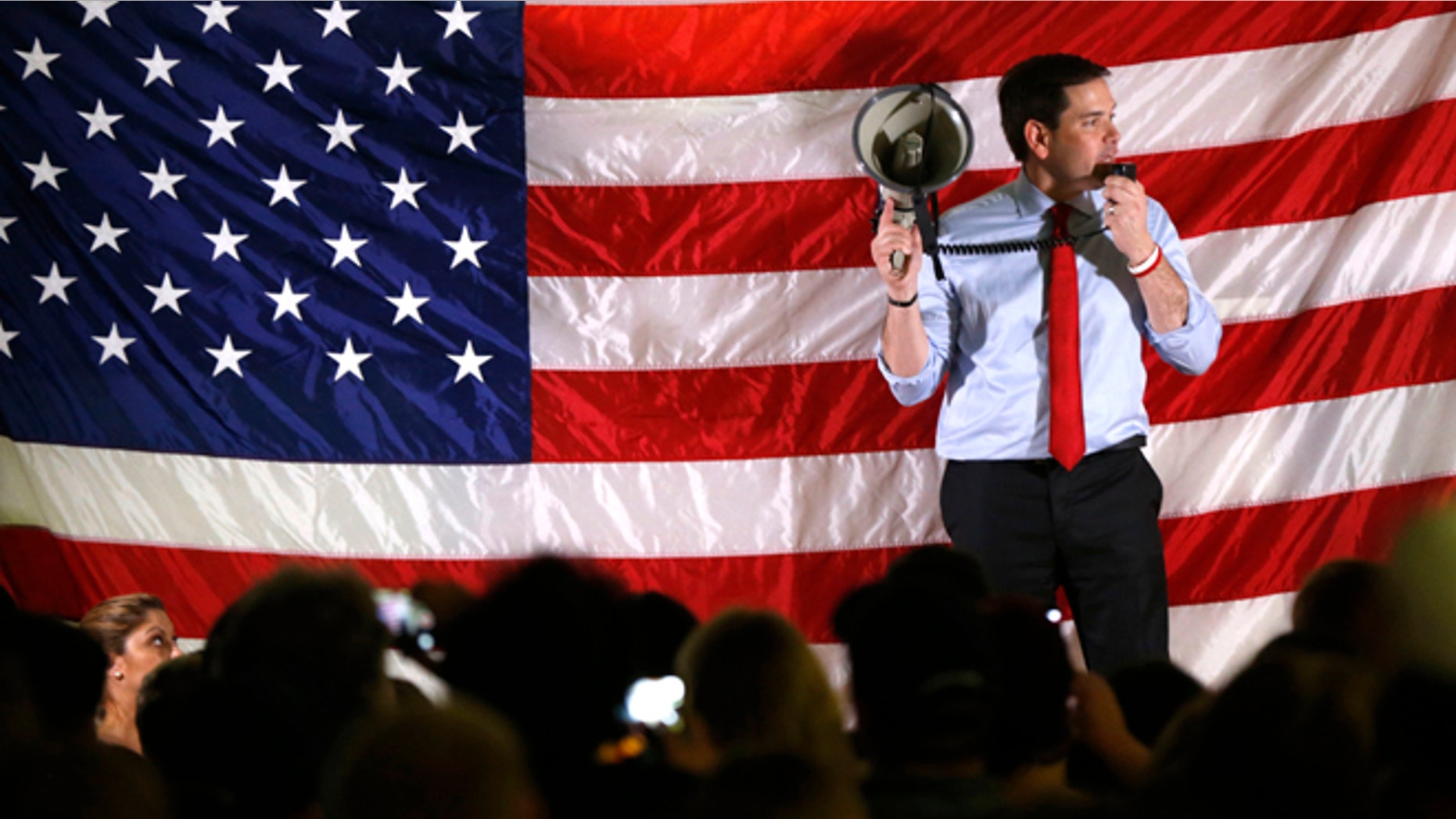 With less than 24 hours to go before the polls open in Florida, where Marco Rubio is expected to find out if he has the sway to stay in the race, his campaign is making an all-out blitz in an effort to make up ground he has lost to rivals like Donald Trump.
On Monday, the Florida senator was making a tour down I-95, going from Jacksonville all the way south to Miami.
"I entered this campaign for president understanding that I wouldn't be a front-runner," Rubio told a group of supporters in a rally outside of Tampa over the weekend. "[I was] told by many that had been in politics for a long time that it wasn't my turn, that I needed to wait in line, that I was too impatient and in too much of a hurry. Yes, I'm in a hurry, and I'm in a hurry because I think America needs to be in a hurry.
"Now the time has come for this generation to do its part. And if we don't get it right in 2016, I'm not sure what happens next," Rubio added. "I'm not trying to be negative or cataclysmic or apocalyptic, I'm just telling you, I'm not sure what's happens next."
Rubio has a right to be unsure of what happens next given that the poll numbers coming from Florida are not in his favor. A Monmouth University poll released on Monday has Trump winning 44 percent of likely Florida primary voters, compared to Rubio's 27 percent support.
Trump has increased his lead over Rubio from 8 points a week ago to 17 points in the latest poll. During that span, Trump has gained 6 points, while Rubio has lost 3 points.
If Trump wins Florida – a winner-take-all state with 99 delegates – it would not only help the billionaire businessman tighten his grip in the Republican nomination, but would take Rubio out of any contention for the GOP nod.
Trump currently has 460 pledged delegates, while Rubio trails with 163. Texas Sen. Ted Cruz sits in second place in the Republican race with 370 pledged delegates and would like Rubio and Ohio Gov. John Kasich to drop out of the race so he can battle Trump one-on-one.
Despite long odds, Rubio insists he's focused only on winning his party's 2016 presidential nomination.
"I haven't even thought about what I'm having for lunch today, much less what I'm going to run for in two years or nothing at all," he told reporters in West Palm Beach this week.
"If I never hold public office again, I'm comfortable with that," Rubio continued. "I can't tell you what's going to happen two to four years from now. But I have no plans. No thoughts. No contemplation. No meetings. Nothing about any future political run of any sort."