Rubio gathers supporters, endorsements in sink-or-swim Florida contest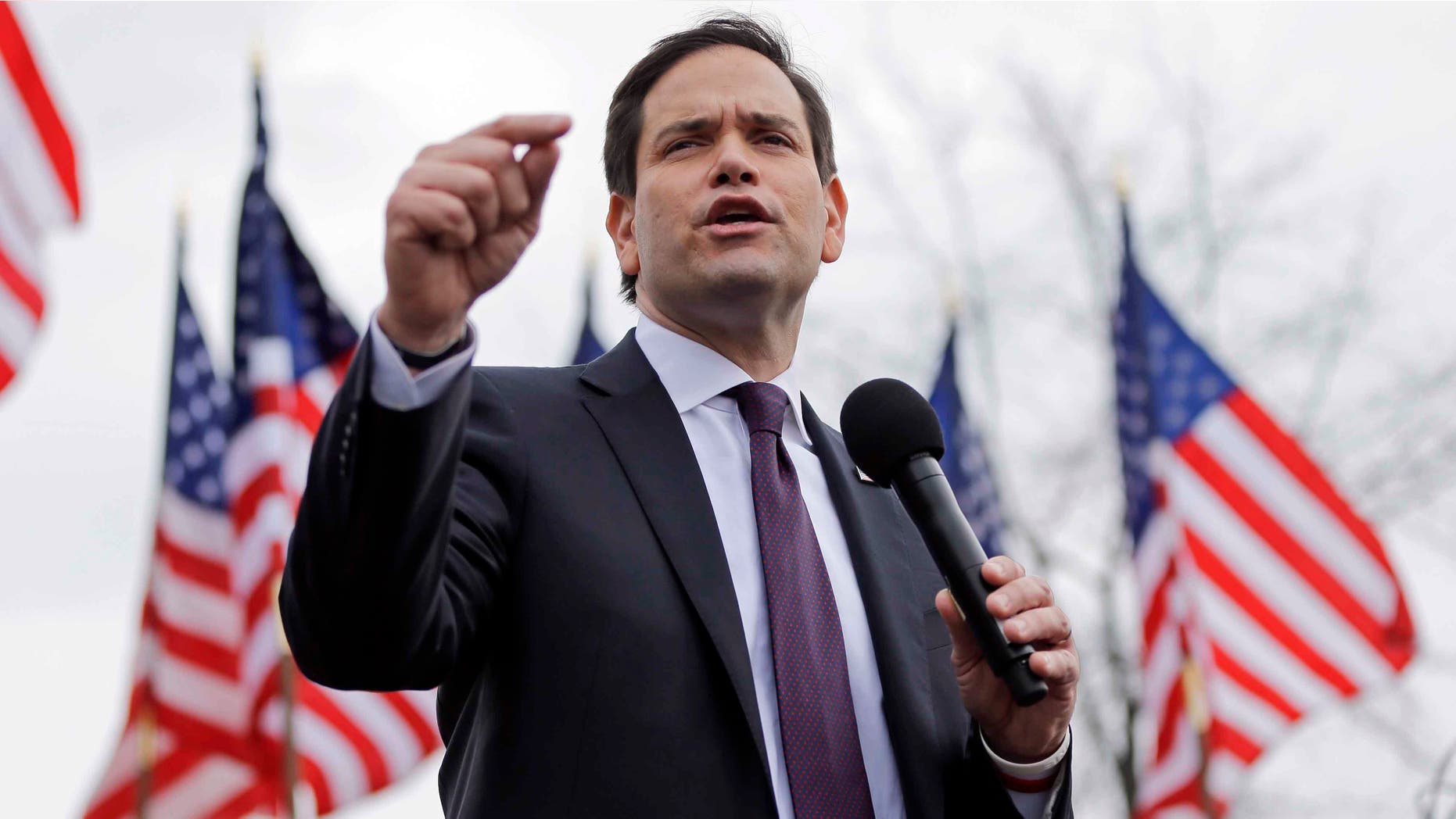 Marco Rubio's camp and his supporters are looking to the senator's home state to revive his campaign, and he's getting a boost from Republicans who've sat on the sidelines so far but are joining his team in the hope of stopping Donald Trump's momentum.
With the Florida primary approaching on March 15, many former Jeb Bush backers have flocked to Rubio, who also has picked up the endorsement of GOP favorite Gov. Susana Martinez of New Mexico.
Rubio and Martinez are campaigning together in Florida on Saturday.
In a statement, Martinez called Rubio, "a compelling leader who can unite the country around conservative principles that will improve the lives of all Americans."
The senator is not counting on any kind of home turf advantage, especially with Trump – whose primary residence is in New York but who also owns resorts in Palm Beach, Doral as well as other properties – putting in resources to compete in Florida. And doing very well in several polls of the state's GOP voters.
They're coming from the Republican establishment in an election cycle when that is exactly what primary voters are voting against. It may actually work to slow or weaken his chances as opposed to strengthening them.
Trump has been pitching himself as someone with fresh ideas who is outside the stagnant Washington, D.C., political bubble. With conservatives holding a lot of sway in GOP primary voting, some political observers say, Rubio's many endorsements may not be so helpful.
"They're coming from the Republican establishment in an election cycle when that is exactly what primary voters are voting against," political pollster and analyst Fernand Amandi told Fox News Latino. "It may actually work to slow or weaken his chances as opposed to strengthening them."
Trump has intensified his attacks on Rubio, who hit back hard at the mogul after long refraining from engaging.
Florida is a winner-take-all state, lavishing 99 delegates on the victor.
Trump is still way ahead of the GOP candidates who remain in the race. He has 319 delegates, Sen. Ted Cruz has 226, Rubio has 110, Ohio Gov. John Kasich has 25 and Ben Carson (who has indicated he will withdraw from the race) has 8. But dozens of states have yet to cast a vote this primary season.
Trump, however, can lose Florida and still remain way ahead of the pack, the Washington Post reported, adding that the billionaire nonetheless wants to embarrass Rubio with a win in his state.
Rubio has staffs in Miami, Boca Raton, Orlando, Tampa and Jacksonville, and his former Iowa campaign director is now running the Florida operations from Orlando.
Rubio is trying to drive home the theme that Trump is a con artist who says one thing and does – or truly believes – another.
Earlier this week, Rubio told a crowd that Trump's edge in polls and primaries will crumble as people realize "the true nature of the front-runner."
Trump, of course, immediately pounced with his counter-attack.
"Why would anyone in Florida vote for lightweight Senator Marco Rubio?" Trump asked on Twitter on Wednesday. "Check out his credit card scam, his house sale and his no-show voting!"
Rubio has the support of more than 80 former and current GOP lawmakers in Florida.
The real estate magnate has plenty of funds at his disposal, but Rubio's campaign and a super PAC that supports him also have a lot of cash, the Los Angeles Times reported. And anti-Trump political groups have been stepping up their efforts to back candidates such as Rubio.
Trump says he knows the fight is well underway to clip his wings and to boost Rubio in Florida and elsewhere. One group, Conservative Solutions PAC, has been airing TV ads in Miami and Tampa opposing Trump. Spanish-language ads against Trump also are hitting the airwaves.
"I know that a lot of groups and special interests and lobbyists who want to have their little senator do exactly as they want, they're going to put $20 [million] or $25 million into it over the next two weeks, and frankly that's fine," Trump told reporters. "If he wins they'll have total control, but he's not going anywhere, anyway."
A loss in Rubio's home state would spell the end of his campaign, experts agree.
"Winning Florida for Rubio is absolutely necessary in order to just continue his campaign," Amandi said. "But he [also] needs to prove he can win outside Florida."
Some political observers say it's too little too late.
Rep. John Mica (R-Fla.) represents a swath of Central Florida and predicted last week that Trump will win 40 to 45 percent of his congressional district.
"[Texas Sen. Ted] Cruz will be very strong, and then probably Rubio third," Mica said.
Katie Packer, the head of the anti-Trump Our Principles PAC, says that a sense of urgency about stopping the mogul set in only recently among many donors.
"We would have liked to launch this effort in October. We didn't have the interest or the resources," the Washington Post quoted Packer, who was Mitt Romney's deputy campaign manager in 2012, as saying. "Most educated people look at Donald Trump and see him for what he is – a big carnival barker and con man. It's inconceivable to people that everybody doesn't see him that way."
Like us on Facebook