Rubio gaining ground with donors and in polls, but still far behind Bush's coffers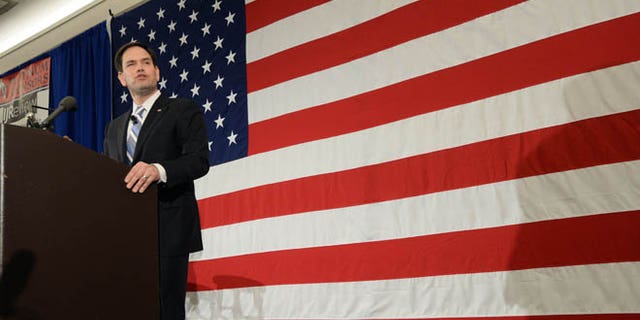 Marco Rubio's tenacious politicking and fundraising efforts appear to be working out so far for the Republican candidate as the campaign season heats up and more and more presidential hopefuls join the fray.
The Florida senator recently has seen a surge in both the polls and in campaign contributions, with many GOP strategists and fundraisers raving about the Cuban-American lawmaker – much to the chagrin of his main rival, former Florida Gov. Jeb Bush.
"After meeting Marco and listening to him — he is almost astounding, he is so articulate and he has got such great vision," Anthony Gioia, a top GOP fundraiser in Buffalo, told the Washington Post. "I hate to overuse the word 'transformational,' but I really feel he is."
The recent upwelling of support for Rubio has helped the junior senator jump ahead in the numbers game, with a Washington Post/ABC News poll released this week showing that the he has a better split between his favorable rating and his unfavorable rating than anyone else in the fast-growing 2016 Republican field. Bush and the other GOP favorites fell flatly in the middle, while Texas Sen. Ted Cruz ranked toward the bottom alongside Louisiana's Bobby Jindal and New Jersey Gov. Chris Christie.
Analysts say this early support and fundraising by Rubio is necessary for him to compete for advertising and outreach during a Republican primary season that is expected to be a long, arduous campaign — especially given the already deep coffers of competitors like Bush and Wisconsin Gov. Scott Walker.
In a game of fundraising it's all about meeting and beating your competitors.
Bush, who has yet to formally declare his bid for presidency, is expected to report at the end of July that his super PAC, Right to Rise, has raised more than $100 million for his campaign. By April, people familiar with Rubio's campaign, on the other hand, noted that a super PAC supporting the Florida senator had raised around $20 million.
"This is the part of the campaign where people are thinking about who they are going to support and who giving money to will help the most," Susan MacManus, a political campaign expert and professor at the University of South Florida, told Fox News Latino. "Rubio doesn't have the depth of networks that Bush does so it is very important for him to get ahead in fundraising at this early stage."
Part of that fundraising effort entails winning over donors who have become either disinterested in Bush or put off by what many consider his moderate stance on topics like immigration and education.
Before Buffalo's Gioia was gung-ho for Rubio, he had raised more than $500,000 for Bush's brother, former President George W. Bush. Wayne Berman, who worked in the administration of Jeb's father, President George H.W. Bush, and was a fundraiser for his brother, is now a senior advisor to Rubio.
Political observers are now saying that while Bush may have the name recognition, thanks to his relatives, this does not automatically guarantee that he will get the support – or the money – from his family's former backers.
"I don't think anyone, including Jeb Bush, should expect to automatically pick up support to become president — especially by virtue of being related to a past president. And I doubt he would disagree with that," Neil Patel, a Bush White House official and publisher of The Daily Caller told the New York Times. "Lots of former colleagues are lined up behind Jeb but many are also with Rubio, Walker and others."
Besides snagging up prospective Bush donors, Rubio is also benefiting from the support of newer bundlers, including billionaire Oracle founder Larry Ellison and Randy Kendrick, an influential Arizona donor and the wife of Arizona Diamondbacks owner Ken Kendrick.
Rubio also has the almost unconditional backing of former Philadelphia Eagles owner and Miami billionaire Norman Braman, who has harbored ill will toward Bush ever since the former Florida governor vetoed $2 million in state funds that had been allocated for the Braman Breast Cancer Institute. Braman already committed to hand over as much as $10 million into a pro-Rubio super PAC.
Despite Rubio's hectic fundraising and growing popularity with both big-time donors and the voting public, most observers agree that he – and all other GOP candidates – will all be playing catch-up with Bush when it comes to campaign contributions.
"In the game of fundraising it's all about meeting and beating your competitors," MacManus said. "Bush jumped out early in terms of money and is still beating everyone in funding by a lot."