Rubio blames failed presidential campaign on 'Category 5 Hurricane' Trump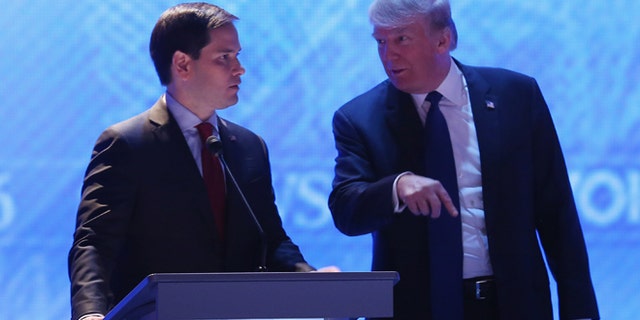 Sen. Marco Rubio is a powerful force of nature named Donald J. Trump upended the presidential election and killed his candidacy.
Rubio said the presumptive Republican nominee hit the scene like a devastating hurricane, and it was that unforeseen, unprecedented variable that explains his loss.
"A lot of times it feels almost like the guy who built this really strong building," Rubio said in an interview with the Guardian, "and it was in the right place, and it was the way these buildings have always been built, but he got hit by a Category 5 hurricane."
"It's not that we lost, it's that Donald Trump won," he said. "It was just a very unusual political year."
Rubio seemed to be a strong contender for the Republican nomination before the primaries began.
The one-time Tea Party favorite had moved to the center on various issues and became the preferred candidate of many so-called establishment Republicans. He was a solid performer in GOP debates, often receiving the highest ratings, and expectations were high going into the primaries.
But he never attained a level of momentum and support among primary voters, and he wound up losing even his own state of Florida to Trump by 18 points.
He finished third in the GOP delegate count behind Trump and Sen. Ted Cruz of Texas.
Rubio returned to Senate work immediately after suspending his campaign, sending out numerous emails to the public and press about a variety of issues, including funding for fighting the Zika virus.
Rubio has not endorsed Trump, with whom he exchanged particularly nasty remarks for months leading up to his eventual withdrawal from the race.
Recently, he did indicate he would support Trump because he is the nominee and Rubio would not want to see Hillary Clinton become president.
He said he would not actively be stumping for the real estate tycoon, however, stressing that he still had misgivings about some of his remarks while at campaign events and his policy positions.
Like us on Facebook