Roughly 19 million already voted, with Democrats leading in number of early ballots cast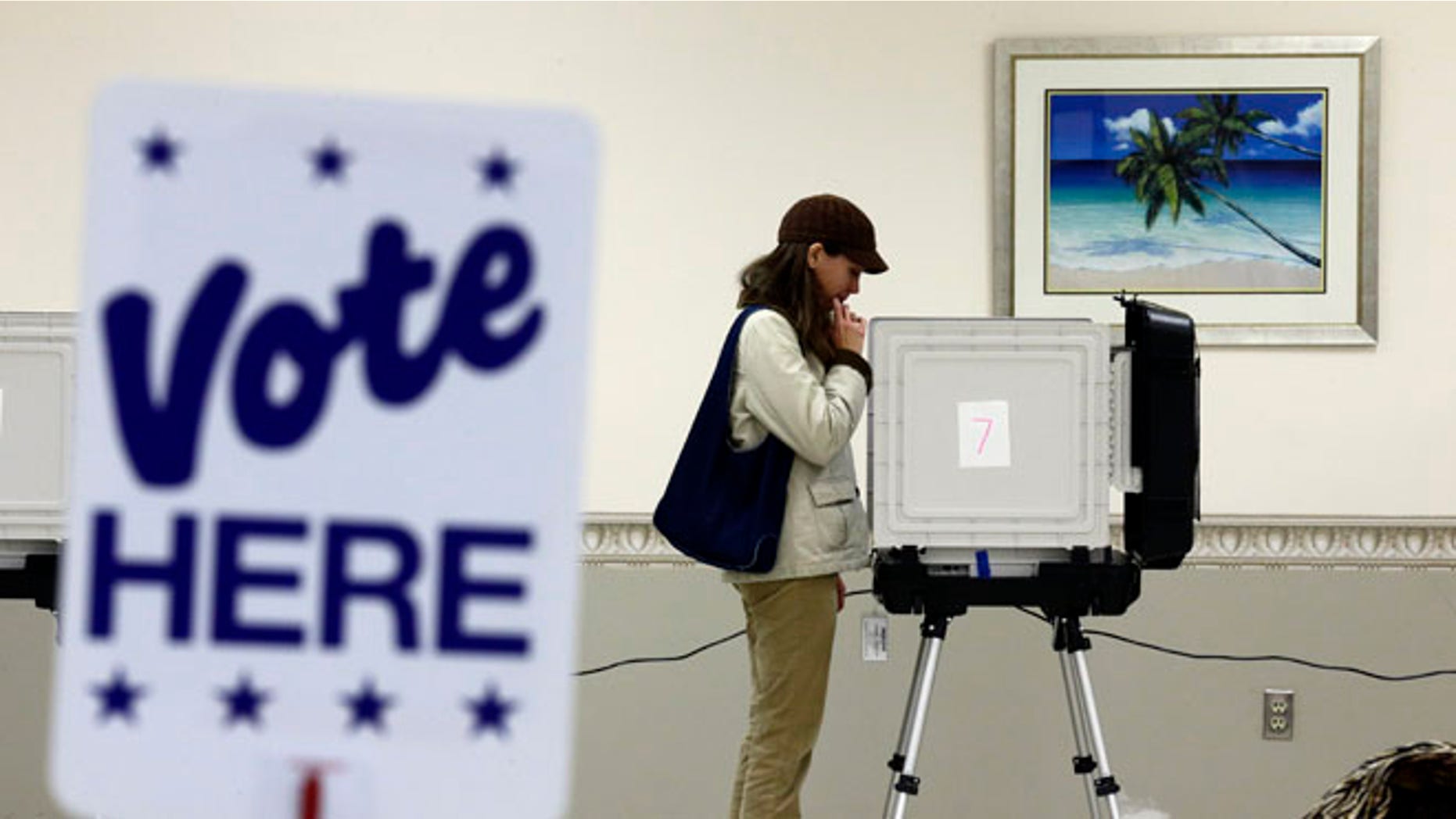 With just five days before Americans go to the polls to choose the next president, an estimated 19 million of them have already cast early ballots, with Democrats and Republicans trying to leverage the numbers into a closing argument that says their candidates have the early advantage.
President Obama and Mitt Romney have urged potential voters at essentially every campaign rally in the closing weeks to vote early.
"Get out there and vote," Mitt Romney said Monday. "We need you. It sends a very strong message. … Your vote counts just as much if it's cast on Election Day as if it's cast early."
Romney also pointed out that early votes carry a lot of weight for campaigns because the news media "looks at your zip code and where you live and makes an estimate of whether you're a Republican or a Democrat, and they decide whether we're ahead or we're falling behind."
Though trackers cannot tell whether the voters picked either Obama or Romney, a handful of states in which voters register by party can report the number of Democrats or Republicans who have voted.
Democrats appear to have a slight edge in several of the critical battleground states, according to the estimates – leading in six of seven key battleground states: Florida, Iowa, Nevada, North Carolina and Ohio.
Republicans lead in Colorado, based on information from state elections agencies, the Associated Press and the United States Elections Project at George Mason University.
"Early voting is an important tool in the fight to increase voting among the base," said Tyler Harber, Republican strategist and partner of Harcom strategies. "The goal is to run up the numbers with groups that are definitely going to cast a ballot for you. Both parties spend millions on registration and early voting because it matters.  Reporting early voting success, or failure, is certainly a way to energize your base. But such reporting has limited effect on the all-important undecided and unaffiliated voter."
President Obama voted early, casting his ballot last week, part of an effort to encourage others to do likewise.
"For all of you who have not yet voted early, I just want everybody to see what an incredibly efficient process this was," he said, after becoming the first U.S. president to vote early.
Campaign spokeswoman Jen Psaki thinks Obama is leading Romney so far and that the president is ahead of where he was in 2008.
"This is a major part of our on-the-ground program and focus, and we hope that having the president do this today will send a message to people across the country, in states where early vote is an option, that this is something they should do, too," Psaki said after the president voted.
Gallup estimates most of the mail-in and in-person ballots are from seniors and Western states.
The Washington-based polling firm also reports the estimated 19.4 million early voters is equal to roughly 15 percent of registered voters, and that early voting has increased over the past few weeks.
The percentage of those who have voted or planned to vote was at 33 percent Sunday, compared to 25 percent in the three prior weeks, Gallup reports.
Superstorm Sandy suspended early voting in Maryland and the District of Columbia. However, little impact is expected considering both will likely vote for Obama and resumed the process Wednesday.
The deadline for early voting in Maryland was Thursday, but Democratic Gov. Martin O'Malley extended the program until Friday. The District has extended early voting hours until the deadline Saturday.
Virginia Republican Gov. Bob McDonnell has extended absentee voting through Saturday.
Colorado:
Votes: 1.1 million
Democrats: 35 percent
Republicans: 38 percent
Florida
Votes: 2.7 million
Democrats: 43 percent
Republicans: 41 percent
Iowa
Votes: 532,000
Democrats: 44 percent
Republicans: 32 percent
Nevada
Votes: 533,000
Democrats: 44 percent
Republicans: 38 percent
North Carolina
Votes: 1.9 million
Democrats: 49 percent
Republicans: 32 percent
Ohio
Votes: 1.3 million
Democrats: 30 percent
Republicans: 24 percent
The party affiliation in Ohio is based on the last primary in which a voter participated.