Romney camp touts Legion speech, disputing claims he ignored wars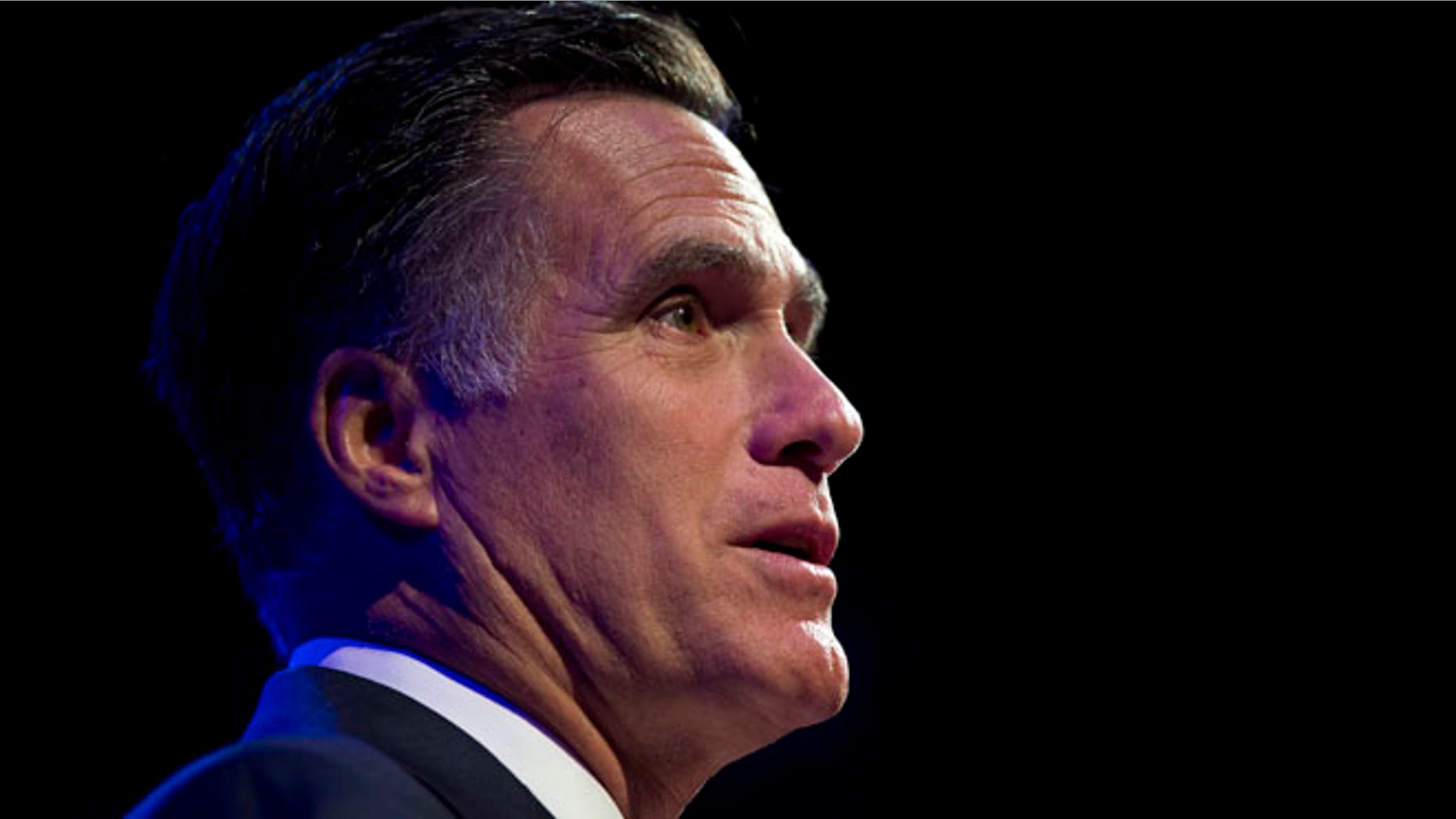 Mitt Romney continued to take flak from Democrats over the weekend for not mentioning war in his nomination acceptance speech.
But the Republican campaign was quick to point out what critics seemed to be ignoring – Romney spent the day before his convention speech visiting the American Legion conference in Indianapolis, where he talked exclusively about national security and America's veterans. President Obama, by contrast, addressed that conference in the form of a three-minute video aired at the conference site.
"Now that was an invitation that President Obama declined," Romney senior adviser Eric Fehrnstrom said in an interview Sunday. "Governor Romney thought it was a privilege to be speaking to people who had served so nobly."
Though Romney did not mention the war in Afghanistan on Thursday night, he focused on that issue, as well as the veterans who are returning home, in his American Legion speech.
"We are still at war in Afghanistan. We still have uniformed men and women in conflict, risking their lives just as you once did," Romney said.
Romney went on to accuse the president of giving the cold shoulder to America's closest allies and allowing rogue actors to exploit the U.S.
"For the past four years, President Obama has allowed our leadership to diminish. In dealings with other nations, he has given trust where it is not earned, insult where it is not deserved and apology where it is not due," he said.
Romney said that in order for this to be "an American century," the country "must have the strongest military and the strongest economy in the world." The Republican candidate dove into several specific plans for returning veterans, pledging to "keep faith" with them. He called for modifying the Post-9/11 GI Bill so veterans can be eligible for in-state tuition "regardless of residency," for hiring more mental health professionals in the VA and for making changes to help veterans find jobs.
The Obama campaign, though, has seized on the omission in Romney's nomination night speech to suggest he's overlooking the war which has lasted more than a decade and cost thousands of American lives.
"This November, you get to decide the future of this war in Afghanistan. Governor Romney had nothing to say about Afghanistan last week, let alone offer a plan for the 33,000 troops who will have come home from the war by the end of this month," Obama said Saturday during a campaign stop in Urbandale, Iowa.
He continued: "Today, all of our troops are out of Iraq. We are bringing them home from Afghanistan. And as long as I am commander in chief we will serve our veterans as well as they've served us."
While hammering Romney for omitting war in his Thursday night speech, Democrats are also portraying him as a war-hungry nominee for his past remarks.
"He said it was a mistake to end the war in Iraq and bring all of our warriors home," Vice President Biden said Sunday. "He said it was a mistake to set an end-date for our warriors in Afghanistan and bring them home. He implies by the speech that he's ready to go to war in Syria and Iran."
The Romney campaign and Obama administration actually have drawn similar red lines in their public remarks on Syria, suggesting they would consider tough action if the nation's chemical weapons were at risk of being used. Romney, though harshly critical of Obama over Iran's nuclear program, says all options are on the table for Iran just as the Obama administration does.
As for Iraq and Afghanistan, Romney has been critical of the withdrawal timetables. But on his official policy statement on his campaign website, the Romney campaign argues that the concern is the timetable in Afghanistan could be politically motivated.
"That date (for withdrawing surge troops from Afghanistan in September 2012) also happens to be just weeks before a U.S. presidential election. There is no military rationale for it," the campaign says. "It raises questions about whether the timing is politically inspired. Whatever the motivation behind the decision, it means that our military will be compelled to begin moving troops and equipment out of Afghanistan in the middle of the fighting season, taking away forces and resources it needs to combat the enemy."
The campaign, though, does not go into great detail about its plan for U.S. military in Afghanistan if Romney is elected. The statement says Romney would "review our transition to the Afghan military by holding discussions" with military leaders and would "order a full interagency assessment of our military and assistance presence in Afghanistan" to determine how many troops are needed.
Fehrnstrom, speaking on CNN's "State of the Union," suggested the convention speech was meant to be more personal than policy. He called it "an opportunity for him to introduce himself to millions of voters."
He continued: "And we thought that speech was a home run."
Obama campaign adviser David Axelrod, speaking on "Fox News Sunday," called the convention a "terrible failure."
"The problem with what Governor Romney said is for three days, they never offered anybody a plausible alternative," he said. "He spoke for 45 minutes and never really offered real ideas for how to move the economy forward."