Romney and Obama Campaigns Step up Wooing of Women and Latinos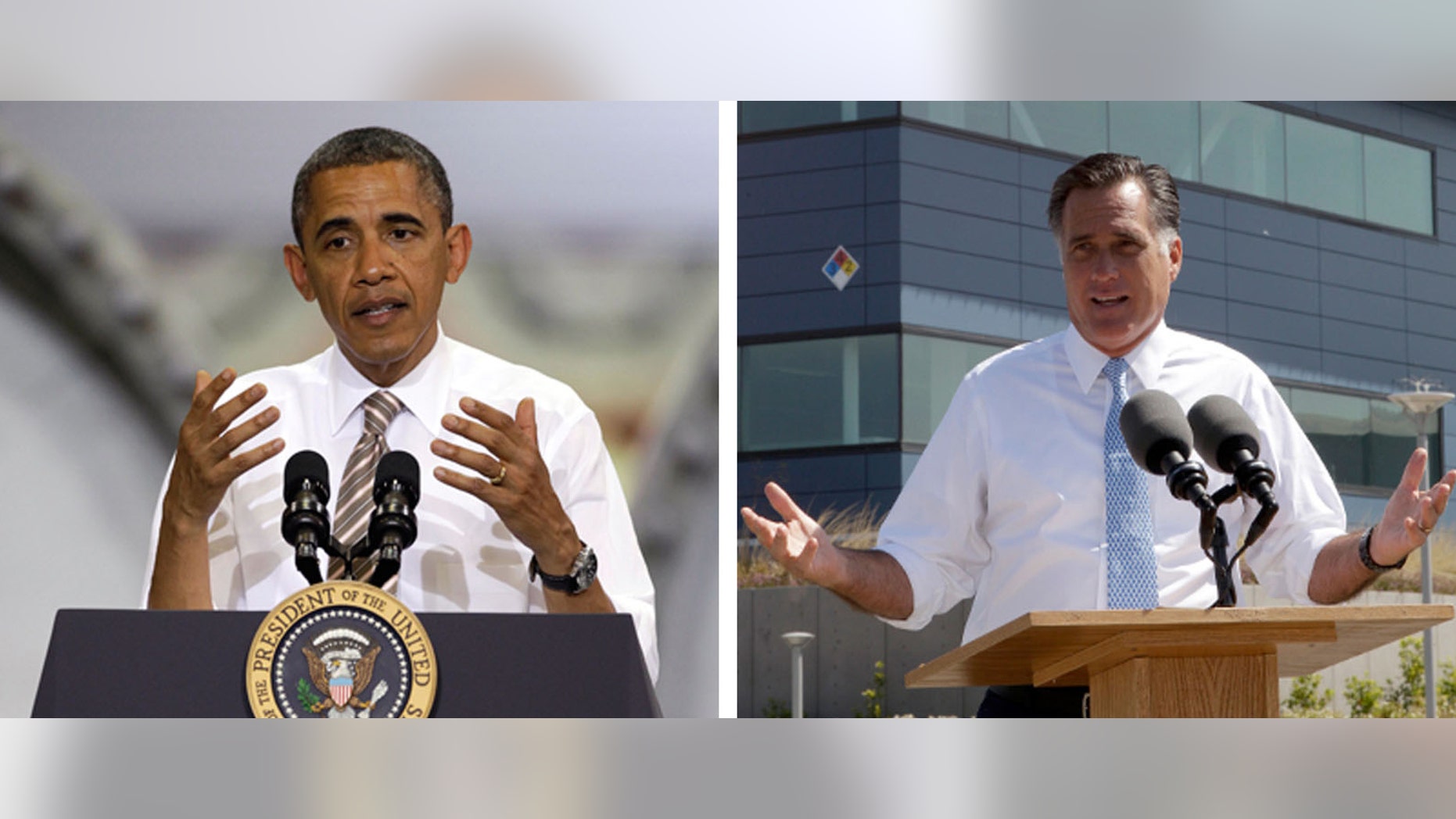 The men who want to be President in 2013 are stepping up their wooing of women and Latino voters, issuing announcements about outreach efforts to both voting blocs, and characterizing their opponent as someone who would impede the progress of both groups.
On Wednesday, Republican candidate Mitt Romney announced his campaign's "Women for Mitt Coalition," which includes on its advisory board Latinas Rachel Campos Duffy, author and television host, and Jovita Carranza, former deputy administrator for the U.S. Small Business Administration under the George W. Bush administration. National co-chairs for "Women for Mitt" also included Latinas, among them New Mexico Gov. Susana Martinez and U.S. Rep. Ileana Ros-Lehtinen of Florida.
President Barack Obama was to appear Wednesday with Sandra Fluke, the Georgetown University student who became a flashpoint for women's health and, by proxy, abortion rights. Obama's message: Romney would take away women's health insurance benefits won by Democrats.
Women made up 53 percent of voters in the 2008 presidential elections. Latinos who tend to vote Democrat, but will vote in significant numbers for a Republican with an appealing message (George W. Bush got 44 percent of the Latino vote in 2004, for instance), live in many of the most competitive swing states.
The 2010 Census showed that there are 50 million Hispanics in the United States. About 21 million are registered to vote.  It is speculated that some 12 million will cast ballots this year. Political experts say the Republican presidential nominee would need to get at least 40 percent of the Hispanic vote to win
The Romney campaign "Women for Mitt" announcement quoted the coalition chairwoman and the candidate's wife, Ann Romney, as saying: "There is no doubt that women will play a critical role in determining the outcome of this election, and that's something Mitt understands well. He also knows how to turn around this economy so that it will better serve the interests of women and families across America."
On Monday, the Romney campaign released an English-Spanish web ad that took aim at Obama's July 13 comment in Virginia, "You didn't build that," in which the President was said to mean that success often relies on a helping hand. But Republicans said it was an insult to small business owners because it denied the sacrifices and dedication that has gone into entrepreneurial accomplishments.
The ad featured a Mexican-American small business owner who said he and his family had worked hard to build their company, and added that he'd found the comment offensive.
On Tuesday, the Obama campaign shot back, launching "Hispanic Small Businesses for Obama," which features Latinos praising the president for policies and programs they say have bolstered small businesses.
Of the two candidates, polls show Obama far ahead of Romney among both Latino and women voters.
A recent Quinnipiac University/CBS News/New York Times poll in three key swing states showed Obama leading Romney among women by more than 20 points in some states.  Political analysts say that single women struggling financially, in particular, like the President's message about how the government must play a role in helping people in this ailing economy. The poll showed that this group of women favors Obama over Romney by a 2-to-1 margin.
A recent survey of Latino voters showed that more than two-thirds of them would cast their ballots for Obama if the presidential elections were held now, while fewer than a quarter would opt for Romney.
Over the past two months, more and more Latino voters say they have decided to vote for Obama, from 61 percent in May to 67 percent in July, and those expressing confidence in Romney have fallen from 27 percent to 23 percent, according to the survey, which was by NBC-Wall Street Journal-Telemundo.
This week, the Republican National Committee has been rolling out its list of speakers for its convention in Tampa later this month – so far, three Latinos will play prominent roles.
They are Martinez, the governor, U.S. Senate nominee Ted Cruz, a Tea Party favorite from Texas, and Puerto Rico Gov. Luis Fortuno.  Last week, the Democratic National Committee grabbed headlines with the announcement that a Latino, San Antonio Mayor Julian Castro, a rising star in politics, will be the keynote speaker at their convention in September.
This story contains material from The Associated Press.
Follow Elizabeth Llorente on Twitter: @Liz_Llorente
Elizabeth Llorente can be reached elizabeth.llorente@foxnewslatino.com
Follow us on twitter.com/foxnewslatino
Like us at facebook.com/foxnewslatino