RNC Chairman Urges Members To Step Efforts to 'Fire Pelosi'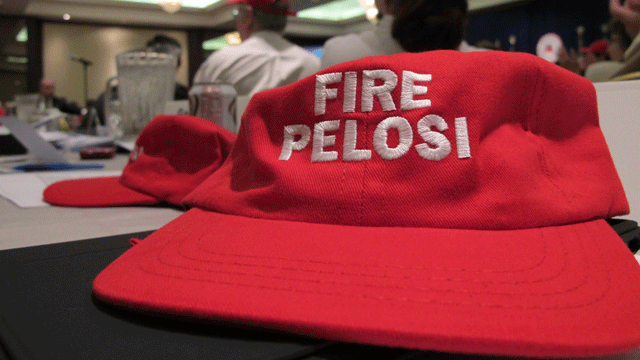 NEWYou can now listen to Fox News articles!
KANSAS CITY, Mo. -- The head of the Republican Party on Friday urged members to step up their efforts for the fall elections amid cautious confidence about the GOP winning several governorships and perhaps seizing control of Congress from President Barack Obama's party.
"We can't rest now," GOP chairman Michael Steele told the Republican National Committee. "Everything we've been doing, and all that we must do, needs to be ramped up and maxed out in the next three months."
"Sleep? What's that? We can't sleep until November 3rd," he added.
Three months before the midterm elections, it was all business and little celebration as the 168-member committee met this week to finalize Tampa, Fla., as the 2012 GOP convention city and set the presidential primary calendar.
Unlike in years past, no White House hopefuls showed up. And Republicans attending the meeting were sober about the GOP's prospects in November; a single sign said: "Playing to win in 2010."
Steele did, however, try to rile up the committee and got a standing ovation with calls to fire House Speaker Nancy Pelosi. "Get on the bus," he yelled as a cardboard bus was pushed out onto the stage from which he spoke. It said: "Need a job? Fire Pelosi."
Said Steele: "We have a lot of work to do but I believe we are ready to represent a transformative moment."
The mostly serious tone of the meeting reflected the challenge Republicans have ahead of them as they seek to take advantage of conditions that at first blush seem ripe for a power shift in Democratic-controlled Washington.
"We've got to start talking about issues," said Pat Brady, the state party chairman in Illinois. "By mid-September, we can't just be the party of 'We aren't the Democrats because people are really fed up."
No one doubts the GOP will win some Democratic-held congressional seats. The president's party nearly always loses seats during the first midterm elections of the presidency. The GOP rank and file also is energized and independent voters are leaning toward Republicans.
The question is whether Republicans have it together enough to gain 40 in the House and 10 in the Senate to take control of Capitol Hill -- with less money than the Democrats, without the White House bully pulpit and as tea party activists expose a fissure between conservatives and moderates in the GOP.
Although less confident of emerging with control of Congress, committee members almost uniformly said they expected Republicans to have a huge year in this year's 37 gubernatorial races, with many suggesting the GOP will emerge from the elections in control of a comfortable majority of states.
Former Nevada Gov. Bob List, a committeeman, said the GOP needs to do more than simply oppose the policies of Obama and Democrats. Said List: "I don't think we can just win it by default, by being negative."
"We can say 'no' to the deficits and 'no' to the spending, but I think we also need to couple that with 'yes' to where we're going to cut and 'yes' to how we're going to make government run better," he said.
The RNC's internal politics hovered over the meeting.
Steele's 18-month tenure has been rocky, and some committee members privately groused about him. There also was a recent flare-up over spending practices, with the RNC's treasurer accusing Steele of hiding more than $7 million in debt to inflate the party's finances and mislead donors. And there's a dispute over the 2012 primary calendar, too.
The committee was voting Friday on a proposal that would make the process start later than January, when the 2008 primaries began. Iowa, New Hampshire, Nevada and South Carolina would be permitted to hold their contests in February 2012, states that divide up delegates proportionally would vote in March and winner-take-all states would go in April.
Two-thirds of the committee must vote to approve the plan, and its adoption was uncertain because of concerns that it would hurt the GOP's eventual nominee. Critics worry about extending the GOP's process when Obama likely won't face a primary.
In other business, the RNC's rules committee is recommending that the 2012 convention attendees adopt a requirement that GOP primary candidates sign a pledge promising not to oppose the party's eventual nominee. Anyone who violates the pledge would have to return any money provided by the RNC.
The proposal follows Florida Gov. Charlie Crist's defection in the state's GOP Senate primary; he's now running as an independent against Republican Marco Rubio.