Rex Tillerson's career as secretary of state under Trump
Secretary of State Rex Tillerson is out as the nation's top diplomat.
President Trump announced the news in a tweet on the morning of March 13. Mike Pompeo, the current director of the CIA, will take Tillerson's place as secretary of state, he said. Gina Haspel, the current CIA deputy director, will then take over Pompeo's role at the intelligence agency.
"Mike Pompeo, Director of the CIA, will become our new Secretary of State. He will do a fantastic job! Thank you to Rex Tillerson for his service! Gina Haspel will become the new Director of the CIA, and the first woman so chosen. Congratulations to all!" Trump tweeted.
The news broke amid Tillerson's contentious relationship with President Trump. In October 2017, NBC News reported that Tillerson allegedly called Trump a "moron," and considered resigning from his position during the summer amid disputes with the White House. And sources told Fox News late last year that Tillerson planned to step down from his position in January 2018, though he did not.
Here's what you need to know about Tillerson's career as secretary of state.
March 22, 2018 -- In a farewell speech to State Department employees, Tillerson highlighted values such as integrity, honesty, respect and accountability. Tillerson, who did not mention President Trump in his speech, also said that Washington, D.C. can be a very "mean spirited town."
"But you don't have to choose to participate in that," he added. "Each of us get to choose the person we want to be, and the way we want to be treated, and the way we will treat others."
March 15, 2018 -- Fox News learned that Tillerson's plan, as of now, is to stay at the department until March 22 and then return to Texas. He officially remains secretary of state through the 31st.
March 13, 2018 -- In a tweet, Trump announced that Tillerson was out as secretary of state. He will be replaced by Pompeo, the current director of the CIA, Trump said.
Dec. 4 - Dec. 8, 2017 -- Tillerson embarked on a trip to Europe, which included a number of activities, among them the NATO Foreign Ministers meeting in Brussels, the Organization for Security and Co-operation in Europe (OSCE) Ministerial Council in Vienna and meeting "senior French leaders" in Paris, the State Department said.
Dec. 3, 2017 -- In an interview broadcast on "Fox News Sunday," national security adviser H.R. McMaster said he's "not aware of any plan at all" to replace Tillerson.
"What I'm aware of is that the secretary of state is traveling today to advance and protect our interests, as is our secretary of defense," McMaster said.
Dec. 1, 2017 -- Tillerson attended two meetings at the White House with Trump — one with Libya's visiting prime minister and then a lunch with the president and Defense Secretary James Mattis.
Before those meetings, Tillerson told reporters at the State Department that speculation he was on his way out was "laughable."
"The media has been speculating that I fired Rex Tillerson or that he would be leaving soon - FAKE NEWS!" Trump tweeted that day. "He's not leaving and while we disagree on certain subjects, (I call the final shots) we work well together and America is highly respected again!"
Nov. 30, 2017 -- Reports said that Tillerson was expected to step down in January.
While meeting with the Crown Prince of Bahrain in the Oval Office Thursday, Trump was asked if he wants Tillerson "on the job."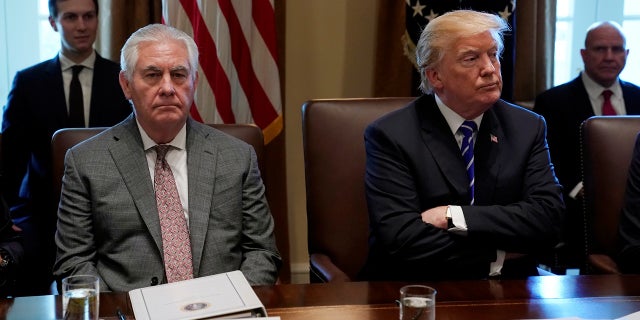 "He's here," Trump told reporters. "Rex is here."
Nov. 4 - Nov. 16, 2017 -- Tillerson joined the president during his five-nation tour of Asia that included stops in Japan, South Korea, China, Vietnam and the Philippines, the State Department said. Tillerson later visited Burma during his travels.
Oct. 20 - 26, 2017 -- Tillerson took part in the first Coordination Council meeting with the Saudi and Iraqi governments in Riyadh, Saudi Arabia, the State Department said. His trip also included stops in Qatar, Afghanistan, Iraq, Pakistan, India and Switzerland.
Oct. 4, 2017 -- It's reported that Tillerson allegedly called Trump a "moron" after a meeting with cabinet officials on July 20. The comments came after President Trump gave a controversial speech to the Boy Scouts of America in July. Tillerson, who served as the president of the organization from 2010-2012, was reportedly upset over the content of the speech and allegedly threatened to quit.
Trump later labeled the report "fake news."
Later that day, Tillerson called a press conference to address the reports, but sidestepped questions about his "moron" comment.
"I'm not gonna deal with petty stuff like that," Tillerson said at the time. "The places I come from, we don't deal with that kind of petty nonsense. It is intended to do nothing but divide people and I'm not gonna be part of this effort to divide this administration."
He did reaffirm that he was not planning to resign, however.
TILLERSON BLASTS REPORT OF RIFT WITH TRUMP
Oct. 2, 2017 -- Trump appeared to publicly chide Tillerson on his handling of North Korea. At the time, the president said Tillerson was "wasting his time" trying to negotiate with the rogue country over its missile and nuclear programs.
Sep. 28 - Oct. 1, 2017 -- Tillerson visited China and spoke about topics like trade and "the denuclearization of the Korean Peninsula," according to the State Department.
Sep. 19 - 22, 2017 -- Tillerson had meetings and events in New York.
"On the margins of the UN General Assembly, Secretary Tillerson met with a number of his counterparts to discuss a range of bilateral and global issues," the State Department said.
Sep. 13 - 14, 2017 -- Tillerson went to London for meetings on North Korea and Libya that were hosted by the United Kingdom, the State Department said.
Aug. 5 - 9, 2017 -- Tillerson went to several events including the ASEAN Regional Forum and the East Asia Summit Ministerial, in Manila, the State Department said. Tillerson later visited Thailand and Kuala Lumpur.
July 5 - 13, 2017 - Tillerson accompanied Trump to Hamburg, Germany, before going to Ukraine and meeting President Petro Porosheno, the State Department said. Tillerson later made stops in Turkey, Kuwait, Saudi Arabia and Qatar, meeting officials in those countries.
While in Germany, Tillerson was at Trump's meeting with Russian President Vladimir Putin on the sidelines of the G-20.
"The President opened the meeting with President Putin by raising the concerns of the American people regarding Russian interference in the 2016 election," Tillerson later told reporters.
"They had a very robust and lengthy exchange on the subject. The President pressed President Putin on more than one occasion regarding Russian involvement. President Putin denied such involvement, as I think he has in the past."
Tillerson said that Trump and Putin "agreed, though, that this is a substantial hindrance in the ability of us to move the Russian-U.S. relationship forward."
June 5 - 6, 2017 -- Tillerson visited Sydney, Australia and Wellington, New Zealand.
May 19 - 25, 2017 -- Tillerson accompanied Trump on his trip to Riyadh, Jerusalem, Rome and Brussels.
May 10 - 11, 2017 -- Tillerson traveled to Fairbanks, Alaska where he attended the 10th Arctic Council Ministerial Meeting, an intergovernmental forum designed to address issues related to the Arctic region. Tillerson attended along with representatives from the eight Arctic States.
April 28, 2017 -- Tillerson visited New York City to chair a special ministerial meeting of the United Nations Security Council.
April 9 - 12, 2017 -- Tillerson traveled to Italy and Russia. In Lucca, Italy, he attended the G-7 Foreign Ministers' Meeting. Later in Moscow, Tillerson met with Russian Foreign Minister Sergey Lavrov and other Russian officials to discuss Ukraine, counterterrorism efforts and bilateral relations, among other things.
March 30 - 31, 2017 -- Tillerson traveled to Belgium and Turkey. He visited NATO in Brussels after meeting with Turkish President Recep Tayyip Erdogan and other officials about how to defeat ISIS in Syria and Iraq.
March 15 - 19, 2017 -- The secretary of state traveled to Japan, China and the Republic of Korea. In each country, he met with senior officials to discuss the nuclear and missile threat from North Korea.
He also reaffirmed the United States' commitment to "further broaden and enhance" U.S. economic and security interests in the Asia-Pacific region, according to the State Department.
Feb. 22 - 23, 2017 -- Tillerson traveled to Mexico City to talk border security, law enforcement cooperation and trade with the President of Mexico, Enrique Pena Nieto and other Mexican officials, according to the State Department. He was joined by John Kelly, who was then the U.S. Secretary of Homeland Security.
Feb. 15 - 17, 2017 -- Tillerson traveled to Bonn, Germany to attend the G-20 Foreign Ministers' Meeting, marking his first trip as secretary of state.
Feb. 1, 2017 -- The Senate confirmed Tillerson's role in a 56-43 vote. A swearing-in ceremony was held in the Oval Office.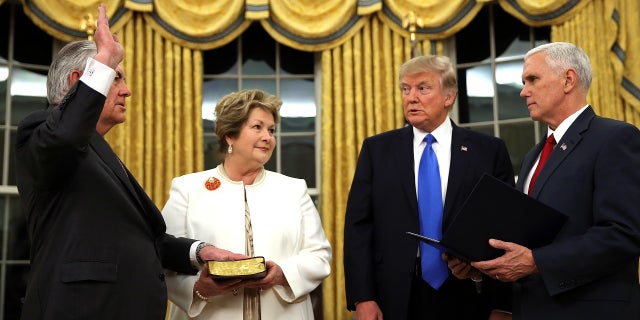 "This is where you were meant to be, right here, today, at this crossroads in history," Trump told Tillerson.
Jan. 11, 2017 -- During a Senate confirmation hearing, the former Exxon Mobil CEO was grilled mainly by Democrats on everything from climate change, to his business interests, to his stance on Russia and China.
Dec. 13, 2016 -- Trump said he planned to nominate Tillerson for secretary of state, calling him "one of the truly great business leaders of the world."
Dec. 6, 2016 -- Tillerson met the president-elect, before meeting him again Dec. 10, the Washington Post reported.
Fox News' Brooke Singman, Rich Edson and The Associated Press contributed to this report.