Republicans see silver lining in Doug Jones victory in Alabama
Republicans lost a reliable Senate seat on Tuesday and saw their slim majority decrease by one – but some in the party are breathing a sigh of relief in the wake of Democrat Doug Jones' victory in Alabama.
The silver lining playbook: the GOP will have one less Republican in the Senate for at least three years, but at least they're avoiding possible long-term damage caused by GOP nominee Roy Moore's presence in Washington.
"From a political perspective, I don't think the long-term pain would be worth the short-term gain of the seat politically," said Ed Gillespie, a longtime Republican operative who was defeated in last month's election for governor in Virginia.
With the notable exception of President Trump, most top Republicans in Washington abandoned Moore after accusations of past sexual relationships with teenage women surfaced in the last few weeks.
DOUG JONES WINS IN MAJOR UPSET, ROY MOORE WON'T YET CONCEDE
Many argued that Democrats would have tried to latch Moore and his inflammatory comments to Republican candidates in 2018, the way Missouri Senate candidate Todd Akin's "legitimate rape" comments were used to hurt other conservative candidates in 2012.
"If you think Roy Moore wins and is a plus for Republicans, you're naive because he'll be on the ballot in every race in 2018, whether you want him to be or not," said South Carolina Republican Sen. Lindsey Graham.
A Moore victory also could have emboldened other hard-right candidates, including those backed by former Trump adviser Steve Bannon, who is backing challengers to Republican incumbents.
"This is a brutal reminder that candidate quality matters regardless of where you are running," said Senate Leadership Fund President and CEO Steven Law, who backed another Republican candidate against Moore and has sparred with Bannon.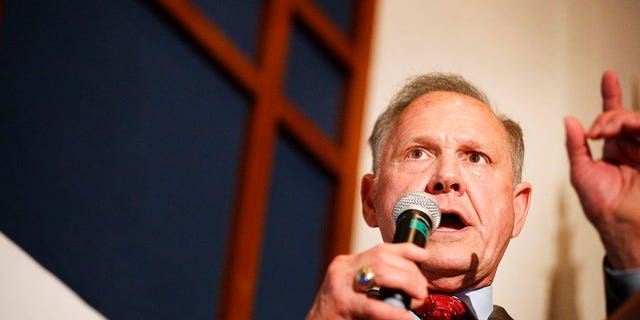 To these Republicans, Moore's defeat also means they can support another Republican for the seat in the next Alabama election.
Because he is filling the rest of Attorney General Jeff Sessions' term, Jones will not serve a full six years. The seat will be up for re-election again in 2020, and Republicans believe they could retake it.
"The people of Alabama are great, and the Republicans will have another shot at this seat in a very short period of time," Trump tweeted Tuesday after the results came in.
For all the talk of Republicans losing a seat, Moore might not have been a reliable vote for Senate Majority Leader Mitch McConnell, R-Ky., who had called on him to drop out of the race.
'Doug Jones is a dead man walking in 2020 unless he works with Republican.'
Jones has staked out liberal positions on many issues, but he could also be inclined to work with Republicans on certain issues, as he considers re-election in his conservative state.
"Doug Jones is a dead man walking in 2020 unless he works with Republicans," Republican commentator Ron Meyer said Wednesday on Fox News.
With 100 percent of precincts reporting, Jones won with 49.9 percent to Moore's 48.4 percent.
Moore has refused to concede, telling supporters Tuesday that when the "vote is this close … it's not over" and saying they were exploring recount options.
Other Republicans, though, already accepted the outcome. In a tweet, Trump congratulated Jones on his "hard fought victory."
The state party has indicated that they aren't backing a recount effort either.
"While we are deeply disappointed in the extremely close U.S. Senate election results, with our candidate Judge Roy Moore, we respect the voting process given to us by our founding fathers," Alabama Republican Party chairman Terry Lathan said.