Republican Young Kim poised to be first Korean-American woman in Congress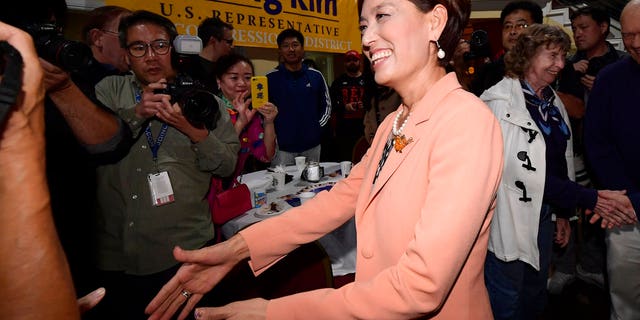 Republican congressional candidate Young Kim is poised to be the first Korean-American woman in Congress after appearing to win a closely contested California House race -- one of a number of historic "firsts" in the 2018 midterms.
Kim was vying to replace retiring Rep. Ed Royce, R-Calif., in California's 39th District, which features part of Orange County. She was holding about 3-point lead over Democrat Gil Cisneros with about 150,000 votes counted.
Kim emigrated from South Korea and lived in Guam and Hawaii before working in Royce's congressional office for more than two decades. She picked up Royce's endorsement earlier this year. Campaigning, she emphasized her independence from President Trump, distancing herself from some of his rhetoric while agreeing with him on other issues.
"I try to tell [voters] I'm not running to be his spokesperson or represent Donald Trump in the White House," she told the Los Angeles Times.
On immigration, while she opposed the separation of families at the border, she also called California's "sanctuary" policies an "affront to law-abiding citizens and a threat to public safety," according to the Times.
On other issues, she had called for fewer business regulations, low taxes, reform of Veterans Affairs, and greater local control of schools.
While it appeared that Kim was on track to win the race, the race has not yet been called and Kim has not declared victory. Her campaign did not respond to a request for comment.

The Associated Press contributed to this report.