Republican running for Oregon governor wants top state Dems to resign over sexual harassment at Capitol
The Republican candidate in Oregon's race for governor is calling on two top state Democrats to resign after allegations that they allowed a pervasive atmosphere of sexual hostility to exist in the state Capitol.
Knute Buehler, who recently pulled even in the polls against Democratic incumbent Gov. Kate Brown in the deep-blue state, directed his criticism at Senate President Peter Courtney and House Speaker Tina Kotek.
"For too long casual attitudes and unprofessional behavior has been accepted and tolerated in the Capitol. I am calling on Senate President Peter Courtney and House Speaker Tina Kotek to step down," Buehler, who's also a state lawmaker, tweeted.
"Accountability and change begins with the people in charge who failed to prevent, failed to properly investigate and possibly covered-up serious allegations of sexual harassment within the Capitol," he said in a statement.
The call for resignations comes after Oregon Labor Commissioner Brad Avakian on Wednesday filed a complaint accusing Courtney and Kotek of not doing enough to protect women from Republican Sen. Jeff Kruse and covering up a pervasive culture of sexual harassment at the state Capitol in Salem.
Kruse was forced to resign in February after an investigation found that he sexually harassed and groped a number of women in the Capitol over the years and ignored warnings about his behavior. Kruse reportedly escalated his inappropriate behavior after being told to stop touching women without their consent.
Buehler, who has a real shot this November to become the first non-Democrat governor of the state since late 1980s, was the first Republican lawmaker to urge Kruse to resign amid the sexual misconduct allegations.
REPUBLICAN CHALLENGER PULLS EVEN WITH ANTI-TRUMP DEMOCRAT IN SOLID BLUE OREGON'S GOVERNOR'S RACE: POLL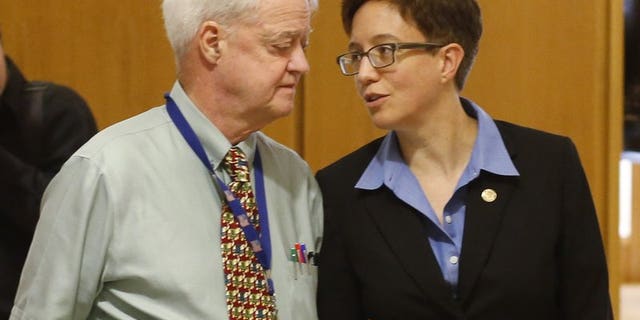 In the complaint, Avakian said that as early as March 2016, Courtney and Kotek "knew or should have known of Senator Kruse's conduct and the broader sexually hostile environment in the Capitol, but did not take immediate and appropriate action."
He also said other powerful officials in the state Capitol – such as top legislative lawyer Dexter Johnson and human resources chief Lore Christopher – told the harassed women not to tell anyone about them being harassed by Kruse or other officials, the Oregonian reported. The victims were also told that they had no standing to sue the harassers.
Courtney and Kotek signed a memo stating they will participate in any subsequent investigation about the allegations laid out by Avakian. "We welcome additional scrutiny and a thorough investigation related to the commissioner's complaint," reads the memo, according to the publication.
The state House speaker said she takes every complaint seriously and encouraged "anyone with a complaint to come forward. We must do better."
Kotek, meanwhile, criticized Buehler for calling for their resignation, accusing him of politicizing the situation.
"Let's not politicize this. This is about people's lives," Kotek said. "We want a workplace that is respectful and safe, where everyone can do their best to help the people of Oregon."
The Associated Press contributed to this report.