Republican Establishment Confronts Challenge From Tea Party in Primaries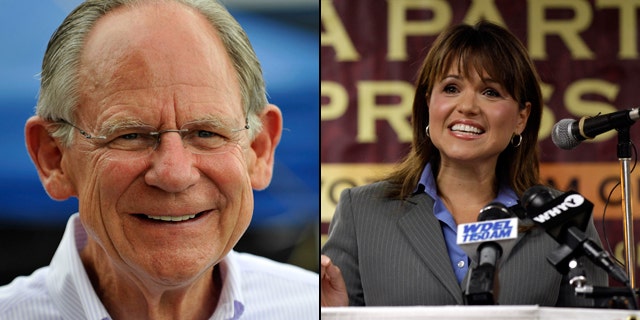 WASHINGTON -- The Republican establishment confronts a final round of challenges from Tea Party activists Tuesday in Delaware, New Hampshire and New York, the end of a tumultuous primary season dominated by voter anger at government-as-usual.
Even before the campaigning ends, Republicans argue that their spirited primaries portend big gains this fall when they hope to win control of the House and Senate as well as gain several governorships now in Democratic hands.
So far this year, "roughly four million more Republicans than Democrats have gone to the polls in primary elections which lends more evidence to the enthusiasm gap between the two parties and which should be of deep concern for Democrat leaders as we move towards November," said Sen. John Cornyn of Texas, who heads the Republican Senate campaign effort.
But as in previous primaries, Democrats will be watching Tuesday's GOP contests closely, hoping for additional upsets that -- they say -- will saddle Republicans with unelectable candidates this fall.
"The messes created by these primaries have given Democrats a more competitive edge in a handful of key races," said Eric Schultz, a spokesman for the Senate Democratic campaign committee.
In all, seven states and the District of Columbia are holding primaries this week, and some offer races of both local and broader interest.
In Rhode Island, Mayor David Cicilline of Providence is seeking the Democratic nomination for an open House seat. If elected this fall -- he is favored to win the primary in the heavily Democratic district -- he would become the fourth openly gay member of Congress.
In the nation's capital, Mayor Adrian Fenty faces a strong primary challenge and has spent weeks apologizing to his constituents for behaving arrogantly during his four years in office.
Yet the races drawing the most national interest are for statewide office and along the Eastern Seaboard, an area not generally associated with the tea party movement that has achieved its most notable victories so far in Western and Southern states such as Nevada, Colorado, Utah, South Carolina and Kentucky.
The recession has not hit Delaware, with 8.4 percent unemployment, or New Hampshire, 6 percent joblessness, as hard as many other states. But the insurgent challengers seek to tap into the same voter anger that has been evident elsewhere.
"We are the king of our country," New Hampshire Senate contender Ovide Lamontagne told a small group of supporters during the day as he labored to defeat front-runner Kelly Ayotte in the Republican primary. "They are not serving us. They are ruling us."
In Delaware, Rep. Mike Castle, 71 and a fixture in state politics for more than a generation, faces a threat from Christine O'Donnell, supported by former Alaska Gov. Sarah Palin and the Tea Party Express, which has reported spending more than $200,000 on her behalf in recent days.
Republican officials disclosed Monday they had contacted the Justice Department after state party chairman Tom Ross received a death threat. Ross has been among Castle's most outspoken supporters, saying at one point that O'Donnell "could not be elected dog catcher" in Delaware.
In contrast to Castle, who is a former two-term governor and has held the state's lone House seat for nine terms, O'Donnell has never been elected to public office.
For most of the campaign, Castle seemed content to ignore her, but when Sen. Lisa Murkowski was unexpectedly defeated for renomination in Alaska two weeks ago, he and the party abruptly switched course.
In the days since, O'Donnell has been buffeted by a string of unflattering disclosures about her personal life.
Her house was threatened with foreclosure at one point; the IRS once filed a lien against her, and she did not, as she long claimed, graduate from college more than two decades ago. Instead, Fairleigh Dickinson awarded her a degree last week.
But Castle is arguably the most moderate Republican in the House, and his record -- he voted for the bank bailout of 2008 -- has made him a ripe target.
"We cannot elect any more liberals to Washington, D.C., especially ones who wear the banner of being a Republican. It is an honor to be a Republican," O'Donnell told supporters recently.
GOP strategists view Castle as the party's only chance to win the seat now in Democratic hands -- Democrats exceed Republicans in statewide voter registration -- and they have made it clear that if he loses they will abandon O'Donnell in a fall campaign against the presumptive Democratic nominee, New Castle County executive Chris Coons.
If so, it would support a claim that Democrats have made repeatedly as tea party-backed insurgent candidates have won primaries elsewhere, including Kentucky, Nevada and Colorado.
But the situation is not the same in New Hampshire, where Ayotte has the support of both the establishment and Palin. There, party strategists say that while the front-runner is their choice, Lamontagne could also win a statewide race, and would have their support.
Rep. Paul Hodes is unopposed for the Democratic nomination, and spent part of the summer assailing Ayotte in television commercials -- a fact the Republican front-runner likes to point out to her audiences.
The seat is currently held by retiring GOP Sen. Judd Gregg, and its loss would all but doom any hope the Republicans have of winning control of the Senate.
The race for the New York Republican gubernatorial nomination may have roiled the party, but it would take a remarkable turn of events for it to make a difference in the fall in the heavily Democratic state.
Former Rep. Rick Lazio began the race as the front-runner, the choice of leaders in the Republican and Conservative parties.
But Carl Paladino, a wealthy developer who is a political novice, has gained traction with the help of tea party activists. He's campaigned against "Liberal Lazio" and has said Lazio and Democratic contender Andrew Cuomo are both "gutless" for proposing caps on property tax growth rather than cuts.