Report: Senate Candidate From Texas Urges Border Residents To Shoot 'Wetbacks' On Sight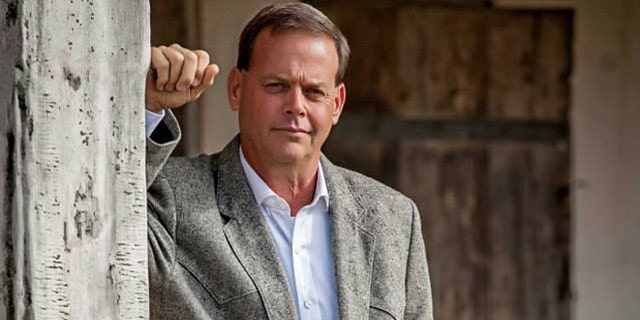 A Texas businessman who is running for the U.S. Senate in the GOP primary is drawing fire for referring to people who cross the border illegally as "wetbacks" and, later, defending his use of the slur.
Chris Mapp, who is among several candidates challenging U.S. Sen. John Cornyn in the GOP primary on March 4, used the term during an editorial board meeting with the Dallas Morning News.
In explaining its endorsement of Cornyn in the primary, a Dallas Morning News editorial said: "South Texas businessman Chris Mapp, 53, told this editorial board that ranchers should be allowed to shoot on sight anyone illegally crossing the border on to their land, referred to such people as 'wetbacks,' and called the president a 'socialist son of a bitch.'"
Later, in an interview with the San Antonio Express-News, Mapp defended his use of the word and his characterization of undocumented immigrants.
He described the slur as normal for Texans.
Mapp said its use is as "normal as breathing air in south Texas," according to the newspaper.
"We can't have illegal immigrants, drug cartels, human traffickers or terrorists coming across our border," he said. "Our borders can either be sealed by choice or force, and so far choice hasn't worked."
Cornyn condemned Mapp's remarks.
"That kind of rhetoric is discouraging from anybody," Cornyn said, according to the Express-News.
"I recognize this is a free country but that's not the sort of way to gain people's confidence that you care about them and you want to represent their concerns in the halls of Congress."
Mapp countered that the Dallas newspaper took his comments about shooting border crossers were taken out of context.
He posted on his Facebook page: "Did I say 'Wetbacks should be shot on sight'? NO I DID NOT. I said 'OUR BORDERS CAN BE RESPECTED BY CHOICE OR BY FORCE AND CHOICE IS NOT WORKING.'"
"I WOULD NEVER ADVOCATE THE USE OF DEADLY FORCE UNLESS IN FEAR FOR YOUR LIFE OR FAMILY," he wrote on his page. "I SAID THE USE OF FORCE IS OK. FORCE MEANS BY USE OF A MEANS OF DETOURING TO TURN AROUND AND GO BACK WHERE YOU CAME FROM OR TO NOT WANT TO TRESPASS IN THE FIRST PLACE."
Diana Arevalo, the secretary of the Bexar County Democratic Party, said that she was "offended by his comments and that he doesn't want to offer an apology to the Latino community and to our president of the United States of America."
On his Facebook page, Mapp said he is not a racist, and that the controversy is a matter of political correctness. In a Feb. 22 post, he repeated the term. His campaign website also took aim at U.S. citizens, saying that some of them have been become too complacent and unwilling to do certain difficult jobs.
"We need guest workers; there would be less roofs, landscaping, concrete, fruits/vegetables and houses built without them," he said. "If you believe that the level of unemployment in this country would go away if you sent every illegal back and the Americans would jump at those jobs, you would be terribly mistaken."
Also in hot water over comments regarding immigrants is Democrat Alex Sink, who is running in a special election in Florida's 13th congressional district. Sink, who ran unsuccessfully for governor in 2010, said in a debate this week that comprehensive immigration reform is crucial because foreign-born people are important for cutting grass and cleaning hotels.
"Immigration reform is important in our country," she said. "We have a lot of employers over on the beaches that rely upon workers and especially in this high-growth environment, where are you going to get people to work to clean our hotel rooms or do our landscaping? We don't need to put those employers in a position of hiring undocumented and illegal workers."
Follow us on twitter.com/foxnewslatino
Like us at facebook.com/foxnewslatino