Report: Roughly half of the 2008, first-time youth vote now unsure of registration status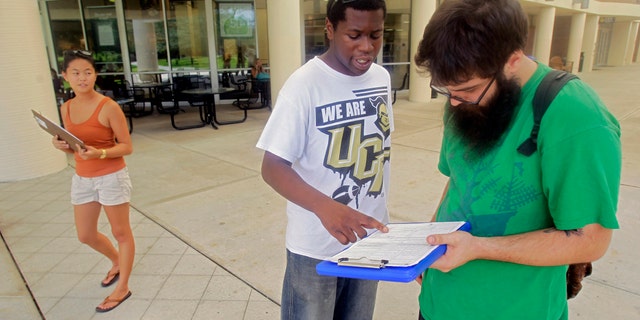 Nearly half of the young voters who in 2008 registered and cast their first presidential ballot may have not updated their voter registration, according to a new survey, a situation that could most impact President Obama considering that voting bloc helped him to victory four years ago.
The finding by the non-partisan group HeadCount found that seven out of 10 young voters changed residence in the past four years, and 43 percent of those potential voters have yet to update their voter registration.
The so-called "youth vote" is the estimated 15.5 million U.S. citizens who are 18 to 24 years old, according to the Census Bureau. Roughly 49 percent of them voted in 2008, compared with 47 percent in 2004 and an historical rate of about 40 percent.
Obama won roughly 66 percent of the youth vote in 2008 in his successful race against Republican presidential nominee Sen. John McCain, R-Ariz.
More than half of those who participated in the HeadCount survey said they were either not confident or unsure about whether they were registered to vote at their current address.
"A lot of people just don't remember to update their voter registration when they change their address," said Andy Bernstein, HeadCount's executive director. "When you move, you have a lot of things to think about. Updating your voter registration doesn't always make it to the top of the list."

The voters' situation could be further complicated if they arrive at polls on Election Day unaware of new voter ID laws. Some states now require voters to prove they live at the address where they are registered. So they are being encouraged to bring a second form of ID such a utility bill that includes their name and current address.
On Tuesday, HeadCount will sponsor "National Voter Registration Day," in which more than 100 musicians, comedians and actors will send tweets and Facebook posts with links to a website where people can fill out voter registration forms. The drive also will include volunteers from hundreds of groups in roughly 30 U.S. cities registering voters.
The Romney campaign is trying to dip into the ranks of the youth voters who helped Obama win in 2008, focusing in part on the roughly 50 percent of recent graduates who are either unemployed or underemployed.
"College graduates should not have to live out their 20s in their childhood bedrooms, staring up at fading Obama posters and wondering when they can move out and get going with life," GOP vice presidential nominee Rep. Paul Ryan said during his speech at the Republican National Convention.
Young voters have leaned Democratic in the last several presidential contests, but they accounted for roughly 10 percent of the 2008 electorate. That's too sizable of a voting bloc for Romney and other Republicans to ignore, Tyler Harber, a partner in Washington-based Harcom Strategies, said last month.
"They are coming to the realization that the social safety net afforded to previous generations will simply not be available," Harber said.