Report: Homeland Security official used improper influence in visa cases involving prominent Democrats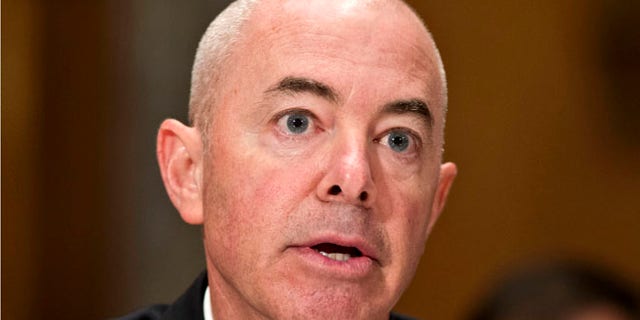 The No. 2 official at the Homeland Security Department improperly intervened on behalf of foreign investors seeking U.S. visas in three cases involving prominent Democrats, including a company run by the youngest brother of likely Democratic presidential candidate Hillary Clinton, the agency's inspector general said Tuesday.
Investigators said Homeland Security Deputy Secretary Alejandro Mayorkas helped efforts to secure the visas in ways that created the appearance of favoritism and special access and caused resentment among career government employees, managers and lawyers.
The agency's inspector general, John Roth, said he could not suggest a motive for Mayorkas, a longtime Democrat who served on President Barack Obama's transition team after his 2008 election and was U.S. attorney in California under President Bill Clinton. Roth did not accuse Mayorkas of violating any laws and acknowledged that Mayorkas sometimes declined to become involved in cases because he said he did not think it would be appropriate.
Mayorkas, who at the time was head of U.S. Citizenship and Immigration Services, said in a statement that he disagreed with the inspector general's findings but that "I will certainly learn from it and from this process."
Mayorkas added: "There was erroneous decision-making and insufficient security vetting of cases. I could not and did not turn my back on my responsibility to address those grave problems. I made improving the program a priority and I did so in a hands-on manner."
The U.S. government's investor-visa program, known as EB-5, allows foreigners to obtain visas to live permanently in the U.S. with their spouse and children if they invest $500,000 to $1 million in projects or businesses that create jobs for American citizens. Approved investors can become legal permanent residents after two years and later can become U.S. citizens.
The chairman of the House Homeland Security Committee, Rep. Michael McCaul, R-Texas, said the findings were "extremely concerning" and that he will conduct a congressional hearing about them Thursday. Roth was expected to testify.
The Associated Press first reported in July 2013 — as Mayorkas was being considered for the No. 2 job at the Homeland Security Department — allegations that he had improperly intervened in the investor case involving a financing company run by Anthony Rodham, brother of Mrs. Clinton. Mayorkas told senators at his confirmation hearing that the allegations were "unequivocally false" and said he oversaw the program "based on the law and the facts, and nothing else."
The inspector general's new conclusions also cast doubt on whether the Homeland Security Department withheld embarrassing internal files the AP had sought under the U.S. Freedom of Information Act as part of its own investigation nearly two years ago — and instead released records that indicated no wrongdoing.
The AP in July 2013 requested all emails to or from Mayorkas over the preceding seven months that contained specific words or names, including Rodham. The government eventually sent AP more than 200 pages, mostly censored, including emails in which Mayorkas told investors and agency staff that he would not become involved in internal deliberations.
"I cannot weigh in," Mayorkas wrote to Assistant Secretary Douglas Smith on Feb. 1, 2013, in a message turned over to the AP and cited in the new inspector general's report. "The (investor's) attorney sent an email to me and I responded that I could not weigh in."
But the inspector general's report also cited other messages from Mayorkas that were never turned over to AP. In one case, Mayorkas forwarded a January 2013 email from Rodham about delays with a high importance designation. The email would have been covered under AP's information request since Mayorkas sent it during the relevant time period and contained Rodham's name.
"Staff understood these applications were getting high-level attention," the inspector general's report said.
Virginia Gov. Terry McAuliffe was also connected to the investor proposal but later divested. His spokesman, Brian Coy, said the report demonstrated that McAuliffe asked the government to decide on the investment proposal in a timely fashion.
The other two cases involved a Hollywood investment program and an investment effort in Nevada that had ties to former Pennsylvania Gov. Ed Rendell and Senate Democratic Leader Harry Reid of Nevada, respectively.
In the effort to reach Mayorkas about the Hollywood investment, Tom Rosenfeld, the principal in the Los Angeles Film Center project, contacted John Emerson, an influential Los Angeles attorney who was also a top Obama political bundler. The report, which describes Emerson as a "career adviser" for Mayorkas, said Emerson contacted Mayorkas several times by email in August 2011 about the petitions for the film project. Emerson, a Democratic Party donor who pledged to collect more than $500,000 from others to aid Obama's 2012 presidential campaign, is now U.S. ambassador to Germany.
In September 2011, Mayorkas replied to Emerson by email, saying he was not involved. But the inspector general said it found records of three phone conversations the same evening between Emerson and Mayorkas' personal cellphone. Mayorkas told investigators he did not discuss the film project case with Emerson, adding that they might have spoken because he was on a board with Emerson's wife. The inspector general noted that Mayorkas had previously told an agency ethics officer that he had given up all positions outside the federal government.
Mayorkas previously came under criticism for his involvement in the commutation by President Clinton of the prison sentence of the son of a Democratic Party donor. Another of Mrs. Clinton's brothers, Hugh Rodham, had been hired by the donor to lobby for the commutation. Mayorkas told lawmakers during his 2009 confirmation hearing that it was a mistake to talk to the White House about the request.
Homeland Security Secretary Jeh Johnson said there were lessons to be learned in the inspector general's investigation but described Mayorkas in a statement as "exceptionally conscientious, honest and patriotic."
"He is often impatient with our sluggish government bureaucracy, can at times be very hands-on in resolving issues and problems that are brought to his personal attention, and is always mindful that we are public servants," Johnson said. "Ali works hard to do the right thing, and never acts, in my observation, for reasons of personal advancement or aggrandizement."
Roth, the inspector general, praised as "courageous" the agency employees who confidentially had complained about Mayorkas' actions and promised they would be protected as whistleblowers.