Report: Federal Authorities Investigating Christine O'Donnell Finances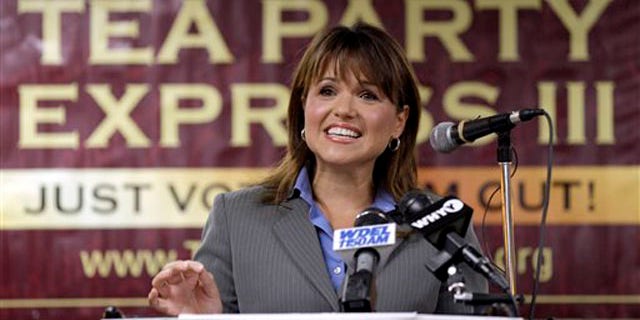 BALTIMORE -- Federal authorities have opened a criminal investigation of Delaware Republican Christine O'Donnell to determine if the former Senate candidate broke the law by using campaign money to pay personal expenses, according to a person with knowledge of the investigation.
The person spoke to The Associated Press on condition of anonymity to protect the identity of a client who has been questioned as part of the probe. The case, which has been assigned to two federal prosecutors and two FBI agents in Delaware, has not been brought before a grand jury.
Matt Moran, O'Donnell's former campaign manager, did not immediately respond Wednesday to questions from The AP. He said earlier this month that the campaign had not been contacted about any investigation and criticized what he called "lies and false-attack rumors."
The U.S. Attorney's office has confirmed that it is reviewing a complaint about O'Donnell's campaign spending filed by a watchdog group, but officials in the office and the FBI declined to say whether a criminal investigation was underway.
O'Donnell, who set a state record by raising more than $7.3 million in a tea party-fueled campaign this year, has long been dogged by questions about her finances.
At least two former campaign workers have alleged that she routinely used political contributions to pay her personal expenses in recent years as she ran for the Senate three consecutive times, starting in 2006. The Washington-based watchdog group Citizens for Responsibility and Ethics (CREW) filed a complaint with the Federal Election Commission making similar allegations and asked Delaware's federal prosecutor to investigate.
O'Donnell's campaign has denied wrongdoing, but acknowledged she had paid part of her rent at times with campaign money, arguing that her house doubled as a campaign headquarters.
Federal law prohibits candidates from spending campaign money for personal benefit. FEC rules say this prohibition applies to the use of campaign money for a candidate's mortgage or rent "even if part of the residence is being used by the campaign," although O'Donnell's campaign maintained that it was told otherwise by someone at the agency.
O'Donnell drew national attention in September when she pulled off one of the primary election season's biggest upsets by beating moderate Republican Rep. Mike Castle for the GOP Senate nomination. She lost badly in November to Democrat Chris Coons.
One former O'Donnell staffer, Kristin Murray, recorded an automated phone call for the Delaware Republican Party just before the primary, accusing O'Donnell of "living on campaign donations -- using them for rent and personal expenses, while leaving her workers unpaid and piling up thousands in debt."
Another former aide, David Keegan, said he became concerned about O'Donnell's 2008 campaign finances as she fell behind on bills and had no apparent source of income besides political contributions. He submitted an affidavit to CREW alleging that she used campaign money to cover meals, gas, a bowling outing, and rent to a landlord, Brent Vasher.
Vasher, a nephew of Keegan's and a one-time boyfriend of O'Donnell, declined comment when asked by The AP if he had been contacted by authorities. Vasher bought O'Donnell's house in 2008 after she was served with a foreclosure notice, then charged her rent to stay there, according to CREW's complaint.
In a message sent last week to The AP, Keegan said he had not been questioned as part of a criminal investigation, and that he considers himself only a "catalyst" in a case in which several people must be questioned to scrutinize O'Donnell's accounting practices and alleged misuse of campaign funds.
During her three failed Senate bids, O'Donnell had numerous campaign treasurers, many of who left after serving brief stints. After losing two treasurers in 2009, she named herself treasurer until this past summer. Another short-term treasurer took over in August and resigned less than two months later, when Moran added the treasurer's role to his campaign manager responsibilities.
Democrat Charles Oberly III, the U.S. attorney for Delaware, and his predecessor, David Weiss, did not immediately return messages Wednesday seeking comment. Oberly was sworn in Tuesday as Weiss' successor.
Kim Reeves, a spokeswoman for the office, reiterated Wednesday that the office was reviewing the CREW complaint. She would not confirm the existence of a criminal probe.
Rich Wolf, a spokesman for the Baltimore office of the FBI, said he could neither confirm nor deny the existence of any investigation.
Murray, the former aide who recorded the automated message, also said she had not been contacted about the investigation.