Rep. Ron Paul Won't Seek Congressional Seat in 2012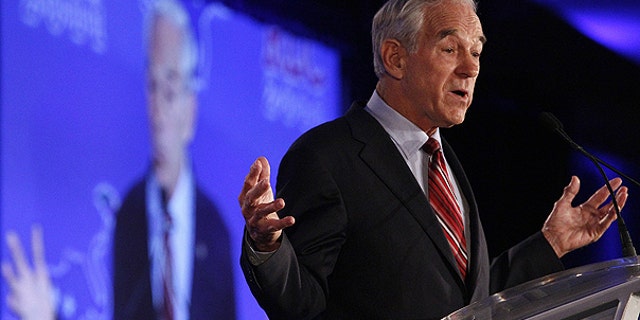 NEWYou can now listen to Fox News articles!
Rep. Ron Paul announced Tuesday that he won't seek re-election to the Texas U.S. House seat he's presented for nearly 24 years, and instead will concentrate on getting the Republican nomination for president to run against President Obama in 2012.
"Dr. Paul will not seek re-election in the Texas-14 and will focus his efforts on winning the presidency," Jesse Benton, a Paul campaign aide, told Fox News.
Paul made the announcement via Twitter, and linked to a local Texas newspaper to share the details.

"I felt it was better that I concentrate on one election," Paul told The Facts, a news service covering Brazoria County, Texas, a portion of which Paul represents. "It's about that time when I should change tactics."
Paul, 75, has run for the presidency three times, and cultivated a substantial following in the 2008 primary race running on the themes of limited government and less federal spending as well as personal liberties and a limited role in international conflicts.
Paul generally falls somewhere in the middle of the presidential pack in GOP polling. The latest Fox News poll, taken June 26-28, showed Paul with 7 percent among 912 primary voters. That put him behind Republican hopefuls Mitt Romney, Rick Perry, Michele Bachmann, Rudy Giuliani and Sarah Palin, but ahead of Herman Cain, Tim Pawlenty, Newt Gingrich, Jon Huntsman, Rick Santorum and Gary Johnson.
Paul told the newspaper that he thinks his chances in 2012 for the GOP nomination are better than they were in 2008.
"We have a lot more support right now," he reportedly said. "Things are doing well for us."
An obstetrician by profession, Paul served four terms in the U.S. House between 1976-1984, then ran again as part of the 1994 Republican Revolution. His departure leaves the race for the seat wide open.
His son, Kentucky Republican Sen. Rand Paul, said his father's legacy will be strong.
"History will record the legislative record of Ron Paul as an extraordinary one -- perhaps unparalleled. There probably has never been a more consistent believer in limited government in Congress. America deserves a statesman like Ron Paul as her president, a man I am proud to call my father," Paul said.