Rep. Patrick Kennedy Will Not Seek Re-Election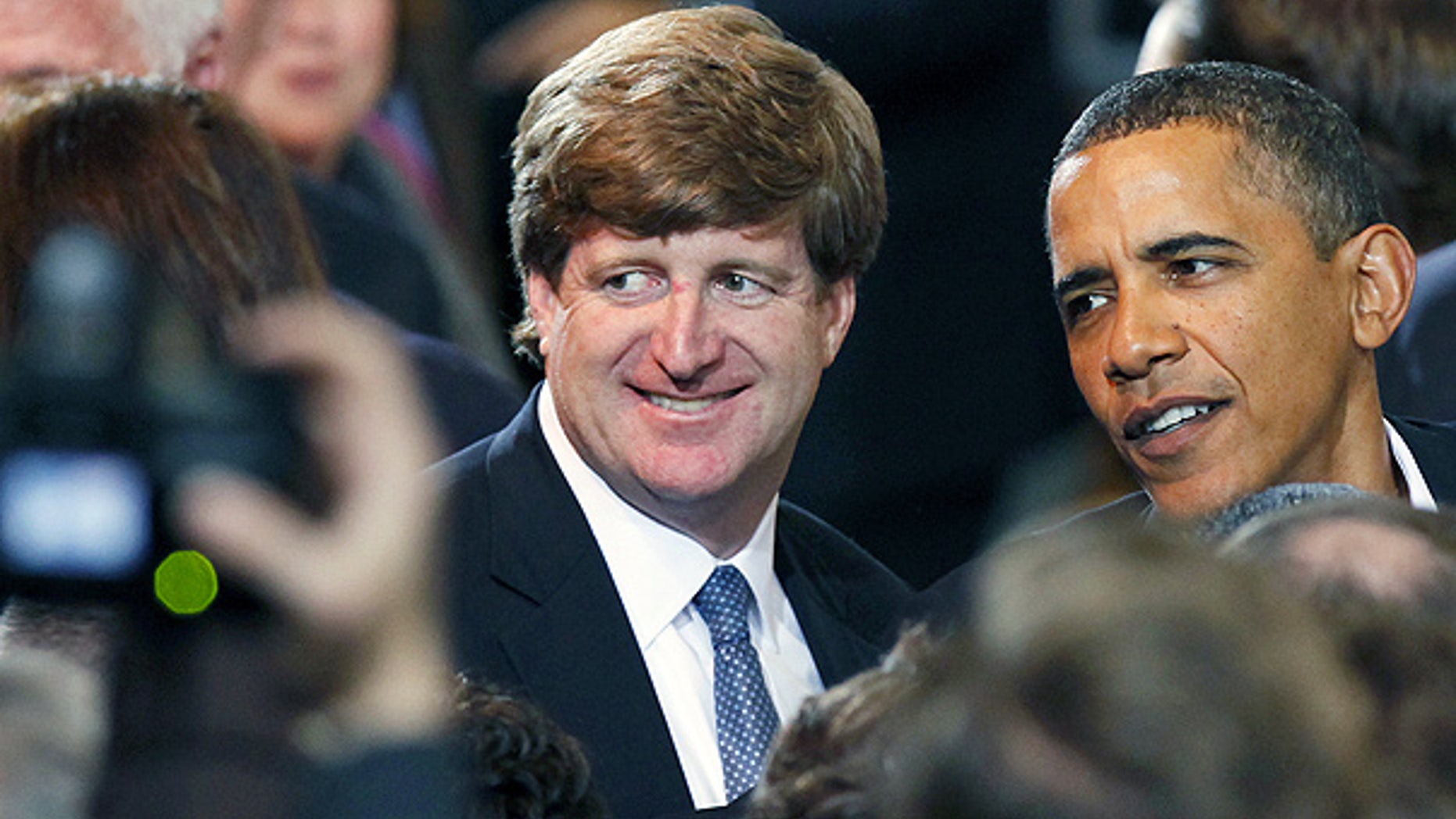 For the first time in nearly half a century, there may not be a member of the Kennedy clan in Congress.
In a video message posted to YouTube, eight-term Rep. Patrick Kennedy (D-RI) says his "life is taking a new direction and he will not be a candidate for re-election this year.
Kennedy is the son of the late Sen. Edward Kennedy (D-MA) and the nephew of President John F. Kennedy. When elected to Congress in 1994, Kennedy was just 27 and the youngest member of the House.
Kennedy attended Providence College and won a seat in the Rhode Island State legislature while only 21 and still a student.
During his career, Kennedy endured repeated bouts with substance abuse. He took an extended leave from Congress last spring, spending time at a rehabilitation facility.
Kennedy admitted seeking treatment for cocaine abuse while a teenager and also said he drank and used drugs while in college.
In the spring of 2006, Kennedy crashed his Ford Mustang convertible into a blockade behind a House office building in the shadow of the U.S. Capitol. Kennedy reportedly told U.S. Capitol Police officers he was running late to vote, despite the accident occurring at 2:45 am. Police drove Kennedy home. The Congressman later said he was taking the prescription sleep medicines Ambien and Phenergan. Phenergan is known to cause drowsiness.
A few days later, Kennedy declared he was addicted to prescription medications and admitted himself into the Mayo Clinic. In a statement, Kennedy said that recovery was a "lifelong process. The Rhode Island Democrat then pleaded guilty to a charge of driving under the influence of prescription drugs. He was given a year of probation and ordered to pay a fine.
In the video address, Kennedy told voters that "when I made missteps or suffered setbacks, you responded not with contempt, but compassion.
Over the past year, Kennedy was often seen hovering in the background at news conferences held by the House Democratic leadership as they tried to pass a massive health care reform bill.
Kennedy rarely took part in the press conferences, but lingered toward the rear among reporters and aides. House Speaker Nancy Pelosi (D-CA) sometimes pointed out Kennedy presence to the crowd and mentioned the younger Kennedy's connection with father. Comprehensive health care reform was a lifelong goal of Ted Kennedy, who died last August before Democrats could finish the bill.
In the recorded message, Kennedy called his father his "most-cherished mentor and confidant.
Just last month, Kennedy watched as Sen. Scott Brown (R-MA) upset Massachusetts Attorney General Martha Coakley (D) in a special election to finish his fathers Senate term. Still, Kennedy arranged a special meeting with Brown on the new senators first day on Capitol Hill. Kennedy says Brown spoke highly of his father and asked him for advice about serving in Congress. At the end of the meeting, Kennedy gave Brown a copy of his fathers memoir, "True Compass".
Throughout his years in Congress, Kennedy championed access to education, parity for mental health coverage and gun control, along with other liberal causes.
In his first term, Kennedy waged a legendary verbal scrap on the House floor with the late-Rep. Gerald Solomon (R-NY) as lawmakers debated a repeal of the assault weapons ban.. Trembling and his voice cracking, Kennedy shook his index finger at the then-majority Republicans.
"Shame on you!", he scolded GOP members from the well of the House.  "Families like mine know all too well what the damage of weapons can do!
Solomon, then the chairman of the powerful Rules Committee, leaped from his chair to challenge Kennedy. He warned his junior colleague that he "ought to be a little more careful.
"My wife lives at home alone five days a week in a rural area in upstate New York!, Solomon charged. "She has a right to defend herself when I'm not there, son, and don't you ever forget it! Don't you ever forget it!
Solomon then asked Kennedy to "step outside". But blows were not exchanged.
Kennedy recently received some negative polling numbers. Republicans are optimistic they can turn his seat into a GOP pickup this fall.
Kennedy's retirement early next year will mark the first time since late 1962 that a Kennedy has not served in Congress. In fact, there has only been a two year lapse of the Kennedy family in Congress since 1947, the year President Kennedy was elected to the House. Patrick Kennedy's father Edward won his brothers seat after a two-year hiatus in 1962. Robert F. Kennedy also represented New York in the Senate in the 1960s. RFK's eldest son, Joe Kennedy served in the House from 1987 to 1999. And Rhode Island voters elected Patrick Kennedy in 1994.
Kennedy is the fourth House member this week to announce his or her retirement. Reps. Vern Ehlers (R-MI), Diane Watson (D-CA) and Lincoln Diaz-Balart (R-CA) all said they would step down at the end of their current term.