Reid's trolling tactics not so simple in 2014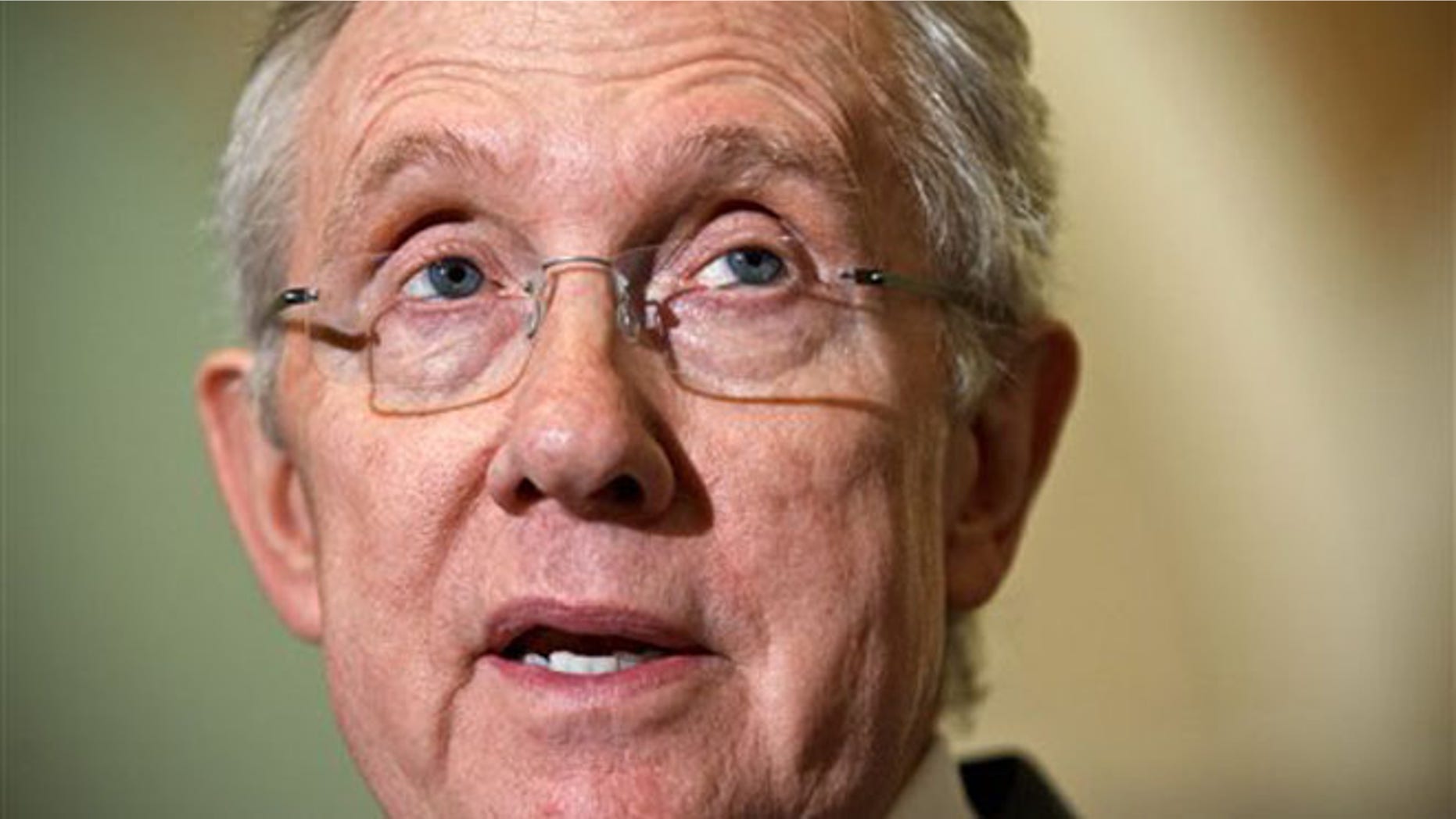 **Want FOX News First in your inbox every day? Sign up here.
Buzz Cut:
• REID'S TROLLING TACTICS NOT SO SIMPLE IN 2014
• POWER PLAY: GOP COLORADO WIN IN THE PIPELINE?
• HILLARY WATCH: KENTUCKY WOMAN, SHE GETS TO KNOW YOU
• BAIER TRACKS: HASHTAG NOT TOO PROMISING…
• THEY JUST LOVE THE ELECTRIC SLIDE. IS THAT SO WRONG?
REID'S TROLLING TACTICS NOT SO SIMPLE IN 2014

Nobody was better at trolling Republicans in 2012 that Harry Reid, who gleefully played the heel for President Obama. But now it's his own job as majority leader on the line and Reid may not be the ideal spokesman for his party. While liberals may cheer over his fiery rhetoric and attacks on Republicans, the more time the senior senator from Nevada spends in the searchlight, the more withering the glare may be.
[Kimberly Strassel: "The psychiatric world defines 'projection' as the act of denying unpleasant qualities in yourself, while attributing them to others. Consider liberal billionaire Tom Steyer's riff this week about the libertarian billionaire Koch brothers."]
Villain Harry - The Hill: "[Sen. Harry Reid] (D-Nev.), the Senate majority leader, has become the Democratic leader in Congress that conservative radio hosts and donors love to hate, leaving [Rep. Nancy Pelosi] (D-Calif.), the House minority leader, as something of an afterthought…The main reason? Pelosi no longer runs the House after the GOP reclaimed the lower chamber in 2010. Republicans have been unable to strip Reid of his majority leader title, but they think this will be the year they do that.
Reid rakes it in - Real Clear Politics' Adam O'Neal dives deep into Senate Majority Leader Harry Reid personal and political wealth under the microscope in Harry Reid's Long, Steady Accretion of Power & Wealth: "That isn't the only problematic land deal Reid was involved with at the time. In 2002, he put $10,000 into a pension fund controlled by another friend, Clair Haycock. The payment gave Reid a sizable parcel of land in Bullhead City, Ariz. According to the Los Angeles Times, Reid purchased the land for one-tenth of its estimated value (and one-fortieth of what it had sold for a decade earlier). Two actions created suspicion afterward. First, Reid sponsored an $18 million earmark for a bridge that would connect Laughlin, Nev., and Bullhead City. This bridge would likely increase property values in the area. Reid also introduced legislation that would benefit Haycock's lubricant company. Reid aides denied that his support for the earmark or lubricant dealer bill was related to the land purchase. By 2011, Reid's initial $10,000 investment was valued at between $250,000 and $500,000. The property did not appear in his 2012 disclosure."
Posh politics - NYT's Mark Leibovich heads to the wealthiest congressional district in the nation, California's 33rd, to meet those aspiring to represent the one percent: "A few days later, I was sitting in Marianne Williamson's home in Brentwood, a luxury apartment just off Wilshire Boulevard. It is a warm and vast space, filled with books, art and frantic activity. 'Can someone hand me my glasses?' Williamson called out, and an aide quickly fetched them. She was sitting in her living room, Googling around for a quote from Thomas Jefferson that she wanted to share with me. 'You know the one,' she said. 'It's on the monument.' She said she would email it to me."
[Matthew Continetti: "Affluent, self-righteous, self-seeking, self-possessed, triumphalist, out of touch, hostile to dissent—this is what oligarchy looks like in the twenty-first century. And it is all in front of one's nose."]
POWER PLAY: GOP COLORADO WIN IN THE PIPELINE?
This week, Karl Rove weighs in on the Colorado Senate race where Democratic incumbent Mark Udall is feeling pressure over the stalled Keystone Pipeline. "[Presumptive GOP nominee Rep. Cory Gardner] is strongly in favor of it. Udall interestingly enough has refused to say where he is on it. 'It's complicated,' he said on it, so he refused to sign on to the letter of 11 senate democrats saying, 'Mr. President, build the pipeline.' On the other hand, he's voted with the majority in the Democratic caucus to in essence forestall any legislative efforts to force the president's hand on it, so he's trying to play this delicately." Meanwhile, Democratic strategist Chuck Rocha suggested unions may ignore the race altogether. "I think you'll see the unions go look, 'Barack Obama is doing this… but this Senator's with you. Guess who's with you, Mary Landrieu's with you. Guess who's with you, [Mark Pryor] is with you. Mark Begich is with you. They're going to talk about those democrats who are with them on those issues."
OREGON ADMITS DEFEAT ON OBAMACARE SITE MELTDOWN
Fox News: "The Obama administration is getting ready to rescue the failing Oregon state health care exchange, which has been hit by technical glitches from the start. On Friday, the Cover Oregon board will take up a recommendation made Thursday by a partial panel to hand over the state- run exchange to the federal government. The move comes nearly seven months after Oregon's online system was supposed to go live, but never did so completely. Cover Oregon official Alex Pettit said fixing the existing system would be too risky and take too long to implement…. Oregon's exchange is seen as the worst of those of more than a dozen states that developed their own online health insurance marketplaces. The state is the only one where the general public still can't use an online enrollment system to sign up for coverage in one sitting … The website was supposed to go live Oct. 1, but Cover Oregon and the technology vendor that built it, Oracle Corp., have been unable to work out all the glitches. Instead, Oregonians must use a costly, time-consuming, hybrid paper-online process to sign up for insurance. The state has spent nearly $7 million on the paper processing efforts, in addition to $134 million in federal funding paid to Oracle." Ahem
[ObamaCare enrolled 40,000 ineligible Medicaid beneficiaries in Arkansas.  Thirty percent of those who enrolled in other partially subsidized plans had not paid premiums.]
BAIER TRACKS: HASHTAG NOT TOO PROMISING…
"Even administration supporters concede that President Obama has hit a pretty rough patch in international affairs. Some of it is clearly circumstance and events, but some of it is a direct result of statements or actions by the administration. Take for example, Secretary of State John Kerry on Russia and Ukraine yesterday. He said "the window is closing" on Russia. As Charles Krauthammer points out, Russia is poised for action with thousands of troops on Ukraine's border, continues to thumb its nose at the international community, and clearly has not listened to threats from the West. The window is closing on the West being able to stop him. Adding to that, State Department spokeswoman Jen Psaki tweeted this out: "The world stands #UnitedforUkraine. Let's hope that the #Kremlin &@mfa_russia will live by the promise of hashtag.' "The promise of hashtag"? It's just been a bad stretch for this administration trying to look tough and to stand up to Russian leader Vladimir Putin." - Bret Baier
["It's a blow to Israel; it's a blow to peace. I think, Bret, it's a terrible blow to the Palestinian people, because they must choose, too, whether they want to go forward or go backward.  Yesterday, with the pact with Hamas, the Palestinian people went, took a huge step backward, away from peace, away from a good future for themselves." –Israeli President Benjamin Netanyahu on "Special Report with Bret Baier"]
Russian ships of Fla. coast - Free Beacon: "A Russian intelligence-gathering ship has been operating off the U.S. East Coast and near the Gulf of Mexico for the past month, the Pentagon said Thursday. 'We are aware that the Russian ships Viktor Leonov and Nikolay Chiker are currently operating in waters that are beyond U.S. territorial seas but near Cuba,' said Lt. Col. Tom Crosson, a Pentagon spokesman. … Pentagon officials suspect the ships were part of a spying operation since March against the U.S. nuclear missile submarine base at Kings Bay, Ga. and other U.S. military facilities"
[Watch Fox: Sen. Dan Coats, R-Ind., will discuss the possible Russia sanctions with Gretchen Carlson on "The Real Story with Gretchen Carlson" at 2 pm ET.]
WITH YOUR SECOND CUP OF COFFEE…
Daniel Lansberg-Rodríguez and his wife took a trip to visit her alma mater University of Venezuela in Caracas (UCV.) After seeing the rundown campus, Lansberg-Rodríguez reflects on the conflict-ridden country and the potential effects on university in Harper's Magazine's The School of Permanent Revolución.  "Scores of people have died in clashes, and hundreds more have been arrested or injured. The university, which educates nearly 50,000 students, has been routinely forced to suspend classes and close administrative facilities. It no longer maintains even a pretense of adhering to a fixed curriculum…The [Nicolás Maduro] regime has likewise claimed that it is unable to protect the university, because Venezuela's constitution grants UCV 'special autonomous status,' and therefore prevents law enforcement from entering the campus. …As products of the same cycle that has fomented disestablishment and forged future leaders for generations, Venezuela's rulers keenly recognize the long-term danger of further radicalizing students by openly violating the university sanctum. Instead, they hope that a mix of pocketbook strangulation and third-party assaults will lead UCV administrators to surrender the school's autonomous status, permanently crippling it as a source of dissent."
Got a TIP from the RIGHT or LEFT? Email FoxNewsFirst@FOXNEWS.COM
POLL CHECK
Real Clear Politics Averages
Obama Job Approval: Approve –  43.7 percent//Disapprove – 52.2 percent
Direction of Country: Right Direction – 29 percent//Wrong Track – 61.3 percent 
Generic Congressional Ballot:  Democrats – 41.8 percent// Republicans 40.2 percent
HILLARY WATCH: KENTUCKY WOMAN, SHE GETS TO KNOW YOU
Democratic 2016 frontrunner Hillary Clinton will campaign in Kentucky this weekend, addressing the United Methodist Women's Assembly. Clinton, who made her Methodist faith a key piece of her 2008 campaign pitch, is expected to tout how her views on social justice were shaped by the denomination's tenets. If she captures the Democratic nomination, Clinton is expected to contest traditionally Republican border states like Kentucky.
McCain extolls – On Saturday, Clinton also heads to the McCain Institute for International Leadership at Arizona State University to discuss with Sen. John McCain, R-Ariz., "I am very pleased to have my friend Secretary Clinton join this year's Sedona Forum," Senator McCain in a statement. "From her years of service as first lady, in the U.S. Senate and at the State Department, one would be hard-pressed to find a leader with Secretary Clinton's informed perspective on the many challenges facing America across the globe." The forum will emphasize the crisis in the Middle East and will also have sessions on the Russia, Ukraine conflict.
Caroline Kennedy enters orbit - NYT: "Caroline Kennedy, whose endorsement of Barack Obama in 2008 was a major setback for Hillary Rodham Clinton's campaign, as well as a personal blow, said Thursday that she would 'absolutely' support Mrs. Clinton should she decide to run for president again."
[Washington Examiner's Byron York looks at Why Elizabeth Warren should run for president: "[H]er denials aren't really denials, and her party's unique presidential circumstances give Warren plenty of room to run. Judging by what she has said publicly, there's no reason to rule out a [Sen. Elizabeth Warren, D-N.H.,] candidacy… Yes, Warren is far back in the polls, but so was [President Obama] in 2007. At some point, Democrats are going to realize the precariousness of their unthinking devotion to a single, flawed candidate. Elizabeth Warren could remind them there's someone else to vote for."]
MCCONNELL RAMPS UP FOR RAND
Louisville Courier-Journal: "…the Senate Republican leader [Mitch McConnell] can't say enough positive things about Kentucky's freshman GOP senator [Rand Paul]. Paul made TIME's list of the 100 most influential people in the world again (he made it last year), and none other than McConnell wrote the piece making the case… 'Spend five minutes with Rand and it's clear he doesn't care what you look like or where you're from. He's beating the bushes for anyone who prizes liberty, and he's forcing people to rethink the Republican Party.'"
[Bye, bye birdie - Kentucky Republican Senate hopeful Matt Bevin denied knowing that he was speaking at a pro-cockfighting rally earlier this year, saying that the purpose of the event was unclear to him. Unfortunately for Bevin, Louisville's WAVE happened to have an undercover reporter at the same event.]
Mending fences - Sen. Rand Paul, R-Ky., heads to Cambridge, Mass. to address Harvard University Institute of Politics forum. His host for the event, the institute's director, is the man Paul beat in a 2010 Senate primary, former Kentucky Secretary of State Trey Grayson.
Libertarian connections - NYT: "As he has risen in prominence as a Republican presidential contender, Mr. Paul is avidly courting a small but influential cluster of wealthy libertarians. His pursuit offers an intriguing window into an eclectic network of potential donors who have made fortunes in Silicon Valley start-ups and Wall Street hedge funds, a group that could form a vital donor base if he makes a bid for the Republican nomination. A tight-knit tribe of philanthropists and entrepreneurs, they have exerted enormous intellectual influence on conservative policy. But they have historically spent more on nonprofit groups and endowing college economics departments than they have on backing candidates."
CRUZ TALKS 2016 AMBITIONS AHEAD OF N.H. VISIT
NH Journal: "Eventually, New Hampshire will be a 'ground zero' for the 2016 presidential election campaign, as it always is. But for now, insists Texas Sen. Ted Cruz, the Granite State is 'ground zero' in the battle for control of the United States Senate – and the way Cruz sees it, in many ways the future of the country… Predictably, the senator isn't outwardly talking about running for the White House, at least not yet. Still, a speaking engagement Saturday at the Carroll County Republican Committee Lincoln Dinner and a Sunday appearance at a private reception with the conservative advocacy group Citizens for a Strong New Hampshire are effective starting points for Cruz – just in case he wants to get to know and perhaps get contact information of Granite Staters for future reference… As for a presidential run, 'There is certainly time to address that question moving forward,' he said. 'Right now my focus is on the national debate we are having about the direction of America.  The path we're on isn't working. Millions of Americans are finding opportunity slipping away and finding the American dream harder and harder to realize. I hope to do what I can to participate in that debate and to urge that we get back to our founding principles. And New Hampshire is absolutely a critical forum for that national debate.'"
NRA OFFERS EARLY LOOKS AT 2016
AP: "Several potential Republican contenders for president will court gun-rights supporters at the NRA's annual convention Friday. Florida Sen. Marco Rubio, Louisiana Gov. Bobby Jindal, Indiana Gov. Mike Pence and former Pennsylvania Sen. Rick Santorum are set to speak at the convention's leadership forum, a kind of political pep rally and strategy meeting the NRA considers one of its premier events of the year. They'll be speaking to thousands of NRA members at a time when the gun lobby is arguably stronger than ever. And each possible 2016 candidate is expected to highlight his own role in pushing back gun-control measures."
FOX NEWS SUNDAY: PENCE POTENTIAL?

Host Chris Wallace welcomes Gov. Mike Pence, R-Ind., to discuss the presidential possibilities after Pence headlines the National Rifle Association annual meeting.  Then Wallace sits down with Jennifer Gratz—the woman who was rejected from University of Michigan Ann Arbor and the name behind the recent affirmative action case—and Shanta Driver, Chairman of "By Any Means Necessary" to delve into the impacts of the Supreme Court holding up Michigan's decision. "Fox News Sunday with Chris Wallace" airs at 2 p.m. and 6 p.m. ET on Fox News. Check local listings for air times in your area.
CAPITO LEADS IN W.VA. SENATE
A new poll shows Rep. Shelley Moore Capito, R-W.Va., handily defeating Secretary of State Natalie Tennant in the race to replace retiring Sen. Jay Rockefeller, D-W.Va. In the survey conducted by new polling firm Vox Populi for the political action committee backed by Sen. Rob Portman, R-Ohio, 49 percent of respondents said they would choose Capito, while 33 percent picked Tennant.  Although Tennant nearly matched Capito in last quarter fundraising, Capito holds the lead among 27 percent of Independents and 30 percent of registered Democrats.
THAD COCHRAN TOUTS LEGISLATION, ATTACKS CHALLENGER
Sen. Thad Cochran, R-Miss., launched a new attack ad against republican primary challenger state Sen. Chris McDaniel.  Cochran touts his "landmark" Mississippi anti-meth lab legislation. "State Sen. Chris McDaniel voted against the anti-drug legislation," the narrator say. "Chris McDaniel, bad judgment, wrong values." Cochran faces McDaniel in June 3 primary.
JACOBS SPENDS BIG TO HOLD OFF ERNST IN IOWA
Des Moines Register: "Millionaire [Republican Iowa] Senate candidate Mark Jacobs has secured a state record: He has chipped in more of his own money to fuel his campaign than any other Iowan running for office in state history. Jacobs has spent more than $1.65 million from his own pocket, his campaign disclosure report to the Federal Election Commission shows" Moderate Jacobs is facing off with conservative state Sen. Joni Ernst in the state's June 3 primary. The winner will face Rep. Bruce Braley, D-Iowa, for the seat being vacated by retiring Sen. Tom Harkin, D-Iowa.
PICK SIX
Republicans have their sights set on six seats to win back control of the Senate from Democrats. So which seats are most likely to flip from blue to red? The current consensus among Fox News First readers: Arkansas, Montana, Louisiana, South Dakota, North Carolina and West Virginia.
Share your top six picks. Email them – just your top six, please – to FOXNEWSFIRST@FOXNEWS.COM or tweet @cstirewalt.
SCOTT AND CRIST NECK AND NECK
Tampa Bay Times: "A new poll finds Gov. Rick Scott and Democratic challenger Charlie Crist in a dead heat and, with more than 10 percent of voters undecided, sets the stage for an already-brutal campaign expected to get uglier over the next seven months. The poll by Mason-Dixon Polling & Research, Inc., shows Scott and Crist, his most likely Democratic rival, knotted at 42 percent apiece."
[Gov. Rick Scott, R-Fla., launched a new TV ad attacking challenger former Gov. Charlie Christ, D-Fla. "State when deep in debt, state borrowing at an all-time high. Which governor took Florida to the bottom? Charlie Christ," the narrator says. "What is worse, instead of staying to fix the mess, he ran away."]
BOEHNER MOCKS GOP ON IMMIGRATION
Cincinnati: "House Speaker John Boehner theatrically mocked his fellow Republican Congressmen for being afraid to reform immigration policy when he spoke Thursday before the Middletown Rotary Club in his home district. 'Here's the attitude. Ohhhh. Don't make me do this. Ohhhh. This is too hard,' Boehner whined before a luncheon crowd at Brown's Run County Club in Madison Township… The GOP-controlled House has refused to pass the immigration proposal passed by the Democrat-led Senate that includes a path to citizenship for millions of people living illegally in the United States. Critics characterize it as amnesty. Boehner is advocating for a step-by-step process that starts with securing borders and enforcing immigration laws. He can't get the House to consider it."
Boom - WaPo: "…Former congressional aide [and Republican congressional candidate in Georgia] John Stone begins [a new] ad by firing a cannon he says is like the one his forefathers used in the Revolutionary War. 'As the only licensed firearms dealer in America running for Congress, I'm willing to do the same if we have to,' Stone says. 'But it's a whole lot easier just to vote in new House Republican leaders who will stand up to Obama and defend our Constitution.' Stone is running in a crowded primary seeking a rematch after losing badly to Rep. John Barrow (D-Ga.) in 2008."
#mediabuzz: HOLLYWOOD'S HEMINGWAY

Howard Kurtz welcomes actress Mariel Hemingway, talking about growing up in a family plagued by mental illness and suicides, coping with the media spotlight, and the abuse allegations against her onetime co-star Woody Allen.  Baltimore Sun's David Zurawik on the woes of "Meet the Press" and NBC's psychological evaluation of host David Gregory.  Watch "#mediabuzz" Sunday at 11 a.m. ET, with a second airing at 5 p.m. ET.
#Followfriday w/@laurenashburn - Women account for just 6 percent of CEOs in top 100 tech companies. Similarly, tech writers are primarily men. So, for this week's #FF, here's to the girls: @marissamayer  Who hasn't heard of Yahoo CEO Marissa Mayer?  She tweets every few days, but she's one of the few who has made it to the top.  @sarahcuda Sarah Lacey, a TechCrunch alum, founded Pando Daily, a tech site that takes an often irreverent look at the tech industry. @KaraSwisher recently jumped from the Wall Street Journal's All Things D site to co-found re/code.net which has a partnership with NBC. @jbooton Our very own Jennifer Booton works for Fox Business and covers everything from Google gadgets to cell phone fees. – Check out Lauren Ashburn's "Top Twitter Talk" here.
THEY JUST LOVE THE ELECTRIC SLIDE. IS THAT SO WRONG?
While looking though videos from their "big day," Pennsylvania newlyweds Krista Lamlin and Andrew Reilly noticed a pair of strangers enjoying the festivities--drinking free drinks, bantering with the guests and showing a few moves on the dance floor. The pair asked WPVI Thursday to help in the search to find the schmoozers. After a few hours, and some crowd surfing help, the trespassers were identified. WPVI reports that the crashers apologized to the bride and said, "they were guests at the resort and casino that night. They were looking for something to do and thought that they would join the party. They went on to say they had never done anything like this before."
AND NOW A WORD FROM CHARLES…
"…It's a lesson we have to learn, re-learn, over-learn every single time, and the reason is quite simple. The Palestinians, the moderate Palestinians, the Fatah Palestinians, Abbas, have shown us again and again that when it comes to making a final deal to get a peace with Israel, they are not interested. … They will do interim deals, they will do temporary deals. But here, they were confronted with an Israel prepared to create a Palestinian state, divide Jerusalem, and withdraw every Israeli, every Israeli who lives in a settlement on Palestinian territory. The answer's always no, and the reason is this: they will not accept a Jewish state in their midst. – Charles Krauthammer on "Special Report with Bret Baier" Watch here.
Chris Stirewalt is digital politics editor for Fox News. Want FOX News First in your inbox every day? Sign up here.