Reid Grills 'Chicken' for Health Care Comments By Republican Challenger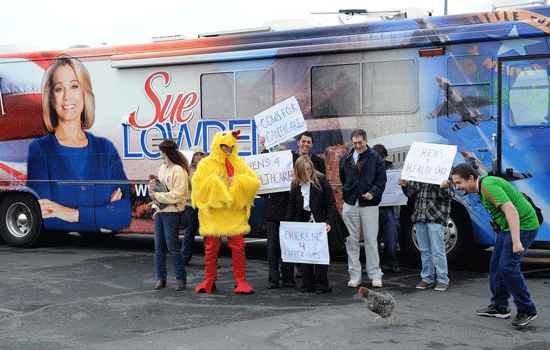 Republican Sue Lowden may hold a commanding lead over Senate Majority Leader Harry Reid in the polls in the Nevada Senate race, but Reid is determined to make her chickens come home to roost.
Reid and his Democratic allies are unleashing relentless attacks on Lowden for her comments that Americans used to pay doctors with chickens, and bartering is one way to bring the costs of health care down.
The latest salvo from the Reid campaign is a "Chickens for Checkups" Facebook game that allows players to earn virtual chickens to pay for their hospital stays.
"Sue Lowden's Chicken Clinic is a virtual way to experience a health care proposal so absurd it continues to receive national ridicule a full three weeks after it was originally proposed," Reid campaign communications director Kelly Steele said in a written statement. "It's also an easy and fun way for Nevadans to ensure LowdenCare never becomes a reality."
Despite being mocked by Jay Leno -- he asked what patients should do if they can't find an Amish doctor -- Lowden refuses to back down.
"You know, before we all started having health care, in the olden days our grandparents, they would bring a chicken to the doctor," she told a local news outlet this week. "They would say I'll paint your house. I mean, that's the old days of what people would do to get health care with their doctors. Doctors are very sympathetic people. I'm not backing down from that system."
The Democratic Senatorial Campaign Committee has also pounced on Lowden's chicken comments by setting up a "Chickens for Checkups" website inviting supporters to fill out a fake form letter to send to Lowden seeking a doctor willing to accept items in exchange for health care.
"Dear Sue, I recently heard about your bright idea that people should barter goods and services for health care, so I was hoping you could help me find a physician," the letter reads.
The letter allows supporters to choose the disease and the items they're willing to offer in exchange for medical care. Among the diseases to choose from are rickets, bloodletting, pox and swamp fever. Among the resources are 10 chickens, two goats, 10 acres and a plow or five sets of overalls.
"When you locate a doctor who will see me for my disease in return for what I can offer, please let me know," the letter reads. "And thanks for coming up with such a simple solution to a complicated problem!"
In Reid's Facebook game, players can earn up to five chickens by signing up at HarryReid.com, three by joining Reid's Facebook page and one by inviting a friend to play Sue Lowden's Chicken Clinic!
"Then, spend your hard-earned chickens to stave off impending diseases or loan them out to keep your friends and family out of the virtual hospital," the Reid campaign said.
But a rural doctor defended Lowden's comments, saying he has bartered with patients during his 26 year career.
"I have bartered with patients – for alfalfa hay, a bath tub, yard work and horse shoeing in exchange for my care," Robin L. Titus, a former Republican candidate for Senate who dropped her bid three months ago, wrote in an opinion article published in the Las Vegas Review-Journal.