Reid Criticizes GOP Questioning His Abandoning Health Care Votes for Fundraiser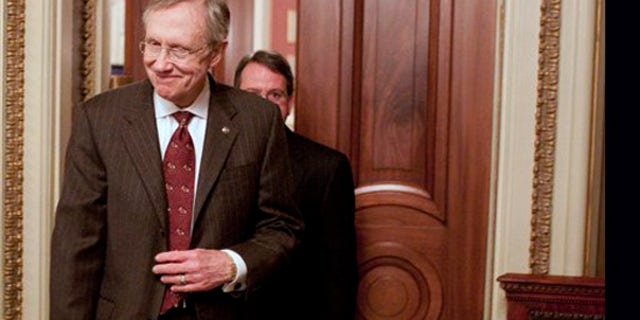 NEWYou can now listen to Fox News articles!
After Republicans mocked him for breaking his pledge to work around the clock, an angry Senate Majority Leader Harry Reid said Thursday he is not going to a fundraiser in New Orleans that would have forced him to miss a weekend session he had insisted on calling to debate health care.
Instead, the Senate will remain in town this weekend to vote on a spending bill to fund the government.
"I think this debate has come to a point rarely seen in the Senate -- in fact, never seen -- to have friends from the other side come to the floor and in some way try to embarrass or denigrate me," Reid said, adding that he canceled all his planned events last week and this week.
Reid said he would never abandon a debate on health care for a fundraiser. Instead, he said he thought it would have been "appropriate" to have a day or two off from the contentious debate.
Senate Republicans have been quick to grumble about Democratic leaders holding weekend sessions this month to debate health care in an effort to get it passed by Christmas.
But they ridiculed Reid and pressed to continue debate on Saturday after learning that the Nevada Democrat had on his schedule plans to attend a fundraiser in New Orleans.
"Republicans are prepared to provide a platform for the debate as long as it takes," Senate Minority Leader Mitch McConnell said on the floor Thursday. "The majority leader said we'd be working every weekend. We take him at his word. We expect to be here this weekend and we look forward to it."
Sen. David Vitter, R-La., used Reid's planned fundraiser to solicit donations of $25 or $50 in an e-mail titled "Harry Reid invades New Orleans."
"I need your immediate help to fight against Harry Reid's attempts to buy votes and air time in Louisiana as he tries to force this health care bill on the American people," Vitter wrote in the e-mail.
Vitter noted that prominent liberal James Carville is one of the fundraiser's hosts and that tickets to the event are going for $1,000 each.
"That means for each person in attendance, $1,000 will be dropped into the Obama-Melancon-Reid war chest as they try to take control of the health care industry and give Obama another reliable Senate vote come 2010," he said, referring to Rep. Charlie Melancon, D-La., who is challenging Vitter for his Senate seat in next year's midterm election.
Reid's decision to shift the topic of debate for this weekend session comes after a group of moderate and liberal Democratic senators reached a broad agreement Wednesday to abandon a controversial government-run public option in favor of offering private plans supervised by the government and expanding Medicare. Those issues are both contentious to Republicans, who noted that the Senate hasn't voted on any health care amendment since Tuesday.
Now Democratic leaders are hopeful they have addressed all the concerns of their fractious majority in order to reach the magical number of 60 votes to end debate.
Fox News' Jim Angle contributed to this report.