Race for Chaffetz's House seat heats up, in GOP primary debate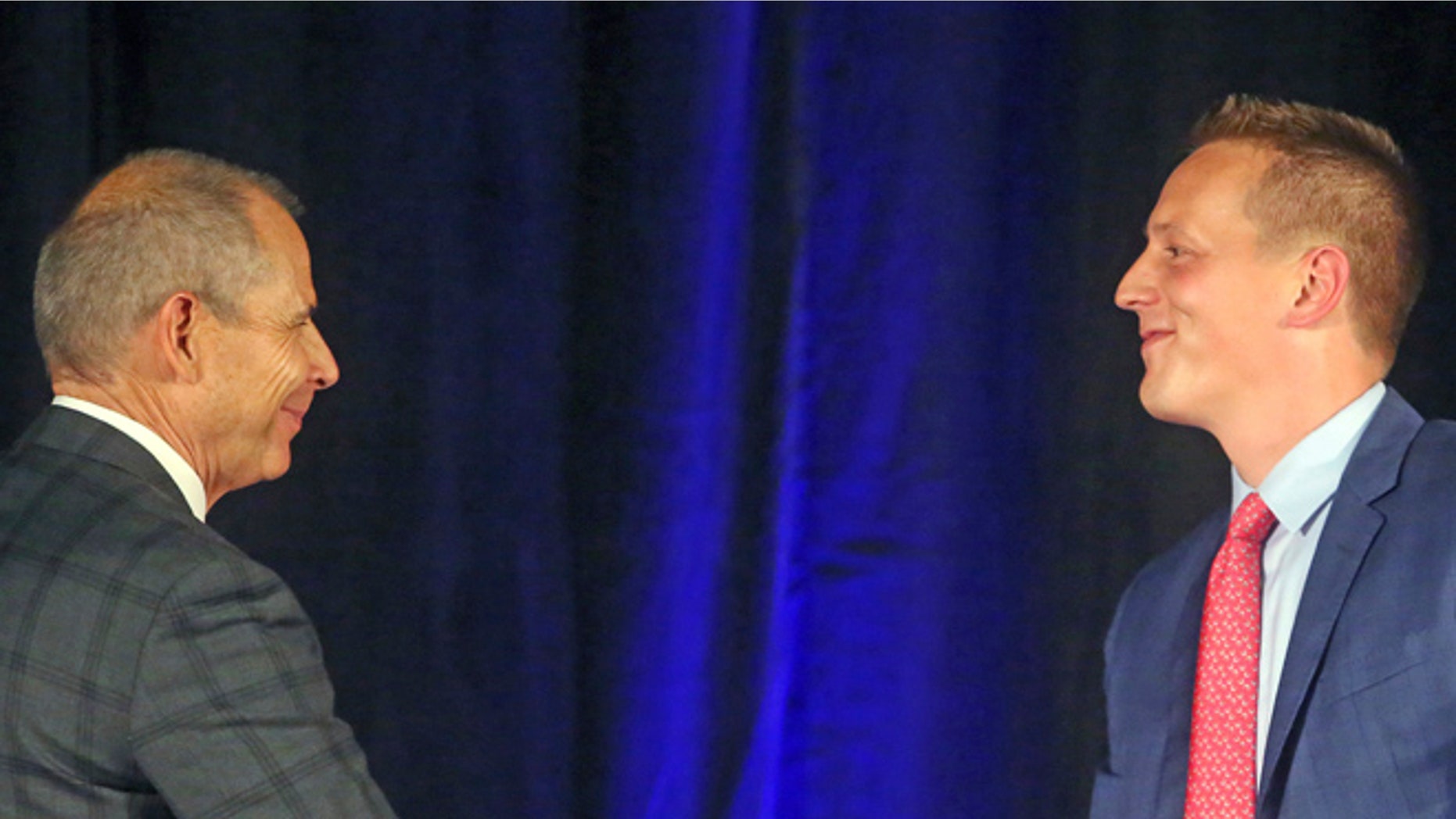 PROVO, Utah – Republican candidates for the seat vacated by U.S. Rep. Jason Chaffetz jockeyed to burnish their conservative credentials in a Friday debate that got heated over one candidate's former Democratic ties.
Provo Mayor John Curtis defended himself by saying his principles never changed despite a two-decade-old "fling on the dark side."
The three men vying to become the GOP nominee for the seat decried the failure of legislation to repeal the Obama-era health law, supported President Donald Trump's efforts to build a wall along the border with Mexico and cheered Trump's decision to pull out of the Paris climate accords.
The debate got headed after candidate Tanner Ainge, son of Boston Celtics general manager Danny Ainge, accused Curtis of switching sides. "I'm going to stick to my conservative principles," Ainge said.
Former state lawmaker Chris Herrod, who is the choice of party delegates for the nomination, backed up Ainge and said he'd previously been "beaten up" for his views in favor of states' rights and the Constitution. "I'm the one of the three candidates that has the conservative record," he said.
Curtis touted his experiences as a popular mayor and businessman. "My entire life I've fought for liberty, personal responsibility, accountability and family values," he said.
On health care, all three men said they'd look to make more free-market reforms to health care and supported health-savings accounts. On immigration, they also supported pulling funding from sanctuary cities.
The event was in Provo, hosted by the Hinckley Institute of Politics and The Salt Lake Tribune.
The three candidates will face off in a Republican primary election Aug 15. The winner will go up against Democratic physician Kathie Allen in November.
Election officials say the race will go on even though nearly 70,000 Republican ballots were accidently sent to unaffiliated voters due to a coding error. It will be the county's first vote-by-mail election and would have been a quiet affair before Chaffetz's announcement. Utah County Clerk-Auditor Bryan Thompson said officials can identify unaffiliated ballots with a bar code and remove them before tallying the Republican race.
The U.S. House of Representatives seat was vacated by Chaffetz, a Republican who served as chairman of the powerful House Governmental Oversight Committee.
Chaffetz made a surprise decision to step down at the end of last month less than halfway through his new term to spend more time with his family.
He left an enticing open seat that attracted a crowded field competing in what's considered one of the most conservative congressional districts in the nation.