Prosecutors: Ex-governor should go to prison during appeal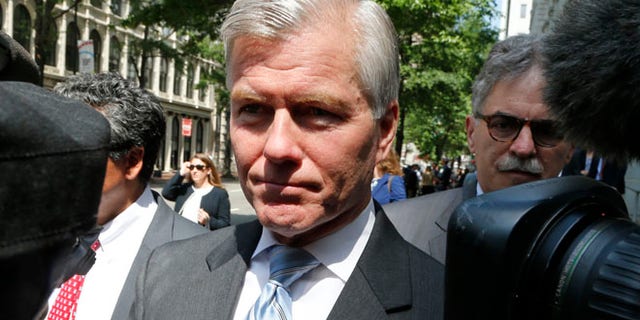 RICHMOND, Va. – Prosecutors on Friday urged a federal appeals court to require former Virginia Gov. Bob McDonnell to report to prison while he appeals his public corruption convictions to the U.S. Supreme Court.
In their filing to the 4th U.S. Circuit Court of Appeals, prosecutors say McDonnell's request to remain free should be denied. If the court agrees with the government, McDonnell would probably be required to report to federal prison within a few weeks to begin serving his two-year sentence.
In July, a three-judge panel of the appeals court upheld McDonnell's, and on Tuesday, the full 15-member court refused to grant a rehearing. The appeals court allowed McDonnell to remain free on bail while it considered his case but said nothing about whether that order would remain in force as he seeks review by the Supreme Court.
McDonnell on Thursday asked the appeals court to keep him out of prison during his appeal, arguing that he would be irreparably harmed if he serves the bulk of his sentence and the Supreme Court ultimately overturns his convictions.
But prosecutors wrote in their response: "Defendant ignores, however, that his convictions have now withstood searching and exhaustive review before both this court and the district court, and equally important, that the standards for obtaining further review in the Supreme Court are stringent and seldom met."
A jury in September found McDonnell and his wife, Maureen, guilty of doing favors for a wealthy businessman in exchange for more than $165,000 in gifts and loans.
Maureen McDonnell was sentenced to one year and one day. The appeals court is scheduled to hear arguments in her case in late October.
In Friday's filing, prosecutors disagreed with Bob McDonnell's contention that his case raises legal questions that are so compelling that the Supreme Court is likely to take the case. They noted that the justices receive about 9,000 petitions per term and grant review in only about 1 percent of cases.
Prosecutors also disputed McDonnell's claim that Supreme Court review is likely because other judicial circuits have adopted a narrower definition of bribery than the one used in his case.
According to trial testimony, former Star Scientific Inc. CEO Jonnie Williams showered the McDonnells with lavish gifts -- including a Rolex watch for the governor, about $20,000 in designer clothing for the first lady and $15,000 to pay for catering at a daughter's wedding -- while the executive sought state university research on his company's signature product. Williams also loaned the McDonnells thousands of dollars on exceptionally favorable terms to help them pay bills and keep their money-losing Virginia Beach vacation rental homes afloat.
Meanwhile, the McDonnells attended promotional events and hosted a product launch event for Anatabloc, the tobacco-derived anti-inflammatory manufactured by Williams' company. Bob McDonnell also arranged meetings with administration officials for Williams, who wanted not only the university research but also inclusion of Anatabloc in the state's employee health plan.
Williams testified under immunity for the prosecution.