Presidential candidates make weekend blitz in NH before debate, primaries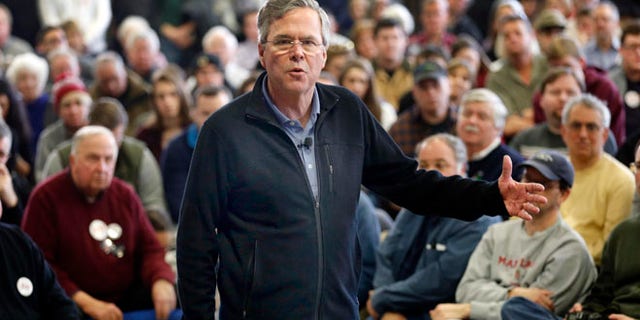 Democratic and Republican presidential candidates and their campaigns on Saturday spread across New Hampshire, holding rallies and knocking on doors to sway voters before the GOP debate this evening and the primaries Tuesday, which appear make or break for several candidates.
"It's really important," New Jersey GOP Gov. Chris Christie said about his Saturday blitz. "Thirty to 40 percent of these people are undecided, and they are going to be watching tonight."
Christie is among several Republican candidates who will have to do well tonight and in the primary to keep their campaign alive.
He along with fellow moderates Ohio Gov. John Kasich and former Florida Gov. Jeb Bush are counting on appealing to the more independent-minded New Hampshire voters, compared to the social conservatives in Iowa who helped Texas GOP Sen. Ted Cruz win in Iowa earlier this week.
"We've knocked on hundreds of doors already," Kasich told Fox News early Saturday.
Roughly 250 Kasich volunteers were campaigning across the state and making thousands of phone calls this weekend, the campaign said.
Standing outside his Manchester headquarters, Kasich said a quick smile and conversation with a voter can make all the difference in the primary.
On the Democrats side, Hillary Clinton held a get-out-the-vote effort in Concord.
Clinton narrowly defeated primary challenger Bernie Sanders in Iowa but trails the Vermont senator by roughly 17 percentage points in New Hampshire.
"You have to help Hillary Clinton. She's always there for you," former Secretary of State Madeleine Albright told women at the Clinton rally. "There's a special place in hell for women who don't help each other."
Clinton was introduced by New Jersey Democratic Sen. Cory Booker, who quoted from Maya Angelou's poem "Still I Rise."
Clinton played off that mantra and told voters that "we will rise once again to more prosperity."
Sanders, a self-described Democratic socialist, reminded ralliers at Franklin Pierce University, in Rindge, that Clinton won the state in 2008. But he also expressed confidence about winning next week if his team can "bring out a decent vote."
Sanders offered his plans for a "political revolution," which includes single-payer health care, free tuition at public universities and Wall Street reforms.
Bush spoke and took questions from town hall participants for 90 minutes and showed energy and emotion in front of the more than 700 people, who attended the event inside a Bedford school. The crowd was one of his largest so far in the state.
He was introduced by former Department of Homeland Security Secretary Tom Ridge, who told voters to choose "George Bush -- I mean, Jeb Bush." Ridge, a former Pennsylvania governor, was appointed to lead the agency by President George W. Bush.
Bush blasted billionaire businessman and GOP national front-runner Donald Trump for what he described as disparaging remarks.
He also said fellow primary challengers Cruz and Florida GOP Sen. Marco Rubio are gifted speakers but have no leadership experience.
Christie is marking his 70th day in New Hampshire and continues his criticism of Rubio and Cruz as first-term senators who aren't ready to be president.
He said debate viewers will see a clear difference between those who are prepared to lead and those who are just continuing to talk.
The ABC debate for GOP candidates is at Saint Anselm College, in Manchester.
Christie was joined at an event in Bedford by two Republican governors, Larry Hogan of Maryland and Charlie Baker of Massachusetts, who share his experience of leading heavily Democratic states.
Hogan said all three are conservatives getting things done in their states. Baker praised Christie's determination, toughness and ability to advance his agenda by working with people who disagree with him.
The Associated Press contributed to this report.