President Obama to Make First Trip to Iowa of the Year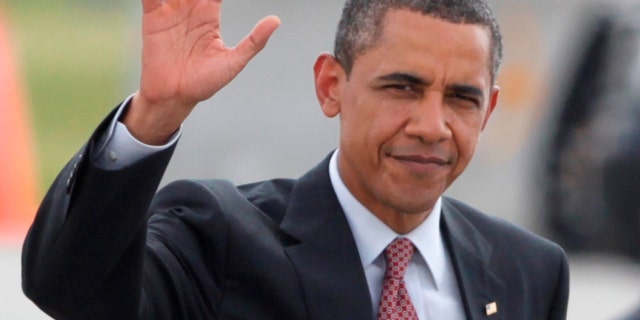 NEWYou can now listen to Fox News articles!
President Obama will be making his first stop of the year to Iowa next Tuesday, the state that helped secure a crucial early win in his bid for the White House.
He'll be making speaking at Alcoa Davenport Works Factory in Bettendorf, continuing his message of the importance of manufacturing in the economy. While he may make some key statements on the status of job creation, President Obama is also working to shore up votes in the Midwest as he re-election campaign moves into full swing. The president doesn't have a primary challenger, so the importance of Iowa as the first caucus state is a bit diminished, but in the general election every state counts.
The last time the president was in Iowa was in September when he was on a backyard listening tour about health care and other topics. Michelle Obama just made her first visit there in her current role earlier this spring when she gave a commencement address.
For the president, Iowa has extra significance because it jump-started his 2008 campaign when many observers at the time expected then Sen. Hillary Clinton to win the Hawkeye state.
Iowa will host a couple other notable political events next week too.
Republican presidential contender, Rep. Michele Bachmann, R-Minn., will formally announce her presidential campaign Monday in the town where she was born, Waterloo. On top of that, a documentary movie about Sarah Palin, "The Undefeated" debuts in the small town of Pella at the Pella Opera House. While Palin is not associated with the film directly, it will likely satiate her fans with the spotlight, and continue to keep her in the news as the political world awaits her final announcement about her decision on running for president.
Some key polls are coming up that will gauge what Iowans are thinking of the current crop of candidates. The Des Moines Register will release its data this weekend on GOP contenders. And in about six weeks is the Iowa Straw Poll in Ames around the time of the State Fair, an unofficial barometer and kick-off for the state ahead of the caucuses next winter.
One Republican candidate, former Utah Gov. Jon Huntsman, has notably decided to skip the Iowa caucuses, but will still be a part of the debate line-up there.
Note: Fox News, the Washington Examiner and the Iowa Republican Party will host a debate from Iowa on August 11.