Preet Bharara: 'Absolutely evidence' to begin an obstruction case against Trump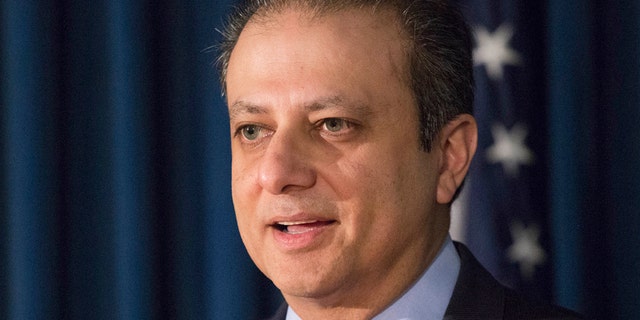 NEWYou can now listen to Fox News articles!
Preet Bharara, the former U.S. attorney fired earlier this year by President Trump, held nothing back in his first TV interview since his ouster -- claiming Sunday there's "absolutely evidence" to launch an obstruction case against Trump's team with regard to the Russia probe.
Former FBI Director James Comey stopped short of alleging obstruction of justice in his Senate testimony last week, deferring to the special counsel probe led by Robert Mueller.
Bharara, however, said on ABC News' "This Week" that there's enough evidence to at least start a case.
"No one knows right now whether there is a provable case of obstruction," he said, adding: "There's no basis to say there's no obstruction."
Trump's allies, in downplaying the obstruction angle, have seized on Comey's sworn statement last Thursday that Trump did not try to get him to end the Russia probe as a whole.
"To me, that's no obstruction," Republican National Committee Chairman Ronna McDaniel told "Fox News Sunday."
She also called the issue a "fishing expedition" and said congressional probes looking at collusion between the Trump campaign and Russia should end, considering the lack of evidence.
She did not call for Mueller's probe to end.
Bharara said it's "reasonable" to assume Mueller is looking at the obstruction issue among others as part of his investigation.
Bharara has been critical of the president ever since he was let go in March along with dozens of other U.S. attorneys held over from the last administration. The former federal prosecutor in Manhattan attended Comey's hearing on Thursday.
While Comey said Trump did not try to end the Russia probe, the fired FBI boss did say Trump had pressured him to lay off former national security adviser Michael Flynn and said he thinks he was fired because of the Russia investigation.