Powerful public sector union SEIU helps Wisconsin county lawmaker write wage hike bill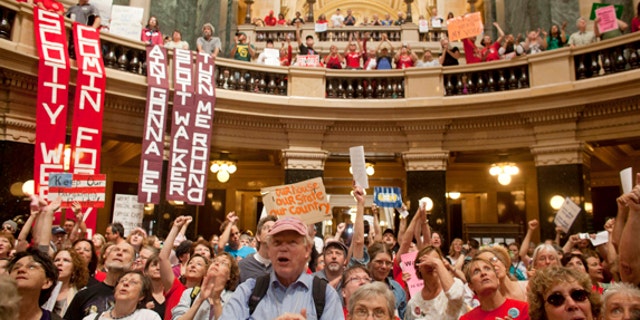 Big Labor helped a Milwaukee County lawmaker write legislation for union workers that is projected to cost taxpayers more than $27 million over the next six years.
County Board of Supervisors member David Bowen wrote the legislation in collaboration with the Service Employees International Union, fellow board member James Schmitt confirmed.
The so-called "living wage" ordinance could bankrupt the county's Department of Family Care, stunt job growth and hinder future development, according to a fiscal analysis by the county's nonpartisan comptroller's office.
The proposed law would set a living wage of $12.45 an hour for 350 county employees and hundreds of others who work under contract with the county.
However, the proposal offers contracting firms an exemption from the wage increase if their workers are covered by a collective bargaining agreement between the employer and a bona fide labor union.
Bowen, endorsed by the SEIU Wisconsin State Council in his 2012 election, worked with labor union representatives on about 15 drafts and met with them several times in his office at the county courthouse, Schmitt said.
"SEIU, they've been lockstep with it," he said.
The annual costs of the increase could reach more than $8 million after 2017, the year when the Family Care program's reserves are expected to run out.
Click for more from Watchdog.org.