Power trip: Obama's clout on trial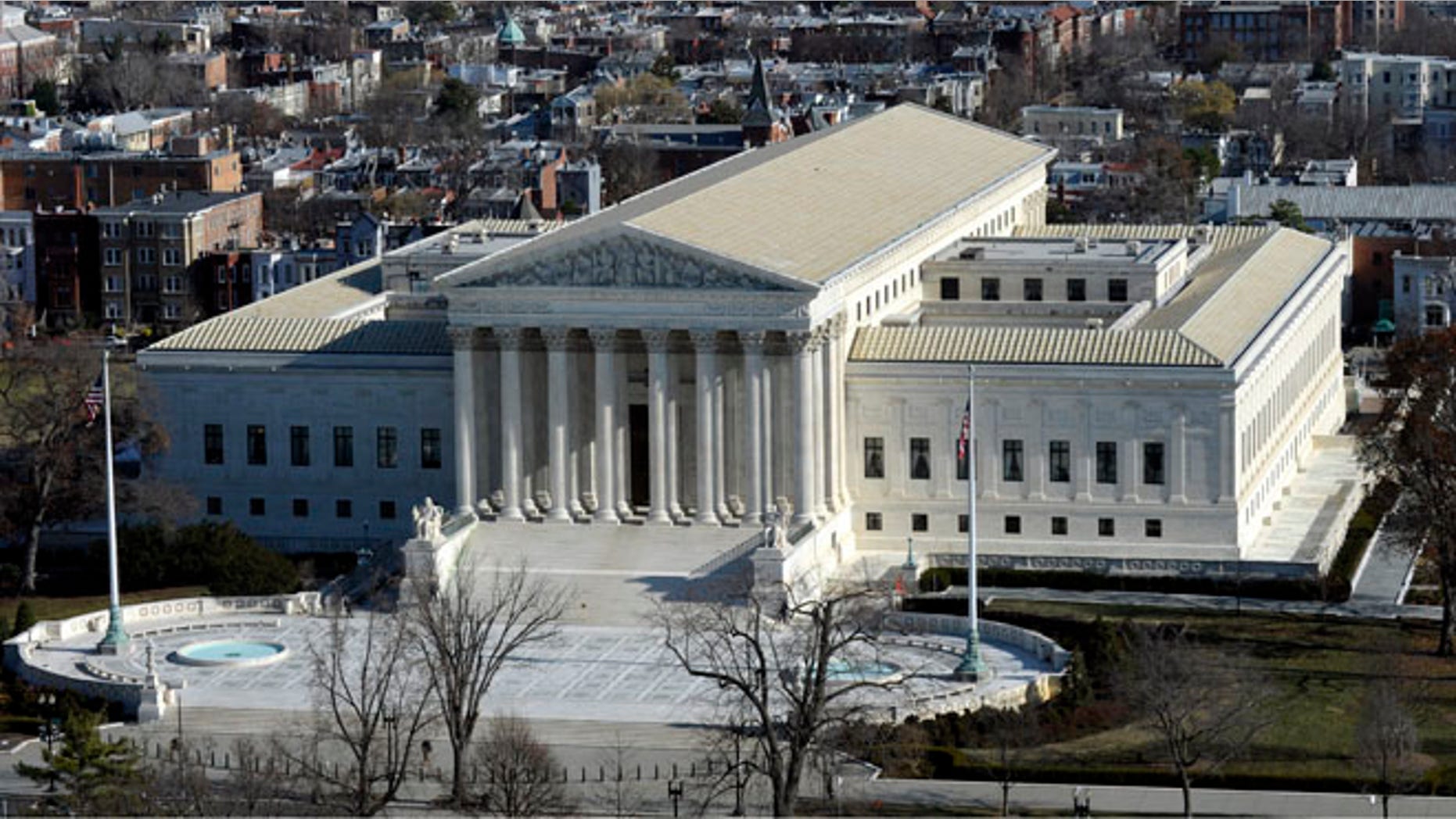 ** Want FOX News First in your inbox every day? Sign up here.**
Buzz Cut:
* Power trip: Obama's clout on trial
* Gates: Obama lacked 'conviction,' 'passion' for mission
* ObamaCare youth deficit may trigger bailout
* Hell to Pay, the sequel: Hillary's hit list
* Guess they didn't get Amazon prime
POWER TRIP: OBAMA'S CLOUT ON TRIAL
Supreme Court justices today will give their first clues as to how they will decide what could be a make or break case for the remainder of the Obama presidency. Presidents have long taken advantage of the Constitution's provision that the chief executive may make temporary, emergency appointments to key positions without confirmation from the Senate. The allowance for so-called recess appointments was conceived as a way to let the executive branch function during times when the Senate was out of session and Philadelphia was a long carriage ride over rutted roads from most of the nation. But modern presidents have used it to install controversial appointees unlikely to win confirmation into important posts for one year. President Obama's decision to push the envelope and fill out the National Labor Relations Board with pro-Union picks when the Senate was not technically in recess may permanently deprive the executive branch of that helpful loophole. The Supreme Court is holding an extended session today to hear arguments on this case.
[The Seattle Times has the back story of a pop bottler in Yakima, Wash. that spurred the case that could alter the federal balance of power.]
High stakes - Senate Republicans have joined the bottling company in seeking to have the appointments struck down and the board's rulings after the non-recess recess appointments invalidated. If Democrats manage to stave off Republicans in midterm elections, the case won't be so important in the immediate future, since under powers newly assumed by Senate Democrats, presidential appointments can be confirmed with 51 instead of 60 votes. But if the GOP manages to win half of the dozen Senate seats that seem to be in play this year, it would nix Obama's chances to fill key positions unless he was willing to make compromises with his longtime red team adversaries in the Senate. Read more. – Watch Fox: Correspondent Shannon Bream considers President Obama's potential executive overreach and has the latest from the Supreme Court.
[How is the Obama base responding? Here's the headline from liberal activist group Think Progress:How The Supreme Court Could Blow Up President Obama's Last Two Years in Office]
GATES: OBAMA LACKED 'CONVICTION,' 'PASSION' FOR MISSION
Former Defense Secretary Robert Gates didn't back down from criticism of President Obama's character during an appearance on CBS' "Sunday Morning." Adding to criticism in his forthcoming memoir "Duty," Gates said that Obama lacked "passion" and "conviction" over his Afghanistan war strategy. "It's one thing to tell the troops that you support them. It's another to work at making them believe that you believe as president that their sacrifice is worth it, that the cause is just, that what they are doing is important for the country, and that they must succeed." He went on to compare Obama's approach to that of President George W. Bush's, "President Bush did that with the troops when I was secretary. I did not see President Obama do that. As I write in the book, it was this absence of passion, this absence of a conviction of the importance of success that disturbed me."  Gates did add the only time Obama showed passion for military issues was over the repeal of "Don't Ask Don't Tell." The former defense secretary said he had no regrets for what he has written calling it an "honest" account. Read more from Senior White House Correspondent Ed Henry.
[The Hill details how Gates' memoir has further complicated ongoing negotiations with Afghanistan over sustained U.S. troop presence.]
SENATE MAY OVERRIDE OBAMA ON IRAN
With an administration-backed deal that trades lifting sanctions for promises of transparency with Iran scheduled to go into effect next week, the Senate is nearing a veto-proof majority in favor of further sanctions against the Islamic regime. The first payment of $550 million to the mullahs in Tehran is set for Feb. 1. But a bipartisan supermajority  in the Senate is threatening to buck a presidential veto threat and vote to reinstate the tougher sanctions if the current talks don't bear fruit. The House would likely approve the measure in a snap, but if President Obama vetoed it, it would take 67 Senators to override the president. And they may have the votes.  According to the AP, there are already 59 Republican and Democratic senators on board to enact the sanctions. Supporters of the measure believe there are likely eight more who would vote to override Obama if necessary. Fox News has the story.
[Watch Fox: Sen. John Barasso, R-Wyo., discusses his support of tougher sanctions against Iran in the 9 a.m. ET hour]
REMEMBERING 'THE BULLDOZER'
Israel is paying its respects to one of its seminal leaders and military heroes, former Prime Minister Ariel Sharon, who died Saturday. In remarks at Sharon's state funeral this morning Vice President Joe Biden carefully eulogized the Israeli leader as a "complex man" who "engendered strong opinions from everyone." The Telegraph explored that complexity: "Sharon, who once famously described the Palestinians as "drugged cockroaches", could never be accused of nurturing a single pro-Arab emotion in his sizeable frame. But when it came to sustaining Israel's strength, security and prosperity for future generations, the Bulldozer – as he was affectionately known to his comrades-in-arms – had a canny knack of knowing when to engage constructively when he deemed it to be in Israel's interests."
OBAMACARE YOUTH DEFICIT MAY TRIGGER BAILOUT
While the administration boasted enrolling over a million people in ObamaCare during December, new data from state exchanges show young people are not buying into the embattled health law. "Data from seven states and the District of Columbia, which are running their own marketplaces, show that of more than 200,000 enrollees, nearly 22 percent are 18 to 34 years old, according to a Reuters analysis. The administration had hoped that over 38 percent, or 2.7 million, of all enrollees in 2014 would be 18 to 35 years old, based on a Congressional Budget Office estimate that 7 million people would sign up by the end of March." And remember, those numbers are likely better than for most states because the District of Columbia includes Hill staffers forced to sign up for ObamaCare. The consequences could be huge. While industry insiders say that bailouts for insurers will keep the law afloat, if the enrollments skew this old, not even the much ballyhooed "risk corridors" could prevent rates for most Americans from skyrocketing.
[Washington Examiner's Byron York asks What if Americans rebel against the Obamacare mandate? ]
Rubio rips ObamaCare bailouts - Sen. Marco Rubio, R-Fla., blasts what he foresees as bailouts for insurance companies under ObamaCare for Fox News Opinion. "Now that health insurance companies have begun filing key disclosure documents with the Securities and Exchange Commission (SEC), we see clear evidence that we're heading for an ObamaCare bailout… If the only way ObamaCare works is with a taxpayer-funded bailout of insurers, it's yet another clear sign that the law can't survive and isn't worth saving."
¿Cómo se dice 'error message' en Español?- Spanish speakers are lamenting faulty translations and numerous grammatical mistakes for problems with the Spanish-Language ObamaCare Web site, CuidadoDeSalud.gov, which launched two-months late. Fox News Latino reports a Web page with Spanish instructions links users to an English form.
[A year prior to the dismal launch of Maryland's ObamaCare Web site, officials failed to heed warnings, according to a WaPo investigation. The site is currently only able to handle 10 percent of visitors.]
WITH YOUR SECOND CUP OF COFFEE...
WaPo's Robert Samuelson points out how the "War on Poverty" has been won and lost. "…[T]he Congressional Budget Office reports that, in inflation-adjusted dollars, spending on the largest "means-tested" programs (eligibility set by low income) increased from $55 billion in 1972 to $588 billion in 2012… the official poverty rate is a lousy indicator of people's material well-being. It misses all that the poor get — their total consumption. It counts cash transfers from government but not non-cash transfers (food stamps, school lunches)… People at the bottom aren't well-off, but they're better off than they once were… The War on Poverty's success at strengthening the social safety net — a boon in the Great Recession — should not obscure its failure as an engine of self-improvement. Government is fairly good at handing out money; it's less good at changing behavior…"
Got a TIP from the RIGHT or LEFT? Email FoxNewsFirst@FOXNEWS.COM
POLL CHECK
Real Clear Politics Averages
Obama Job Approval: Approve – 42.1 percent//Disapprove – 53.4 percent
Direction of Country: Right Direction – 29.3 percent//Wrong Track – 62.8 percent
Generic Congressional Ballot:  Democrats – 42.3 percent// Republicans 42.2 percent
HELL TO PAY, THE SEQUEL: HILLARY'S HIT LIST
An excerpt from a forthcoming book from Politico's Jonathan Allen and the Hill's Amie Parnes details how Hillary Clinton's 2008 presidential campaign built a hit list of politicians that the Clinton's had backed but later supported President Obama. From HRC: State Secrets and the Rebirth of Hillary Clinton: "…they [Hillary aides Kris Balderston and Adrienne Elrod] recorded in a Microsoft Excel spreadsheet the names and deeds of members of Congress. They carefully noted who had endorsed Hillary, who had backed Obama, and who had stayed on the sidelines—standard operating procedure for any high-end political organization. But the data went into much more nuanced detail. 'We wanted to have a record of who endorsed us and who didn't,' a member of Hillary's campaign team said, "and of those who endorsed us, who went the extra mile and who was just kind of there. And of those who didn't endorse us, those who understandably didn't endorse us because they are [Congressional Black Caucus] members or Illinois members. And then, of course, those who endorsed him but really should have been with her … that burned her… Their spreadsheet formalized the deep knowledge of those involved in building it. Like so many of the Clinton help, Balderston and Elrod were walking favor files. They remembered nearly every bit of assistance the Clintons had given and every slight made against them. Almost six years later, most Clinton aides can still rattle off the names of traitors and the favors that had been done for them, then provide details of just how each of the guilty had gone on to betray the Clintons—as if it all had happened just a few hours before. The data project ensured that the acts of the sinners and saints would never be forgotten. There was a special circle of Clinton hell reserved for people who had endorsed Obama or stayed on the fence after Bill and Hillary had raised money for them, appointed them to a political post or written a recommendation to ice their kid's application to an elite school. On one early draft of the hit list, each Democratic member of Congress was assigned a numerical grade from 1 to 7, with the most helpful to Hillary earning 1s and the most treacherous drawing 7s. The set of 7s included Sens. John Kerry (D-Mass.), Jay Rockefeller (D-W.Va.), Bob Casey (D-Pa.) and Patrick Leahy (D-Vt.), as well as Reps. Chris Van Hollen (D-Md.), Baron Hill (D-Ind.) and Rob Andrews (D-N.J.)."
[Daily Caller ponders why Bill and Hillary Clinton backed a George Soros-supported for-profit college scheme.]
IRS LOOKS TO MAKE IT OFFICIAL
With the scandal from heavy-handed tactics by IRS agents against President Obama's political enemies still lingering, the Obama administration wants to make it easier for agents to crack down on similar groups. New rules are pending for the regulation of political speech by the tax-collection agency, and conservatives are crying foul. With recent election cycles showing a rise in spending by these conservative backed groups, many of them see the proposals as an infringement on their right to free speech. –Watch Fox: Campaign Carl Cameron considers the impact these proposals would have on non-profit organizations in their political activities.
SUNDAY SOUND ON CHRISTIE
Good to go…
"[Gov. Chris Christie, R-N.J.] stood there for 111 minutes in an open dialogue with the press. Now, only if Barack Obama and Hillary Clinton would give us 111 seconds of that would we find out some things we want to find out about ObamaCare, Benghazi, the IRS. I mean, Chris Christie has been totally open here." – Reince Priebus, chairman of the Republican National Committee on NBC's "Meet the Press."
"[S]aying, 'I'm responsible,' firing the people, probably gives him some street cred with some Tea Party Republicans, who say 'That's what we want in a leader, somebody who steps up and takes responsibility.'" – Karl Rove, former Bush Adviser, and Fox News Contributor, on "Fox News Sunday with Chris Wallace."
Laying low…
"This is a story that's still developing and we should reserve judgment." – Sen. Marco Rubio, R-Fla.,  on ABC's "This Week."
"I don't know that I can really shed more light on it…I think this is something for the people of New Jersey and the authorities up there to get to the bottom of." – Gov. Martin O'Malley, D-Md., on CNN's "State of the Union."
GOP PRIMARY GETS ROWDY IN FLORIDA
With just a day left in Florida's contentious GOP primary to fill the seat of the late Rep. Bill Young, R-Fla., the rhetoric is ramping up between David Jolly and state Rep. Kathleen Peters. Jolly, a former Young staffer and lobbyist, has taken hits from Peters for providing substantial contributions to keep Democrats in office. Jolly has characterized Peters as a waffler who refuses to "take a stand" for the repeal of ObamaCare. The winner of Tuesday's primary will face failed 2010 Democratic gubernatorial nominee Alex Sink in an early March general election.  Read more from the Tampa Bay Times including a treatment of campaign rhetoric from PolitiFact.
BEVIN GETS A BOOST FROM CONSERVATIVE GROUP
A conservative group that played a key role in the 2012 primary upset by Ted Cruz in Texas is jumping in for Kentucky hopeful Matt Bevin. The Madison Project is opening five field offices in the Bluegrass state to organize grass roots efforts for Senate Minority Leader Mitch McConnell's challenger. McConnell spokeswoman Allison Moore blasted the group's political director, Drew Ryun for recently tweeting Sen. Rand Paul, R-Ky., was a "tool." Moore told the Lexington-Herald leader, "Their genius strategy is to smear Mitch McConnell, call Rand Paul a 'tool,' and then ask Kentucky Republicans to abandon their own and support Matt Bevin."
PICK SIX: THE ED FACTOR
The next 294 days will prove crucial for Democrats seeking to survive the midterm elections and still hold control of the Senate. Republicans only need to knock off six vulnerable Democrats and Fox News First wants to know who you think they are. Reader Frank Catenaccio said the entrance of former Republican National Committee Chairman Ed Gillespie in Virginia's Senate race could shake things up for Sen. Mark Warner, D-Va. Catenacio notes Gillespie's ties to deep-pocketed Republican donors could benefit him in the cash race adding he "could run as a 'problem fixer'…someone who understands the economic and political issues of the Commonwealth." We'll see, but so far it hasn't been enough to get Virginia into FNF readers' top six. Here's the current consensus (in order of times selected): Arkansas, Montana, Louisiana, West Virginia, South Dakota and North Carolina.
Share your top six picks. Email them – just your top six, please – to FOXNEWSFIRST@FOXNEWS.CCOM or tweet @cstirewalt
YOU HAVE A SEAT ON THE PANEL: CURIOUS INCURIOSITY
Viewers agreed that there's a media double standard when it comes to political scandals. Male and female viewers who used Bing Pulse to have their say during the All Star Panel on Friday's "Special Report with Bret Baier" agreed with Jonah Goldberg's indictment of the press: "It's amazing how the mainstream media is willing to do the due diligence on a road closure in New Jersey but wasn't willing to read the ObamaCare bill."
Discussion of President Obama's Iraq policy drew heightened viewer interaction. Charles Krauthammer's charge that the president's inability to forge a strategic partnership with Iraq has contributed to a resurgence of al Qaeda saw a spike in viewer votes. Krauthammer's statement, "al Qaeda now controls more territory than ever in its history, and it isn't in Afghanistan at the edge of the world,"  drew 22,000 viewer votes per minute. Take a deeper data dive here inside Friday's 168,000 viewer votes. Don't miss your opportunity to make your voice heard by taking a seat on the panel tonight.
REID PATRON: I DIDN'T KNOW LAUNDERING DONATIONS WAS WRONG
A top political patron of Senate Majority Leader Harry Reid told the Nevada State Bar he did not know it was illegal to borrow $130,000, disburse it to family and friends and instruct them to make donations at the legal limit to Reid's 2007 re-election campaign. Harvey Whittemore, facing two years in federal prison after a jury found him guilty of political corruption charges, is asking to have his law license restored even as he awaits a ruling on his appeal of the conviction. One of those speaking on his behalf, a retired federal judge appointed to the bench by President Bill Clinton, told the disciplinary board: "I knew Mr. Whittemore was always supporting political candidates and, I don't mean to be pejorative, but I'm sure Harry Reid was always out there with his hand out." The Reno Gazette-Journal has the story.
WALKER WINS FREE SPEECH VICTORY
A Wisconsin judge last week threw out subpoenas in secret "John Doe" probes by Democratic prosecutors decried as partisan intimidation tactics by supporters of Gov. Scott Walker, R-Wis. WSJ opines: "This means that prosecutors essentially invented without evidence the possibility of criminal behavior to justify the subpoenas and their thuggish tactics. At least three targets had their homes raided at dawn, with police turning over belongings, seizing computers and files, and even barring phone calls… The judge's order vindicates our suspicion that the John Doe probe is a political operation intended to shut up Mr. Walker's allies as he seeks re-election this year… The John Doe process has become a political weapon intended to serve partisan ends regardless of the law. Kudos to a judge who was brave enough to read the law and stop it, but there's more free-speech defending to do."
[Is that you, Donald Rumsfeld? - For sale in Friday's WaPo classified section: "55th Inauguration Cufflinks… George Bush January 20th, 2005…" The asking price from an unnamed seller in Anne Arundel County, Md.:  $75]
DIDN'T GET AMAZON PRIME…
Astronauts aboard the International Space Station just received their delivery of Christmas presents. Numerous delays including repairs to a cooling system, cold weather and a solar storm delayed the launch of the gift-bearing Cygnus capsule until late last week. Cygnus is more significant than just being the delayed bearer of Christmas goodies and fresh food to the six crew members –three Russians, two Americans, and one Japanese  – it is the first ever resupply mission by a private contractor. Under the current NASA structure, the United States has ceded space flight operations to Russia and to domestic private contractors, like Virginia-based Orbital Sciences, which carried out the Cygnus launch. More.
Chris Stirewalt is digital politics editor for Fox News. Want FOX News First in your inbox every day? Sign up here. To catch Chris live online daily at 11:30 a.m. ET, click here.