Polling shows Romney, Santorum poised to split upcoming contests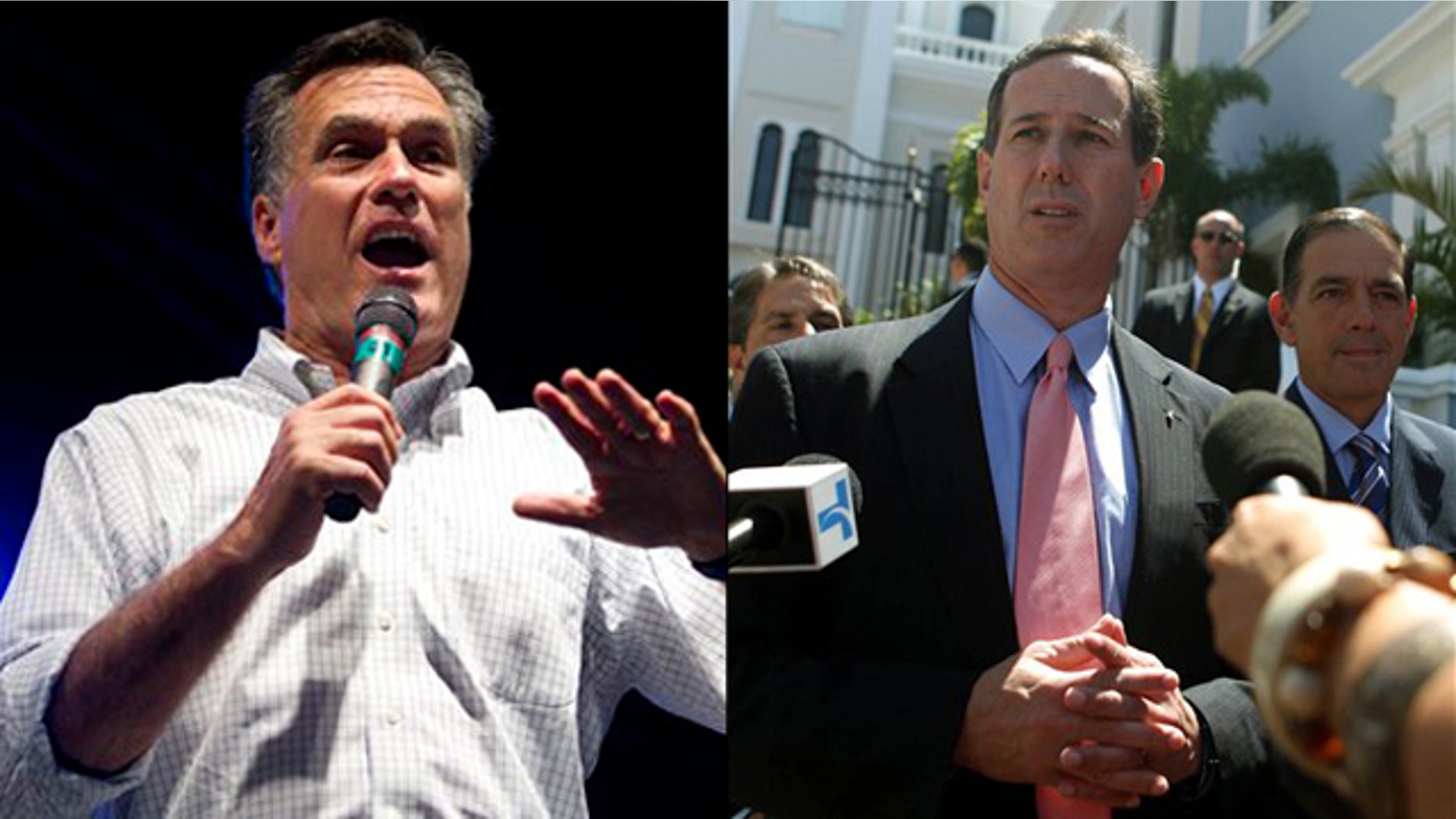 Mitt Romney and Rick Santorum could be poised to split the upcoming Republican primary contests, a scenario that would leave the tumultuous nomination battle no more decided heading into April.
New polling shows Romney and Santorum each building respective leads in the remaining elections held in March.
The former Massachusetts governors appears to be ahead in Illinois, which votes Tuesday and holds the biggest trove of delegates of any leftover contest this month.
But a recent poll gives Santorum the edge in Louisiana, which votes next weekend. And Missouri, where presidential caucuses were in full swing Saturday, would appear to favor the former Pennsylvania senator as well -- if the results of the nonbinding primary which Santorum swept are any gauge. Santorum was hitting up caucus sites on Saturday, though delegates aren't expected to be formally chosen until June.
The only other contest this month is Puerto Rico, which holds its caucuses on Sunday. Both Romney and Santorum made in-person appeals on the U.S. island territory this week. While little polling is available, Romney does have the advantage of an endorsement from Gov. Luis Fortuno, who campaigned with the GOP front-runner on Friday.
Romney so far has dominated contests held outside the mainland. On Friday night, he made an impassioned appeal to Puerto Ricans -- who do not vote in the general election but will decide the allocation of 20 primary delegates on Sunday.
"I love this great land. I respect the people of this island, I respect your culture. I respect your history. I respect your leaders. I want to see the greatness that you have to be shared with our entire nation," Romney told the crowd on Sunday, as they chanted for "statehood now" -- a dominant political issue on the island.
Santorum, though, is also competing for Puerto Rico, and is making a play for Illinois. Seeking another upset, Santorum told an Illinois crowd on Friday that they could "shake up this race. "
Santorum once again proved his viability as Romney's chief rival this past Tuesday when he won the Alabama and Mississippi primaries. The Santorum victory further marginalized Newt Gingrich, who was banking on Southern wins, and again raised questions about Romney's appeal in traditionally conservative areas of the country.
Romney, though, walked away with more delegates than Santorum on Tuesday -- by winning contests in Hawaii and American Samoa, and peeling off some of the Southern state delegates.
The candidate has been on a seemingly steady march toward the 1,144 delegates needed to clinch the nomination, though it's unclear whether his rivals might be able to deprive him of that threshold come the convention.
A set of Santorum victories in the coming four contests would likely invigorate his campaign going in April, when big states like New York and Pennsylvania weigh in. But another set of split decisions could keep the race on the same track -- with Santorum winning enough to stay in the race, but Romney pushing ever-closer in delegates to the nomination.
A MyFox Chicago poll out late Thursday showed Romney with 37 percent in the upcoming Illinois race. Santorum was behind at 31 percent. The poll of 1,933 likely primary voters had a margin of error of 2.2 percentage points.
Romney also just picked up the endorsement of the Chicago Tribune.
The Louisiana poll, from WWL-TV, showed Santorum with 25 percent, to Romney's 21 percent.
Gingrich has been campaigning hard in Louisiana in a bid to recover from his Southern losses this past Tuesday.
During a visit to a New Orleans zoo, though, Gingrich softened his repeated statements that he plans to take his nomination bid all the way to the convention.
Asked whether he'd make it to Tampa, Gingrich said, "Well, it depends."
He continued to blast Romney for trying to "shrink" his opponents with constant attacks. He said that if Romney is unable to pick up 1,000 delegates, he probably won't be the nominee.
Ron Paul, meanwhile, is staying in the race, though so far he has not won any contests and trails badly in delegates.