Poll Shows Blumenthal Pulling Away From McMahon in Connecticut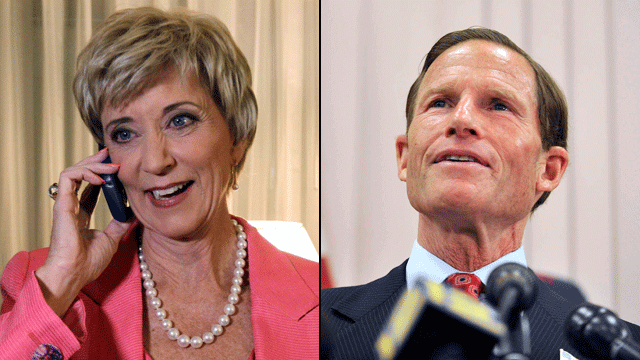 Linda McMahon may have had Dick Blumenthal on the ropes in recent months, but the Democratic nominee for Connecticut senator has bounced back against his Republican opponent and now could be heading for the pin, according to a new Quinnipiac poll.
Blumenthal has pulled away from the former WWE wrestling executive and now leads by 54-43 percent, after McMahon narrowed the gap to 3 percentage points last month in the same statewide poll.
The Democrat, who hopes to replace Sen. Chris Dodd, who is not running for re-election, owes his resurgence to independent voters who have shifted their loyalties to him by 49 to 44 percent; McMahon held a 5 percent lead among the same group last month, the poll said.
"While September wasn't very good for Blumenthal, perhaps like Reggie Jackson, he could be called 'Mr. October,'" Quinnipiac University Poll Director Douglas Schwartz said in a written statement.
McMahon "may have peaked too soon and her advertising saturation could be causing 'McMahon fatigue,'" Schwartz added.
But the McMahon camp showed no signs of sweat.
"We have always said this election will be close, and as is typically the case in close elections, polling will fluctuate," the McMahon campaign said in a written statement. It attributed Blumenthal's momentum to campaign attack ads it said have been debunked by multiple news outlets.
"And while those attacks did have a temporary impact, it's very clear to us that this race has stabilized and voters are once again focused on economic recovery and job creation," the campaign said.
McMahon, who plans to spend up to $50 million of her personal fortune on the race, said her internal polling shows the race is closer than the Quinnipiac poll indicates.
Earlier this year, Blumenthal held a 40-point lead in the polls over McMahon until he was caught exaggerating his military record by saying he served in Vietnam. McMahon chipped away at the lead for weeks until this setback.
The poll comes just three weeks before Election Day, when Democrats are expected to suffer heavy casualties over voter discontent with President Obama and his economic policies. Republicans hope to pick up the Connecticut seat as part of a wave that could lead to regaining control of both chambers of Congress – although political observers say the House is more likely than the Senate to change political hands.
First lady Michelle Obama will appear in Connecticut Monday to campaign and raise money for Blumenthal.