Political guns? GOP hopefuls take swipes at Obama, Clinton at national NRA conference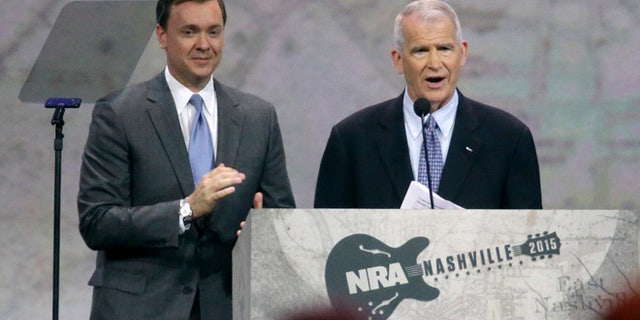 Florida Sen. Marco Rubio took aim Friday at President Obama and Washington lawmakers over gun control measures during a speech at the National Rifle Association's annual meeting in Tennessee.
"The constitutional right to bear arms is constantly in jeopardy," Rubio told the crowd during his 10-minute speech. "Our people have a right that must never be denied."
Rubio, who is expected to formally enter the race for the White House on Monday, was among a group of potential GOP presidential candidates speaking at the Nashville convention.
Rubio's anti-gun control remarks turned into broad criticism of Obama, whom he called "a weak president" and said the only thing Obama strengthened during his time in the Oval Office "has been his own unlawful power."
Wisconsin Gov. Scott Walker took a jab at former Secretary of State Hillary Clinton's record, telling attendees, "She actually gave Russia a reset button! A reset button!"
"I wonder what her campaign slogan will be?" Louisiana Gov. Bobby Jindal asked the crowd: "It may be - what difference does it make?"
Clinton is expected to announce her second run for the presidency on Sunday.
The NRA has become a national stage for Republicans considering a run for the Oval Office. This year, nearly 70,000 people are expected to participate in the three-day gathering in Nashville.
Wayne LaPierre, the NRA's CEO, said the gun lobby would stand "shoulder to shoulder" to prevent Clinton from being the country's next president.
The NRA's annual meeting is the third gathering of possible GOP hopefuls this year. All of the speakers at the event who have held public office also have an A-rating from the politically powerful gun rights organization.
NRA spokeswoman Jennifer Barker said the lineup of speakers "all bring unique life experiences" to the stage.
Among the other headliners: From Texas, Sen. Ted Cruz and former Gov. Rick Perry; from Florida, former Gov. Jeb Bush; former Sen. Rick Santorum of Pennsylvania; Sen. Lindsey Graham of South Carolina; and neurosurgeon Ben Carson.
Kentucky Sen. Rand Paul, who officially launched his presidential campaign Tuesday, did not attend due to a campaign event in Iowa. New Jersey Gov. Chris Christie, who has a C-rating from the NRA, also did not attend.
Former vice presidential candidate Sarah Palin and Indiana Gov. Mike Pence were scheduled to attend but canceled their appearances.
Opposing groups are planning rallies near the NRA event Saturday to press for more gun safety laws.
Fox News' Carl Cameron and The Associated Press contributed to this report.