Political beef? Lawmakers worry red meat getting raw deal in new dietary guidelines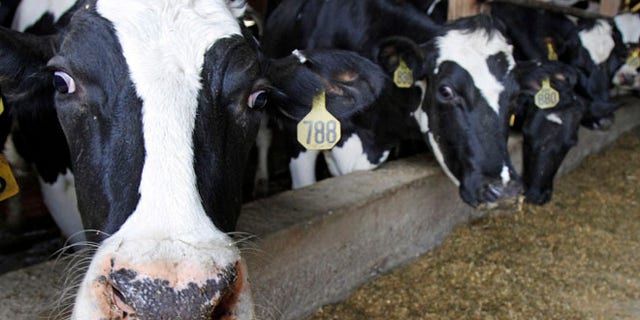 WASHINGTON – Lawmakers on Capitol Hill are pushing back on proposed dietary guidelines they say wrongly downplay the benefits of lean red meat and advance an environmental agenda rather than promoting healthy choices based on "sound nutritional science."
Seventy-one House lawmakers sent a letter Tuesday to Agriculture Secretary Tom Vilsack and Health and Human Services Secretary Sylvia Burwell expressing their disappointment over a recent report issued by the 2015 Dietary Guidelines Advisory Committee. They said the report exceeded its scope in developing the recommendations.
"It is extremely difficult to reverse or change public policy, once enacted, without causing consumer confusion," the letter states. "Inaccurate and conflicting dietary guidance messages are detrimental to consumer understanding of nutrition and the ability to build healthy diets."
The USDA and HHS will use the DGA advisory committee's report to write the final version of the 2015 dietary guidelines, expected by the end of the year.
Political beefs over the guidelines have been growing on Capitol Hill, with the cattle and agriculture industries arguing that an environmental agenda has no place in a government blueprint for healthier living.
The advisory committee has discussed sustainability as a good dietary goal, saying in its draft recommendations that there is "compatibility and overlap" between what is good for health and what is good for the environment. It said that a diet higher in nuts and greens and lower in animal-based foods is "more health promoting and is associated with lesser environmental impact than is the current average U.S. diet."
Current guidelines push lean meats as a healthy source of protein. The advisory panel, though, has debated whether lean meats should be included at all. The draft recommendations question whether a healthy dietary pattern includes fewer "red and processed" meats.
The lawmakers behind the letter argue that the guidelines play a critical role for federal nutritional policy development and is the scientific basis for education and outreach. Therefore, they say, it is essential that they "be based on sound nutrition science and not stray into other areas outside of this specific discipline."
"I am asking the same question thousands of school kids in North Dakota and across America will be asking: 'Where's the Beef? Sacrificing sound science and denying the nutritional benefits of lean red meat to satisfy an extreme environmental agenda is woefully misguided," Rep. Kevin Cramer, R-N.D., said in a written statement.
The March 31 letter states: "We are disappointed with reports from observers that the approach of the 2015 DGAC suggests studies were either selected or excluded to support pre-determined conclusions."
More than 100 environmental groups like Green America and the Sierra Club have come out in support of the recommendations. There have been ads purchased in daily newspapers that feature an open letter urging Burwell and Vilsack to adopt the changes.
"What we are seeing with the Dietary Guidelines is a rare consensus between the environmental, public health and nutrition communities," Rhea Suh, president of the Natural Resources Defense Council, said in a written statement.
The Associated Press contributed to this report.