Philadelphia terminates ICE contract after activists storm city hall; DHS rips 'misguided' move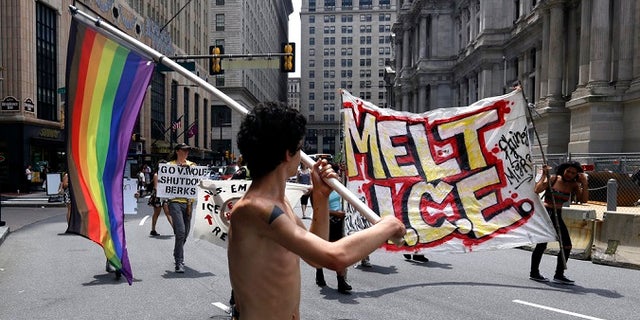 Philadelphia has announced it will end a major information-sharing contract with Immigration and Customs Enforcement (ICE), bowing to intense pressure from activist groups and drawing immediate condemnation from federal officials.
The move means that the city will not renew a decade-long arrangement to share real-time arrest information with ICE when it expires at the end of August.
The information, contained in Philadelphia's Preliminary Arraignment Reporting System (PARS), alerts authorities when new arrests are made, and includes arrestee's full names, countries of origin, and Social Security numbers. While PARS does not indicate immigration status, Democrats charged that ICE nevertheless abused the database to investigate potential immigration violations.
Anyone who interacts with law enforcement is entered into the database, including those who are arrested, victims and witnesses, with some limits on what ICE officers can view.
"I cannot in good conscience allow the agreement to continue," Democratic Mayor Jim Kenney told the Philadelphia Inquirer about Friday's announcement. "We're not going to provide them with information so they can go out and round people up."
He added: "If I could abolish ICE, I would. But we can abolish this contract, and we are."
The city's decision comes after "Occupy ICE" protesters established a tent-filled encampment outside city hall and staged weeks of raucous demonstrations.
PORTLAND VOWS TO CLEAN UP 'DISGUSTING' OCCUPY ICE CAMP, CALLING IT A BIOHAZARD
On Wednesday, more than a dozen activists stormed city hall and blockaded an internal stairwell for more than an hour after police rebuffed their attempt to rally directly outside the mayor's office.
U.S. Homeland Security spokeswoman Katie Waldman called the decision irresponsible and said the city will end up "harboring criminal aliens."
"Sanctuary-city policies make American communities like Philadelphia less safe by putting the rights of criminal aliens over the safety and security of American citizens," Waldman said. "Despite the misguided action taken by Philadelphia today, DHS will continue to work to remove illegal aliens and uphold public safety."
"Sanctuary-city policies make American communities like Philadelphia less safe."
Kenney claimed immigration officers are wrongly using the database to go to homes and workplaces of people who list foreign countries of origin and arresting other people who are in the country illegally but are otherwise not accused of any other crimes.
But in a statement to Fox News, ICE officials reiterated that the agency had not breached its agreement with Philadelphia in any way, including by engaging in racial profiling or accessing information without the city's approval. They added that they were "deeply disappointed" in the city's decision, saying the city had not pointed to any specific instances of alleged misconduct by ICE.
Two of three stakeholders in the contract — the city, the district attorney and the city courts — had to vote to end it. District Attorney Larry Krasner had said this month he would oppose the contract's renewal, saying it promotes oppressive practices.
Kenney said the federal agency's actions have created fear and distrust in the city's immigrant community.
FEDERAL JUDGE DEALS SETBACK TO TRUMP'S CRACKDOWN ON SANCTUARY CITIES
The Trump administration has long railed against sanctuary cities like Philadelphia, but its efforts to put words into practice have run into legal trouble.
On Friday, a federal district court judge ruled that the administration cannot withhold public safety grants from Chicago to pressure the city to stop providing sanctuary to immigrants, saying the policy amounted to unconstitutional coercion by the federal government. And last year, a federal judge issued an injunction against Trump's executive order denying federal funding to sanctuary cities on Tenth Amendment grounds.
In Philadelphia, Kenney was videotaped last month dancing and singing, "We're a sanctuary city!" after a similar court win there.
ICE has previously said it would focus on immediate deportation for people in the country illegally who had felony convictions or who were suspected of felonies.
Calls to abolish the agency -- including some from top Democrats and presidential hopefuls Sen. Kirsten Gillibrand and Sen. Elizabeth Warren -- grew into a frenzy after the Trump administration's "zero-tolerance" illegal immigration policy resulted in more separations of adults from accompanying minors at the border. Though Trump signed an executive order to end the separations, reuniting some families remains a work in progress.
Still, efforts to get rid of ICE have fizzled since earlier this month, when the GOP-controlled House called a vote on a resolution expressing support for the agency.
The vote effectively dared Democrats to go on the record with opposition to the agency. The measure passed, with a total of 133 Democratic representatives voting "present" -- amounting to a procedural refusal to take a position despite weeks of heated anti-ICE rhetoric from party leaders.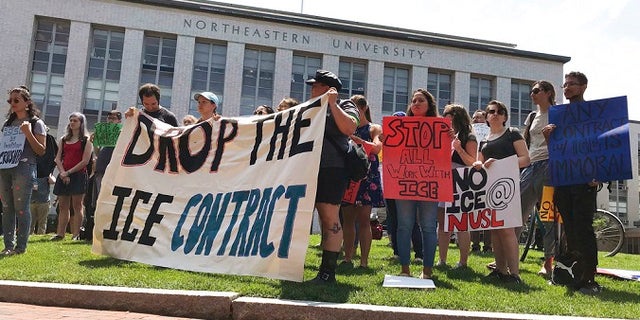 WATCH: PHILLY MAYOR DANCES, CELEBRATES CITY'S SANCTUARY CITY STATUS
As a sanctuary city, Philadelphia had already limited cooperation with immigration enforcement. It won't release inmates to ICE without a judicial warrant.
Philadelphia entered into the contract in 2008, city solicitor Marcel Pratt said, and revised it in 2009 to shield witness and victim information from the agency, as well as to eliminate immigration status.
In a termination letter sent to ICE on Thursday, Pratt said the contract "has created the false perception that the city is willing to be an extension of ICE."
Several colleges with ties to ICE are also being pressured to split with the agency. Earlier this month, students and community activists marched at Northeastern University in Boston, demanding the school cancel a multimillion-dollar research contract with ICE. The school was hired by ICE to research U.S. technology exports.
The Associated Press contributed to this report.