Peyton Manning talks teamwork, leadership at GOP retreat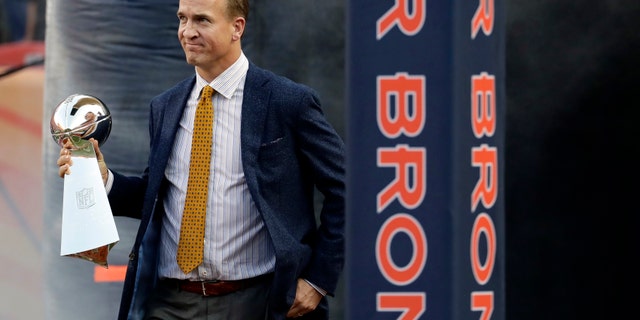 NEWYou can now listen to Fox News articles!
PHILADELPHIA – NFL great Peyton Manning gave a dinner speech to congressional Republicans leaders Thursday at the annual GOP retreat, which this year also included a visit from President Trump.
Manning, who quarterbacked the Indianapolis Colts and the Denver Broncos to Super Bowl victories and is a lock to be enshrined in the Hall of Fame when he becomes eligible, has long been a loyal supporter of Republican lawmakers. While the retired superstar is friendly with Trump, he reportedly put his money -- $2,700 -- behind GOP candidate Jeb Bush's 2016 White House bid.
A congressional source told Fox News that Manning "told stories and talked about teamwork and leadership."
Other sources said he recalled his prep football days in Louisiana and recounted a story he's previously told about his days at University of Tennessee. In that anecdote, Manning, as a freshman pressed into duty against UCLA, tried to inpire his huddled teammates with an impassioned speech. It was cut short when offensive lineman Jason Layman barked, "Just call the %&$ play!"
The Thursday pep talk is likely to fuel speculation about whether Manning, who retired from the gridiron last year, will run for elected office.
Trump delivered a speech in Philadelphia before the lawmakers, but he was back in Washington before dinner was served.
Manning's speech was closed to the press, and the downtown hotel in which he spoke was cordoned off by police.
The president recently boasted that, during a visit last week to CIA headquarters, he got "the biggest standing ovation since Peyton Manning had won the Super Bowl."
Fox News' Judson Berger contributed to this report.