Perry's Likely Entrance Into GOP Race Threatens Romney's Front-Runner Status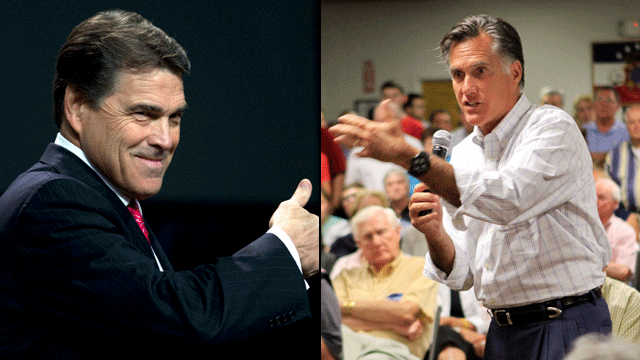 NEWYou can now listen to Fox News articles!
With Texas Gov. Rick Perry likely to toss his cowboy hat into the 2012 Republican presidential ring this weekend, Mitt Romney's status as the frontrunner is about to face its stiffest test yet.
Romney, who essentially has been running for the 2012 nomination since his last bid failed, in 2008, will get a chance to build on his lead at Thursday's Fox News/Washington Examiner debate in Ames, Iowa.
Watch the 2012 presidential debate Thursday live on Fox News and on FoxNews.com. Coverage will start at 8:45 pm ET at http://live.foxnews.com.
It will give the former Massachusetts governor another chance to prove his financial bona fides to an audience searching for a plausible counterweight to challenge President Obama on what is a tough economic record to defend.
Romney has already shown no mercy in his criticism of Obama and his "failed leadership." On Monday, during a campaign stop in New Hampshire, Romney attacked Obama for the downgrade of the nation's credit rating while playing up his experience in Massachusetts.
"We had a credit upgrade as opposed to what you're seeing right now, which is a credit downgrade," he said.
Perry won't participate in the debate, since he isn't officially in the race yet, although he is expected to make his intentions clear this weekend with visits to South Carolina and New Hampshire -- two early primary states -- followed by a Sunday event in Iowa, the first-in-the-nation vote.
But Perry, whose weekend prayer rally in Houston drew the notice of evangelical Christians -- including 30,000 in attendance -- could have Republicans fired up over a White House candidacy.
And the juxtaposition of Perry and Romney exemplifies the stark choice facing the Republican base this coming primary season.
"To the Republican base, the Rick Perry model has more appeal," said Stuart Rothenberg, editor and publisher of the Rothenberg Political Report. "To the Republican establishment, Romney has more appeal. That's why there will be something of a fight within the party. In terms of ideology, style, priorities and geographical appeal, Perry and Romney are very different candidates, and they appeal to very different constituents."
The Texas governor, with a proud record on job creation in his state, would hit the ground running if he entered the race, according to a new Gallup poll released Tuesday. It showed Perry with a strong "positive intensity score," although he remains less well-known than Romney and Minnesota Rep. Michelle Bachmann, who's also a popular choice against the declared candidates.
In another Gallup poll, Romney is still the frontrunner, drawing 24 percent of support. Perry came in second with 17 percent. The poll has a margin of error of 4 percentage points.
Rothenberg said Perry likely becomes a top-tier candidate immediately.
"He combines two qualities that nobody quite does in the field," Rothenberg told FoxNews.com. "He's both a governor and a conservative who's likely to have a strong following among social conservatives and Tea Party activists."
But Rothenberg said Romney, who tied Obama at 45 percent in a Public Policy Polling survey last month, shouldn't be discounted just because of a Perry candidacy.
Penny Nance, chief executive officer of Concerned Women for America, which boasts 500,000 members nationwide and 22 state chapters, said there isn't as much excitement among her members for Romney as for either Perry or Bachmann, or even former Pennsylvania Sen. Rick Santorum and former Minnesota Gov. Tim Pawlenty
Romney's biggest flaw, she said, is the health care program he helped launch in his state. It is known derisively to some as "Romneycare" for its similarities to President Obama's health care initiative.
"Looking at my social conservative women, I think that between the two, they're going to favor Rick Perry, who has a strong conservative record as well as a strong fiscal record," Nance said.
But she added that with the stock market plunging Monday in response to Standard & Poor's downgrading the creditworthiness of U.S. bonds, any of the GOP nominees should beat Obama.
"After yesterday, my mailman could beat Barack Obama," she said Tuesday. "If Republicans cannot beat Barack Obama, they need to go home."
Jenny Beth Martin, co-founder of the Tea Party Patriots, which includes 3,500 affiliated local groups around the country, said her members are looking for candidates who are going to stick to their core values of "fiscal responsibility, constitutionally limited government and free markets."
She said she believes Perry has an advantage over Romney in terms of electability because "he's governed much more closely in line with our core values than Gov. Romney has. And I think that people across the country, even if they don't understand what the Tea Party is, they want fiscal responsibility, and the people who can exhibit the most fiscally responsible plan for America will have the advantage."
However, Rep. Jason Chaffetz, R-Utah, a Tea Party favorite, said over the weekend that he's firmly in Romney's camp.
"I happen to think that Mitt Romney is the more -- most formidable. He would be the best person at this -- at this job. He understands the economy, capital formation and jobs. And that's why I support Mitt Romney," Chaffetz told ABC's "This Week."
Rothenberg said Perry's biggest strengths with his base could be his biggest weaknesses with others: He's a Texan with a cowboy flair who may remind some of George W. Bush.
"Just stylistically, a whole bunch of people who are comfortable with Mitt Romney might not be comfortable with Rick Perry," he said.