Pennsylvania's embattled attorney general won't run again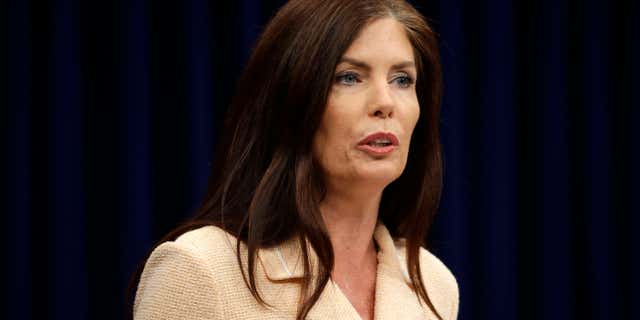 NEWYou can now listen to Fox News articles!
Pennsylvania's embattled attorney general said Tuesday that she will not run for another term in office, revealing her decision hours before a deadline to submit signatures to make the primary ballot.
Attorney General Kathleen Kane announced the decision at an afternoon news conference in her hometown of Scranton, about a week after she narrowly survived a Senate vote to remove her from the office she has held since 2013.
"This was not an easy decision, but the decision today I am comfortable with, I will sleep well with," Kane told reporters.
Kane, the first woman and first Democrat elected to the office, has seen a tumultuous two years in which she was charged for allegedly leaking investigative information to a newspaper to smear rivals and had her law license suspended by the state Supreme Court.
Her office has fumbled public corruption cases and she's disclosed a government email scandal that critics say she's used as a weapon against her perceived enemies. Meanwhile, the state House of Representatives is exploring her impeachment.
She had said she planned to run for re-election but faced stiff resistance from within her party. Gov. Tom Wolf called for her to resign, and at least two other Democrats filed paperwork to seek her office.
Kane said she is resigning to spend more time with her two teenage sons but vowed to keep fighting what she called a culture of corruption in Pennsylvania politics.
"I told you I would fight corruption and I'm fighting corruption, regardless of the personal cost to me," she said.
Kane was charged by prosecutors in suburban Philadelphia in August with perjury and other offenses for allegedly leaking secret grand jury material to a reporter and lying about it. Her trial is scheduled for this summer. She has denied the allegations, saying she has been targeted by an old boys club that was threatened by her work to expose the exchange of obscene and objectionable emails by employees of her agency, judges and others.
The state Supreme Court suspended her law license as of October and recently rejected her request to reinstate it.
The state House voted last week to empower a committee to look into her impeachment, a process expected to play out in the coming months.
The email scandal has resulted in dozens of people in government being disciplined or fired, the abrupt retirement in 2014 of one Supreme Court justice, Seamus McCaffery, and pending ethics charges against another, Michael Eakin. The emails disclosed so far include nudity, sex acts and content that is derogatory toward women, gays and ethnic and religious groups.
Kane is paying a team led by Doug Gansler, a former Maryland state attorney general, to review millions of messages and make a public report about what they contain.