Pence's role: clarify, redirect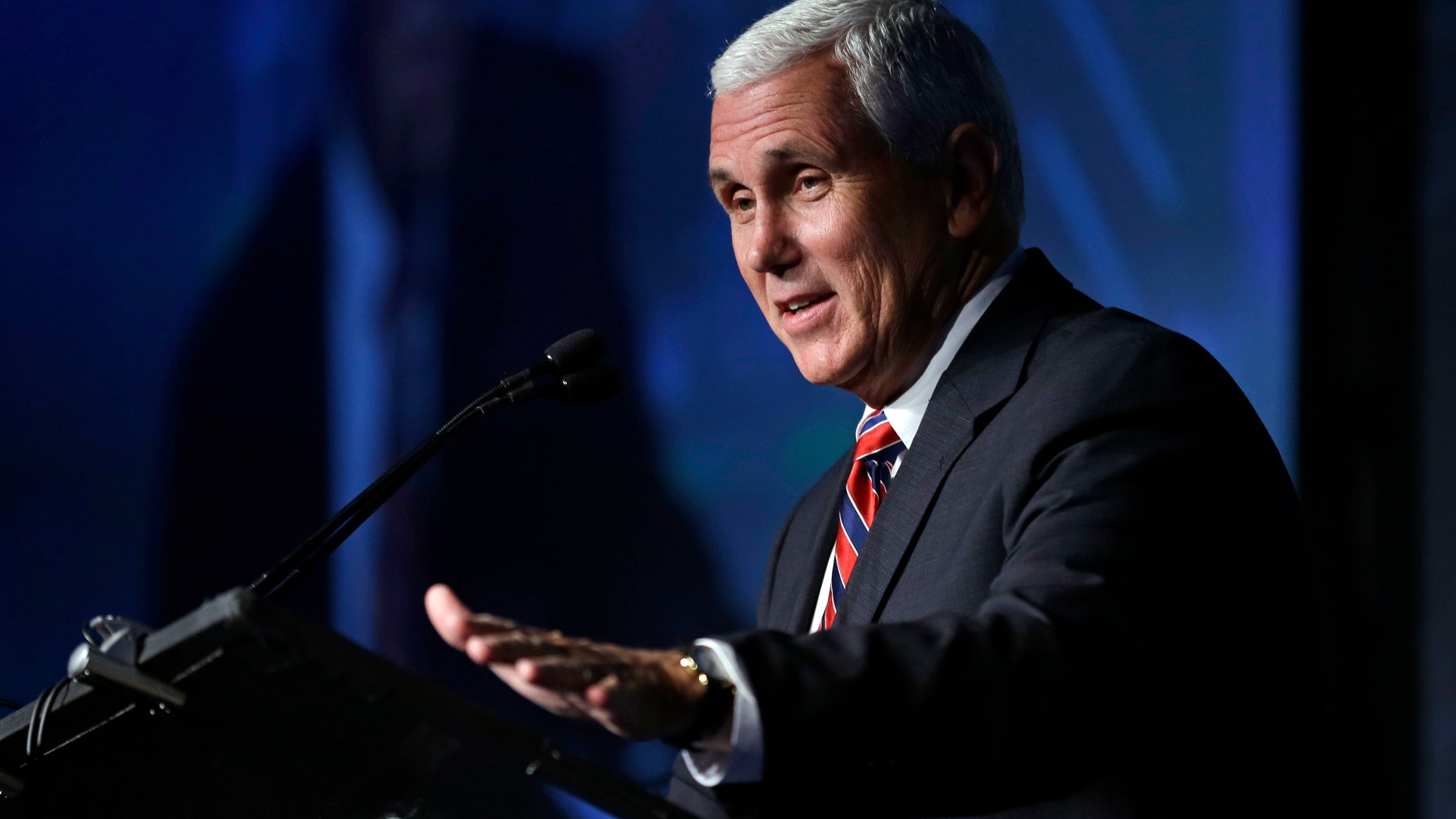 **Want FOX News Halftime Report in your inbox every day? Sign up here.**
On the roster: Pence's role: clarify, redirect - Hillary shows signs of convention bump in new poll - Debate commission rejects Trump's claims of rigged schedule - Audible: Country First -Woof indeed

PENCE'S ROLE: CLARIFY, REDIRECT
In selecting Mike Pence as a running mate Donald Trump seemed to hope the Indiana governor would play two roles: fulfilling a requirement that would perhaps garner support from some conservative hold outs, and clarifying Trump's statements.

We saw over the past two weeks that Pence will likely serve as more of the latter.

In wake of a speech by the Khizr and Ghazala Khan, the parents of Army Capt. Humayun Khan, a Muslim soldier killed in Iraq in 2004, the Republican nominee has engaged in a back-and-forth with them, including the suggestion Ghazala didn't speak during the convention may be because she wasn't "allowed."

Sunday evening, the Republican vice presidential nominee put out a statement that seemed to be an attempt to clarify and redirect the controversy saying in part, "Donald Trump and I believe that Captain Humayun Khan is an American hero and his family, like all Gold Star families, should be cherished by every American."

Early this morning, Trump tried to continue that redirect saying this issue was about radical Islam and that he was only defending himself against Khan's remarks against him. This latest controversy came on the heels of Pence clarifying Trump's calls for Russia to find Clinton's missing emails last week saying Trump's comments were "laced with sarcasm."

Pence not only fulfilled his role as Trump's running mate in both instances, but the Indiana governor also played a key role for Republicans leaders as a whole: buffer.

Prior to Pence joining the campaign, House Speaker Paul Ryan, Senate Majority Leader Mitch McConnell and other high-ranking Republicans were held accountable as the conservative authority to answer for Trump's statements. Now Pence can fill this void for them…somewhat.

While Ryan and others will still have to answer for their party's nominee Pence give the initial, "Well, what Mr. Trump meant was…" explanation giving Republican leaders slightly more leeway to distance themselves from Trump on matters like this.

This arrangement is perfect for Trump and Republicans, but leaves Pence as either invisible or the controversy cleanup guy. Neither of which is a very favorable position to be in. Especially if the Trump, Pence team is on the losing side come Election Day.

TIME OUT: ON THE OTHER SIDE
Do the backs of famous paintings matter? One artist says yes. Hyperallergic: "A gallery at the Mauritshuis museum in the Hague now appears in the midst of installation, with paintings propped against the walls, the backs of their frames exposed to visitors…They are sculptures, carefully crafted as exact replicas of the frames housing the authentic works, all created over the last 15 years as part of Vik Muniz's research- and labor-intensive series Verso…With all their hardware — the wooden beams, wires, nails, and other knickknacks — the fading stickers, and the inked scribbles from the hands of conservators or handlers, the frames often reveal additional stories to the much-discussed paintings they cradle."

Flag on the play? - Email us at HALFTIMEREPORT@FOXNEWS.COM with your tips, comments or questions

SCOREBOARD
Average of national presidential polls: Clinton vs. Trump: Clinton +2.6 points
Generic congressional vote: Democrats +2.8

HILLARY SHOWS SIGNS OF CONVENTION BUMP IN NEW POLL
CBS News: "Hillary Clinton has received a bump in support after the Democratic convention and has now pulled ahead of Donald Trump. Forty-six percent of voters nationwide say they'll vote for Clinton in November, while 39 percent say they'll back Trump. The race was tied last week after the Republican convention. Clinton led by a similar margin in June. Clinton got a four-point bounce after her party's convention, compared to a two-point bump for Trump after his convention. When compared to previous Democratic presidential nominees, Clinton's bounce is similar to those President Obama got in 2012 and 2008, but short of the 13-point bounce her husband, Bill Clinton, received in 1992. In 2000, support for Al Gore rose 10 points after the Democratic convention, but he went on to lose a close race that fall."
Debate commission rejects Trump's claims of rigged schedule - WSJ: "The group that organizes the presidential debates is rejecting complaints from the Trump campaign that the events are rigged this year because they are scheduled at times likely to draw a smaller audience. Donald Trump, the Republican nominee, had expressed unhappiness that two of the three presidential debates overlap with National Football League games, meaning that night's viewership would be divided between the two events. 'As usual, Hillary & the Dems are trying to rig the debates so 2 are up against major NFL games,' Mr. Trump tweeted Saturday, referring to Democratic opponent Hillary Clinton 'Unacceptable!' The Commission on Presidential Debates, an independent organization that has sponsored the general election debates since 1988, said in a statement Sunday that it believes the dates, which it selected a year in advance, 'will serve the American public well.'"

PLAY-BY-PLAY
Sanders surrogate weighing Green Party run - WaPo

Sanders campaign manager talks about what Hillary gets wrong - Politico

Paul Manafort's history with Ukrainian politics - NYT

Trump distances himself from RNC events as DNC tops ratings - The Hill

Trump to match July donations to up fundraising numbers - WashEx

Convention speech draws blowback from Cruz donors - NRO

AUDIBLE: COUNTRY FIRST
"I challenge the nominee to set the example for what our country can and should represent." -- Sen. John McCain, R-Ariz., in a statement responding to Trump's comments on Capt. Humayun Khan's military service.
FROM THE BLEACHERS
"Trump should use Cat Stevens 'Peace Train.'  Lyrics are great." -- Toots Reiter, Denver, Colo.
"Thanks to Fox News coverage the last two weeks have been tolerable, the other networks very bias. Yes I plugged my nose and watched it all, final judgment from my prospective Trump all about himself, Hillary is all about getting Bill back in the white house not her. Thank you." -- Gene Lindbeck, Portland, Ore.
WOOF INDEED
WSAZ: "Shoppers couldn't believe who was behind the wheel after a car crashed into the Wayne Walmart on Friday. A witness tells WSAZ she was standing in front of the store when she noticed a car started moving from its parking space at the front of the lot in her direction…she noticed the face of the driver was a dog's. The woman got out of the way, and the car crashed into the store. She says a second dog was in the passenger seat, and after the wreck that dog somehow managed to roll the window down…The car owner said she left the car running while she went into the store so the dogs could stay cool, and the dog had managed the get the car out of park."

Chris Stirewalt is digital politics editor for Fox News. Sally Persons contributed to this report. Want FOX News Halftime Report in your inbox every day? Sign up here.