Pence, in surprise visit to Afghanistan, says 'victory is closer than ever before'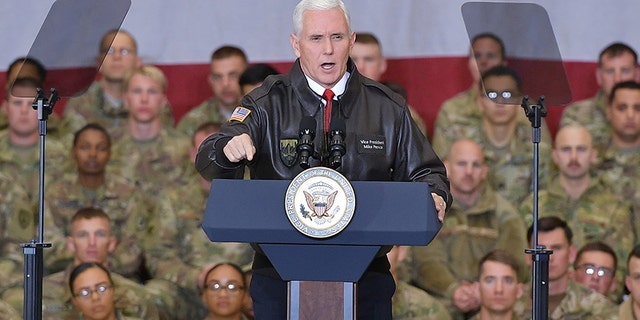 NEWYou can now listen to Fox News articles!
Vice President Mike Pence made an unannounced trip to Afghanistan on Thursday, thanking several hundred troops for their service ahead of the Christmas holiday while reiterating to Afghan leaders America's commitment to lasting peace and security in the region.
The trip was kept secret for safety reasons until after he arrived.
Speaking in front of a 40-foot-tall American flag, the vice president told the troops that the United States is "making real progress," and that they've "put the Taliban on the offensive."
"I believe victory is closer than ever before," Pence said. "I believe with all my heart that Afghanistan will be free."
Pence landed at Bagram Airfield in an Air Force C-17 at 9:46 p.m. local time, according to a pool report. He then flew by helicopter to the Presidential Palace, where he met with Afghan President Ashraf Ghani and the nation's chief executive, Abdullah Abdullah.
"It's a great honor for me to extend greetings on behalf of President Trump and have the opportunity to express our gratitude for the ongoing partnership, for security and prosperity here in Afghanistan," Pence told the Afghan leaders. "Thank you for your strong expressions of support for President Trump's South Asian Strategy."
Pence is traveling with staff and security. His family did not join him.