Pelosi's Future: The Waiting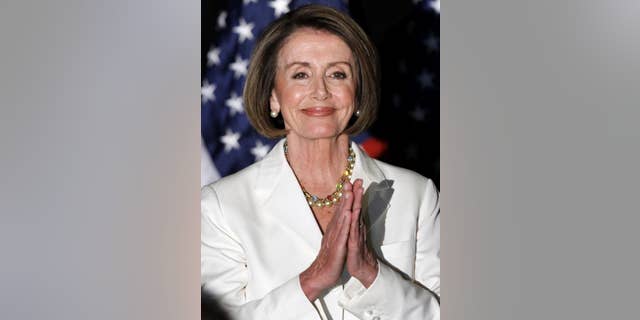 Tom Petty sang that "the waiting" was "the hardest part."
House Democrats know that refrain all to well these days. Especially if they're waiting for House Speaker Nancy Pelosi (D-CA) to decide about her future.
And all indications suggest Pelosi hasn't made up her mind yet. But she could be positioning herself to remain as the top Democrat in the House.
After the Democrats' colossal defeat Tuesday, House Minority Leader John Boehner (R-OH) is poised to become the 61st Speaker of the House in January.
But where does that leave Pelosi? She won re-election to her seat in San Francisco. So she could remain in Congress as just a rank-and-file lawmaker. But does Pelosi want to stick around as the House's top Democrat? And does she have the support to do that?
Numerous Congressional sources signal to FOX that the fact that Pelosi hasn't bowed out yet indicates she might not be done.
"She's taking the temperature of the (Democratic) caucus," said one senior House Democratic aide who asked not to be identified.
And there's a difference between taking the temperature. And whipping the vote for your own leadership race.
Few who have trod the halls of Congress are as shrewd at counting votes as Nancy Pelosi. And while Pelosi may be seeking counsel on what to do next - or even figuring out in her own mind what's next for her - the conversations help the speaker gauge whether she would have the votes to remain as the top Democrat in the new Congress.
Dozens of moderate House Democrats lost Tuesday. So the makeup of the House Democratic Caucus will be considerably more liberal than in the past. That phenomenon strengthens Pelosi's power base. Plus, Pelosi is a prodigious fundraiser who has lots of chits out among her members.
"You just don't throw someone like that out," said a Democratic Congressional source.
But not everyone agrees.
"With that big of a defeat, I think you shake up your leadership," said Rep. Jim Matheson (D-UT), leader of the most-conservative bloc of Democrats in the House known as the Blue Dogs. "I think that's what happens in the private sector when companies have performances that don't work well. It happens in the sporting world when teams don't do well. I think that applies to the caucus - the Democratic caucus as well."
Some Congressional sources speculate that Pelosi would be admitting defeat if she were to leave now, amid what even President Obama described as a "shellacking."
"If she goes, it's as though she's accepting all the blame for what went wrong," said one Capitol Hill source. "She can't exit that way."
Pelosi is set to have a conference call Friday with other House Democratic leaders. One leadership aide indicated to FOX that the speaker wasn't expected to make an announcement about her future during the call.
"Which is news unto itself," said the aide. The aide indicated that the speaker could be trying to portray the image that everything is normal and she is "governing."
Pelosi may be trying to make up her mind. But some on Capitol Hill wonder why the White House is silent on this. And if Pelosi stays, does that create a problem for President Obama?
An administration official who spoke only on the condition that they not be identified indicated that President Obama will not weigh-in on who should be the Democrats' top House leader.
And the laissez faire position of the White House is creating lots of consternation among Democrats.
"Why isn't Obama involved?" questioned one Democratic Congressional aide. "He's the President of the United States."
Another Congressional aide suggested that Pelosi's indecision could become an issue for new White House Chief of Staff Pete Rouse. The aide mused that former White House Chief of Staff Rahm Emanuel would have cleared the field for House Majority Leader Steny Hoyer (D-MD), leaving no question about what's next for House Democrats. But Emanuel resigned this fall to run for mayor of Chicago.
Rep. Heath Shuler (D-NC) is making rumblings that if no credible alternative to Pelosi emerges, he could make a bid for Minority Leader if she refuses to bow out of leadership.
As the House Democrats' number two leader, Hoyer would be the obvious "viable" alternative to take the top job. In addition, Hoyer's politics are moderate compared to Pelosi's and he has significant inroads with Blue Dog Democrats.
Hoyer's office declined comment about the Maryland Democrat's future.
Regardless, House Democrats are in a stasis until Pelosi declares her intentions. And the lack of a speedy announcement by Pelosi appears is frustrating other Democrats in the leadership.
"This puts them in a really brutal spot," said a senior aide. "Nobody is in a fixed post."
In other words, none of the current House Democratic leaders have any clue where they might would fit in or what position they could run for.
If Pelosi did pursue the Minority Leader slot, Hoyer could revert to Minority Whip, the position he held when the Democrats were last in the minority. Then the dominoes start to fall. Such maneuvering could dispatch House Majority Whip Jim Clyburn (D-SC) to Democratic Caucus Chairman and demote the current chair, Rep. John Larson (D-CT) to vice chair.
The odd-man out could be the current vice caucus chairman, Rep. Xavier Becerra (D-CA).
Still, there's speculation that Pelosi could try to stay aboard by engineering a special title or role for herself next year.
In fact, there's precedent for that in a Pelosi-led House.
For this Congress, Pelosi tapped Rep. Chris Van Hollen (D-MD) to be "Special Assistant to the Speaker." Many Democrats interpreted Pelosi's promotion of Van Hollen to a contrived position as an affront to Steny Hoyer.
Two years ago, Democrats dethroned Rep. John Dingell (D-MI), the longest-serving member in U.S. House history, from his chairmanship of the powerful Energy and Commerce Committee. Pelosi was officially neutral in the contest. But the caucus ultimately voted for Rep. Henry Waxman (D-CA) over Dingell. In fact, many argued at the time Dingell's ouster demonstrated Pelosi's power. It was said that Waxman was better-suited to help muscle through Pelosi's agenda of health care reform and climate control legislation. The Energy and Commerce Committee is one of the major panels of jurisdiction for legislation involving both topics.
Later, the committee bestowed Dingell with a consolation prize: the previously unheard of title of "Chairman Emeritus."
If Pelosi were to concoct such a position for herself and remain in leadership, yet not officially as Minority Leader, that could be the ultimate insult to Steny Hoyer."She would still be the face of House Democrats," said one source.
Regardless, such a move could end an unofficial era of détente between Pelosi and Hoyer. The two have suffered through a difficult relationship at times. In 2000, Pelosi defeated Hoyer in a race to become Minority Whip after the retirement of former-Rep. David Bonior (D-MI). However, Hoyer rallied and moved into leadership two years later as Pelosi graduated to Minority Leader. Still, when Democrats seized the House in 2006, Pelosi backed the late-Rep. Jack Murtha (D-PA) for Majority Leader over Hoyer. However, Hoyer won handily.
Aides for both lawmakers contend there is no feud between the two. But there has long been speculation on Capitol Hill that the roots of the rocky relationship date back to the 1960s when the two interned together in the office of late-Sen. Daniel Brewster (D-MD).
Nonetheless, rumors are flurrying around the Capitol. Pelosi is running. Pelosi isn't running. One rumor suggested Pelosi would become ambassador to Italy. Republicans used the indecision to tweak Pelosi and Democrats reeling from Tuesday's debacle.
"The definition of insanity is doing the same thing over and over again and expecting a different result," said Ken Spain of the National Republican Congressional Committee (NRCC). "Of course, if House Democrats are willing to sacrifice more of their members in 2012 for the glory of Nancy Pelosi, we are happy to oblige them."
The longer this drags out, the more restless House Democrats will grow.
One Democratic aide summed it up like this: "First we had to go through the hell of Tuesday night and now this?"
- FOX's Shannon Bream contributed to this report.