Pelosi Reportedly Blocks Intel Bill in Bid for Increased Congressional Oversight of CIA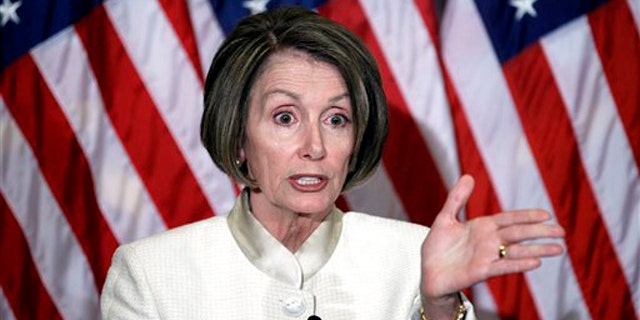 House Speaker Nancy Pelosi is standing in the way of an intelligence authorization bill as she tries to press President Obama for greater congressional oversight of the CIA's covert activities – a move that is angering fellow Democratic leaders, the Hill newspaper reported Friday.
Pelosi's intel obstruction comes one year after she accused the CIA of lying to Congress about the use of enhanced interrogation practices, including waterboarding, on terror suspects -- an allegation that the CIA has strongly disputed.
Now she wants to enable Congress to use the Government Accountability Office (GAO) to probe the CIA and is demanding that the CIA and other intelligence agencies provide more information about their covert activities with the entire Senate and House intelligence committees instead of just the leaders, according to the newspaper.
Pelosi made her demands known to National Security Adviser Jim Jones in a meeting Wednesday, the newspaper said.
With the intel bill blocked, the nomination of Lt. Gen. James Clapper to replace the ousted Dennis Blair as director of national intelligence is in limbo.
Sen. Dianne Feinstein, D-Calif, chairwoman of the Senate Select Committee on Intelligence, isn't pleased with Pelosi's maneuvering.
"It's been five years since anyone has been able to get a bill through," she told the newspaper. "If you want strong congressional oversight you have to begin to pass these bills."
Pelosi blocked the bill after Feinstein and the administration lent their support to a deal that didn't include GAO oversight but expanded congressional notification requirements.
"We're in agreement, the two committees, we've taken GAO out and we've negotiated the notification requirements to three, which are acceptable to the administration," Feinstein told the newspaper. "So we have a bill that can pass and be signed by the president."
Pelosi's feud with the CIA last year appeared to end in a stalemate. Her account of the allegations changed several times as she sought to clarify what she did or didn't know about the interrogation methods that she was pushing to investigate.
She initially said that she was never told that the controversial interrogation methods were being used. But a national intelligence report later showed that she was briefed eight years ago on the tactics while she was on the House Intelligence Committee.
Her spokesman then said the speaker thought the techniques were legal and that waterboarding was not used.
Since then, Pelosi has largely remained silent on the matter, except to say that she has confidence in the agency to do its job.